Demand for new homes down 50% as property market continues to cool
Zoopla's latest house price index revealed quarterly house price growth has slowed and is likely to turn negative in the first quarter of 2023.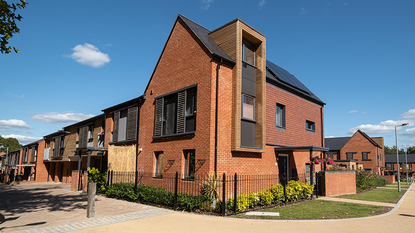 (Image credit: © Alamy)
Demand for new homes is down 50% over the last year, says Zoopla, as activity returns to pre-pandemic levels following two years of sustained growth.
Zoopla's house price index showed prices increased 7.2%, or £17,500, year-on-year, but quarterly growth has slowed rapidly and is set to move negative in the first quarter of 2023. Zoopla expects its house price index to register quarterly price falls over the first half of 2023.
The pattern is the same across all areas of the UK as higher mortgage rates, the rising cost of living and low consumer confidence weighs on the housing market.
Subscribe to MoneyWeek
Subscribe to MoneyWeek today and get your first six magazine issues absolutely FREE
Get 6 issues free
Sign up to Money Morning
Don't miss the latest investment and personal finances news, market analysis, plus money-saving tips with our free twice-daily newsletter
Don't miss the latest investment and personal finances news, market analysis, plus money-saving tips with our free twice-daily newsletter
The property market is widely expected to cool down next year. Halifax and Nationwide have both predicted UK house prices will fall by 8% and 5% respectively in 2023, while the Office for Budget Responsibility forecasts a 9% drop through to 2024.
Following two years of steep growth, buyers might wonder if the slowdown represents a good time to buy a house.
"Year-on-year property price growth is strong meaning it remains a good time to sell a home capitalising on the existing growth, however with prices easing and negotiations starting to take effect in the market, it is equally also a good time to buy," says Nathan Emerson, CEO of Propertymark.
"On average, our member agents told us that competition between buyers has dropped by over a third, meaning those looking to secure a new home are more likely to succeed."
"Race for space" seems to be coming to an end
The "race for space" was a defining trend across the UK property market over the last two years as homebuyers left cities for the countryside throughout the pandemic.
But the trend seems to be reversing. Coastal towns in the south of England, the Lake District area and mid-Wales all saw large gains in house prices over the last two years. But now they have recorded a greater slowdown than other areas.
Buyers remain more interested in towns such as Bradford, Swindon, Coventry, Crewe, Milton Keynes and Southend – all of which have registered above-average demand. Not only do these areas have their own employment base, says Zoopla, but they have good connections to London, Leeds, Manchester and Birmingham.
Why are UK house prices falling?
UK house prices have had a good run over the last two years. However Kwasi Kwarteng's mini-Budget late September had a big effect on the market as borrowing costs increased.
A year ago borrowers could secure a mortgage for am interest rate of 2%. After the mini-Budget, mortgage rates peaked at 6.65%. They have since fallen to 5.99% and 5.74% for two-year and five-year rates respectively, but remain much higher than before the mini-Budget.
Given the unfavourable borrowing conditions, some buyers might want to hold out until they can secure better rates – the decrease in demand is due to weigh on house prices.
It remains to be seen how soon it will be before interest rates fall. The Bank of England raised interest rates to a 14-year high of 3.5% last week to control rising inflation, which is also eroding buyers' purchasing power.
While the BoE seems to be slowing down, it's likely we'll continue to see rate rises for quite some time. They're currently forecast to peak at between 4% and 4.5% by mid next year.
Where will UK house prices go next?
"Affordability is the primary factor looking ahead to 2023 and beyond influenced by mortgage rates, household incomes and the actual level of house prices," says Zoopla.
"The more unaffordable a market, the more households are priced out, weakening demand and impacting sales volumes and pricing."
Higher mortgage rates mean borrowers need a higher income to buy. The government has extended its mortgage guarantee scheme, which helps those with 5% deposits get on the property ladder until next December, and announced the cuts to stamp duty will remain until 2025.
But are these two government initiatives enough to encourage further growth in the UK property market? Most house price indexes seem to agree, they are not.
Nic studied for a BA in journalism at Cardiff University, and has an MA in magazine journalism from City University. She joined MoneyWeek in 2019.