UK house prices are definitely cooling off – but are they heading for a fall?
UK house prices hit a fresh high in June, but as interest rates start to rise, the market is cooling John Stepek assesses just how much of an effect higher rates will have on the price of your home.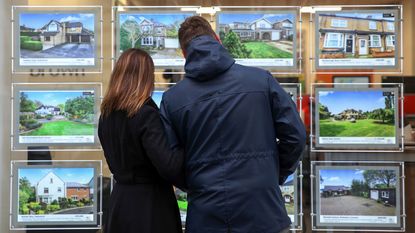 (Image credit: © Chris Ratcliffe/Bloomberg via Getty Images)
House prices in the UK are cooling off.
Prices still hit a fresh record (your average house in the UK, at least according to Nationwide, now costs £271,613 precisely) this month.
And they are still rising at an annual rate of 10.7%. But that's down from 11.2% in May.
Subscribe to MoneyWeek
Subscribe to MoneyWeek today and get your first six magazine issues absolutely FREE
Get 6 issues free
Sign up to Money Morning
Don't miss the latest investment and personal finances news, market analysis, plus money-saving tips with our free twice-daily newsletter
Don't miss the latest investment and personal finances news, market analysis, plus money-saving tips with our free twice-daily newsletter
So beleaguered first-time buyers won't be cracking open the champagne yet, but it also looks as though the perennial faith in bricks'n'mortar as an ever-appreciated asset may be tested.
The question, as ever, is: what happens next?
Interest rates are likely to keep rising – so what does that mean for house prices?
There's an almost mechanical relationship between house prices and interest rates. When rates go down the cost of borrowing goes down, so house prices go up; and when rates go up the cost of borrowing goes up and house prices go down. We've been through it several times here, so I won't bore you again.
Yes, physical supply matters. Yes, lots of things about planning rules and all the rest of it could really do with being fixed.
But if you want to know why house prices almost everywhere in the world have gone up to such ridiculous levels, the one constant that explains it is falling interest rates, and the consequent effect on the availability of ever-cheaper credit with which to buy homes.
(And houses are not the only asset to have been affected in this way – the main difference is that you don't live in your equity portfolio and there are no deposit requirements to get on the "equity ladder", and so rising share prices are viewed as an unalloyed good).
And you just need to look at what's happened over the past two years. We had a global pandemic. We had a total economic shutdown. What happened to house prices? They went up. Why? Because interest rates fell and the Bank of England printed a load of money to keep them there.
It's that simple.
So what's changed now? Why are prices "cooling"? Because interest rates are going up. They haven't gone up by much. But they're already having an impact.
And it's probably worth assuming for the moment that interest rates will keep rising. The latest in central bank groupthink was communicated to us yesterday from the Portuguese resort town of Sintra (tough job, but someone's gotta do it).
It's clear that they have finally accepted that not only is inflation not transitory, but we've also moved to a world where the underlying trends that drove disinflation (globalisation and the like) are reversing.
So the question now becomes: how big an effect will rising interest rates have?
House prices in the bubbliest global markets are falling
My view on this has been that a slowdown in house prices is likely, but a crash is a trickier one to call. That's because you broadly need two things for a crash.
You need a world where buyers can't pay as much (which is what rising interest rates do). But you also need a world where sellers are forced to sell to them, because the majority of people do not want to sell their home for less than they think it's "worth".
So what happens generally is that in the absence of mass unemployment (which means income loss which means forced sales and repossessions), you get transactions drying up, rather than prices collapsing.
However, it's worth taking a look at what's happening in other countries, some of whose house price bubbles have been even more extravagant than ours, to see that maybe the second part of the equation isn't so important.
Take Canada. A quick Google search reveals that the average selling price in Toronto has dropped by 9% in the last three months alone, while nationwide, prices have fallen for the past two months in a row. This is all happening because the Bank of Canada (the central bank) has tweaked interest rates in a pretty similar manner to the Bank of England – they've gone from 0.25% to 1.5% since March.
Now you can't read across directly to the UK; Canada's housing market has been wildly bubbly for a long time. A big chunk of the market demand is property investors (about a fifth, says Bloomberg) and variable rate mortgages form a much bigger part of the mortgage market (so rising rates can feed through almost instantly into distressed selling).
So those are two key vulnerabilities that the UK market doesn't share (not these days, anyway). But it's still instructive.
Or how about Australia? House prices there have also now fallen for two months in a row, with big drops in the main cities of Melbourne and Sydney. Property auctions are being cancelled at rates not seen since the early days of the Covid pandemic, as demand slides.
Again, there are differences. Variable rate mortgages in Australia, again, are a larger part of the housing market than in the UK. But again, it's instructive that the fundamental factor here is simply rising interest rates.
What this means for you
As always, the important thing for buying a house to live in is not whether prices will rise or fall next year, but your own personal circumstances: can you afford it? Do you like the house? (Few things will affect your quality of life like living in a house you hate, even if it looks perfect on paper.)
All I would say is that if you're approaching a transaction just now as a buyer, the power balance is a little more in your favour than it would have been six months ago, say. Some sellers will have put their homes on the market in anticipation of lower prices down the road. So you might be able to put in offers below the asking price more readily.
As for where we go from here – the key thing to watch is mortgage rates. As I said, the relationship is pretty mechanical. If they keep going up, the market will continue to cool.
John is the executive editor of MoneyWeek and writes our daily investment email, Money Morning. John graduated from Strathclyde University with a degree in psychology in 1996 and has always been fascinated by the gap between the way the market works in theory and the way it works in practice, and by how our deep-rooted instincts work against our best interests as investors.
He started out in journalism by writing articles about the specific business challenges facing family firms. In 2003, he took a job on the finance desk of Teletext, where he spent two years covering the markets and breaking financial news. John joined MoneyWeek in 2005.
His work has been published in Families in Business, Shares magazine, Spear's Magazine, The Sunday Times, and The Spectator among others. He has also appeared as an expert commentator on BBC Radio 4's Today programme, BBC Radio Scotland, Newsnight, Daily Politics and Bloomberg. His first book, on contrarian investing, The Sceptical Investor, was released in March 2019. You can follow John on Twitter at @john_stepek.