House prices have had a relatively quiet decade
It may surprise you to learn that house prices in Wales, Scotland and the north of England are actually more affordable than at the end of 2009.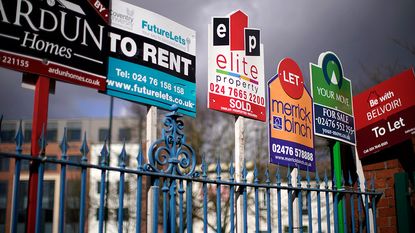 (Image credit: 2019 Getty Images)
I'm spoiled for choice when it comes to topics this week. There's the effect on the markets of the headline-grabbing coronavirus. There's Britain's exit (at last!) from the European Union, which may already have happened (at least, if you're reading this after 11pm on Friday, I hope it has). We've covered what's next – and the investment implications – in this week's cover story. But instead I thought I'd write about everyone's favourite subject – house prices.
What caught my eye this week was a report from Nationwide building society on how UK house prices have fared decade by decade since the 1980s. I have to admit I was surprised by the data. It turns out that, despite appearances to the contrary – particularly given the sheer level of popular discontent that high house prices appear to have caused in the decade since the financial crisis – the 2010s were relatively subdued in terms of house price inflation in Britain. UK-wide prices rose by an average of around 33%, whereas they more than doubled during the 2000s. Indeed, in terms of price gains, the 2010s were more like the 1990s (another decade during which the UK was recovering from a house price boom and bust).
But what was unusual is the level of divergence across the country. In the 2000s, house prices doubled pretty much everywhere. Indeed, areas outside London and the southeast saw the biggest gains – Yorkshire and Humberside saw average prices rise by 137%, while London lagged on a mere 111%. But in the 2010s, while average London prices rose by 66%, in Scotland, they gained just 8%, and in the north of England just 11%.
Subscribe to MoneyWeek
Subscribe to MoneyWeek today and get your first six magazine issues absolutely FREE
Get 6 issues free
Sign up to Money Morning
Don't miss the latest investment and personal finances news, market analysis, plus money-saving tips with our free twice-daily newsletter
Don't miss the latest investment and personal finances news, market analysis, plus money-saving tips with our free twice-daily newsletter
That's had a big effect on relative affordability. Indeed – and again this surprised me – house prices in Wales, Scotland and the north of England are actually more affordable relative to the earnings of the average first-time buyer (as defined by Nationwide) than at the end of 2009. This was not long after the price crash induced by the financial crisis, so that's quite a striking statistic in itself. But in London, houses have gone from being barely affordable (above six times average earnings) to despair-inducing levels (just under nine times). Given that most big media outlets are located in London, you can see why broadsheet columnists have been handwringing quite so vigorously about wealth inequality – it's their offspring (or maybe even their own pockets) being hit hardest .
So what do the 2020s hold? Could the Conservative Party's efforts to focus on building the "Northern Powerhouse" trigger a catch-up for house prices outside the southeast of England? We can't rule it out. It would be nice to see an end to the UK's addiction to the property rollercoaster, and the resulting government interference in the housing market. But being pragmatic about it, juicing house prices is a much quicker and easier way to make people feel rich than building a high-speed railway that might take ten years or more to come to fruition.
That said, I think there are going to be easier ways to make money in the 2020s than trying to take a punt – yet again – on UK houses. And for ideas as to where to start, Mike Tubbs looks at how to track down what many consider to be the Holy Grail of stockmarket investments – the potential ten-bagger.
John is the executive editor of MoneyWeek and writes our daily investment email, Money Morning. John graduated from Strathclyde University with a degree in psychology in 1996 and has always been fascinated by the gap between the way the market works in theory and the way it works in practice, and by how our deep-rooted instincts work against our best interests as investors.
He started out in journalism by writing articles about the specific business challenges facing family firms. In 2003, he took a job on the finance desk of Teletext, where he spent two years covering the markets and breaking financial news. John joined MoneyWeek in 2005.
His work has been published in Families in Business, Shares magazine, Spear's Magazine, The Sunday Times, and The Spectator among others. He has also appeared as an expert commentator on BBC Radio 4's Today programme, BBC Radio Scotland, Newsnight, Daily Politics and Bloomberg. His first book, on contrarian investing, The Sceptical Investor, was released in March 2019. You can follow John on Twitter at @john_stepek.