Come back buy-to-letters, all is forgiven
The government is winning its war against small private buy-to-let landlords. But who benefits?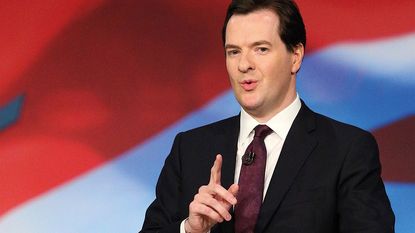 (Image credit: 2012 Getty Images)
Rewind a few years and buy-to-let landlords were being blamed for just about everything that was wrong with the country. Greedy investors were driving first-time-buyers out of the market. They were pushing up house prices. And they were ripping off all the people pushed into renting with rip-off charges and fees. Hundreds of thousands of investors, driven by decent returns that no longer seemed available anywhere else, had piled into the sector, but no one had a good word to say about them.
Then the fightback began, starting with George Osborne, and with plenty of help from chancellors since. First, buy-to-letters were stopped from deducting mortgage interest from the rent they received, unlike any other business, unless they decided to put their properties into a company. Then they faced an extra 3% of stamp duty. On top of that, there was a whole raft of new regulations, such as banning letting fees, and tightening up the rules on deposits. It was made far, far tougher to be a small, private landlord – and a lot less profitable.
Buy to let: the government policy that worked
Unlike most government policies, this one seems to have actually worked. The number of private landlords is falling sharply. There are 223,000 fewer than there were a year ago, and the total of 2.66 million is the lowest number for seven years, according to a report from Hamptons International. Lots of landlords have clearly decided it is not worth it anymore and are selling up.
Subscribe to MoneyWeek
Subscribe to MoneyWeek today and get your first six magazine issues absolutely FREE
Get 6 issues free
Sign up to Money Morning
Don't miss the latest investment and personal finances news, market analysis, plus money-saving tips with our free twice-daily newsletter
Don't miss the latest investment and personal finances news, market analysis, plus money-saving tips with our free twice-daily newsletter
But there were genuine reasons why we needed more rented properties than we did ten or 20 years ago. First, we have many more students. There were 1.1 million undergraduates in 2000, but that has risen to 1.9 million this year. The majority of them rent. We have a lot more immigrants as well. Net migration has fallen a little since we left the EU, but it is still running at more than 200,000 people a year and at its peak was more than 300,000. Total immigration is far higher, suggesting that lots of people are coming here temporarily. Again, they are looking to rent. Finally, we have a more flexible workforce, with people moving around the country to work, and more fluid families as well. Add it all up and it is not surprising that the balance between rented and privately owned housing has shifted. Demand for rental properties rose so the supply increased too.
The government has no way of knowing what the right balance between owner-occupation and renting is. At the moment it is 65% owned, 17% private renting, and 18% social renting. Owner occupation has fallen from a peak of 71% in 2003. There has been a modest, but hardly dramatic, switch to private renting, almost all of which can be accounted for by the rise in the number of students and short-term immigrant workers. What is the right balance? Maybe it should be 60/20/20? Or 70/15/15? Or something else entirely. In any normal market, supply and demand would work out the answer.
The real problem is that the government keeps trying to micromanage the housing market. It decided there was too much investment going into buy-to-let, and started to punish the sector. It persuaded people to sell up. The net result? It looks like there is now not enough rental property available. Perhaps not very surprisingly, as landlords quit the market there are now fewer homes to rent: 5.13 million are now available, compared with 5.28 million in 2017. And rents are starting to accelerate as well. They were up by 3.9% in the last year, according to Hamptons. You don't exactly need a degree in economics to work out that as the supply get squeezed the price goes up.
Build more homes
Sure, housing may well be too expensive. But the solution to that is surely to build more homes by loosening regulations and building more social housing. That way, property would gradually start to become a little more affordable. But we shouldn't try to decide what the right balance should be between renting and ownership. In reality, all those small landlords offering private rentals were providing a genuine service. We will miss them when they are gone.
Matthew Lynn is a columnist for Bloomberg, and writes weekly commentary syndicated in papers such as the Daily Telegraph, Die Welt, the Sydney Morning Herald, the South China Morning Post and the Miami Herald. He is also an associate editor of Spectator Business, and a regular contributor to The Spectator. Before that, he worked for the business section of the Sunday Times for ten years.
He has written books on finance and financial topics, including Bust: Greece, The Euro and The Sovereign Debt Crisis and The Long Depression: The Slump of 2008 to 2031. Matthew is also the author of the Death Force series of military thrillers and the founder of Lume Books, an independent publisher.