Can the government's proposals fix the residential cladding crisis?
In the wake of the Grenfell fire disaster, many homeowners have been left stuck with huge bills to make their properties safe. The government is stepping in with a helping hand.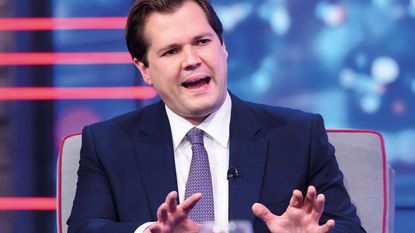 (Image credit: © Jonathan Hordle/Shutterstock)
What's the problem?
The issue is who should pay to remove dangerous cladding from residential buildings – and what should be done to help the hundreds of thousands of people stuck in leasehold flats they now can't mortgage or sell due to fire-safety concerns. Following the catastrophic fire at the 24-storey Grenfell Tower block in west London in June 2017, in which 72 people died, an official inquiry found that aluminium composite material (ACM) cladding panels caused the fire's spread. That material has now been banned on buildings over 18 metres high (about six storeys), and the government is spending £600m on stripping ACM cladding from unsafe buildings. In addition, it has ordered the removal of other cladding that, while not ACM, is now deemed potentially dangerous.
Who's paying?
In the case of council flats, the bill is ultimately paid by central government, and leaseholders or tenants don't contribute. The difficulty arises when it comes to removing and replacing non-ACM cladding from blocks of flats owned privately, or by housing associations. People who bought their homes in good faith, with no warning from solicitors or surveyors about potential safety issues over external cladding, are being faced with average bills of £40,000, and in some cases more than £100,000. That liability has led to millions of flats becoming unsellable, with surveyors unwilling to sign off safety certificates and banks unwilling to lend. Meanwhile, some homeowners are also footing the bill for rocketing insurance premiums and service charges, such as around-the-clock "waking watch" fire patrols at buildings that still have dangerous cladding fitted, at a typical cost of around £500 per flat per month.
How many people are affected?
An estimated 700,000 people are stuck in homes deemed to be at risk of fire, and up to three million own flats that are unsellable due to fire-safety-related construction faults discovered following the Grenfell Tower fire. According to analysis by New Build Database for The Daily Telegraph, as many as 4.6 million individual flats are affected overall (16% of the overall 29.2 million dwellings in the UK). There are about 870,000 homes in cladding-hit buildings above 18 metres – the highest risk – and a further 3.7 million in blocks between 11 metres and 18 metres. Many of these don't have visible external cladding, but require further assessment due to concerns over construction materials, insulation or fire breaks.
Subscribe to MoneyWeek
Subscribe to MoneyWeek today and get your first six magazine issues absolutely FREE
Get 6 issues free
Sign up to Money Morning
Don't miss the latest investment and personal finances news, market analysis, plus money-saving tips with our free twice-daily newsletter
Don't miss the latest investment and personal finances news, market analysis, plus money-saving tips with our free twice-daily newsletter
Doesn't ownership come with risks?
Most homeowners soon learn that property ownership can involve unforeseen costs. But most observers – including a highly vocal group of campaigning Conservative MPs – find it fundamentally unjust that today's generation of homeowners should be financially on the hook for a crisis that has its roots in decades of inadequate state regulation and shoddy construction. Many of those worst affected are younger adults who have saved hard to buy a home but now face financial ruin. And in some particularly egregious cases, people who were encouraged to buy by government-backed shared-ownership schemes have found themselves liable for 100% of the remedial costs even if they only "own" a small chunk of the property. If the government wants to protect the integrity of the housing market, it needs to solve these issues.
What is it doing?
It's slowly facing up to the scale of the problem. A year ago the government announced a Building Safety Fund to help replace flammable non-ACM cladding on buildings over 18 metres, in addition to the £600m allocated to remedy the highest risk ACM cladding. But this was widely seen as inadequate, given industry estimates of £15bn as the overall cost of cladding remediation. This week Robert Jenrick tried to see off a rumbling Tory rebellion with what he called a further "unprecedented intervention" to "protect homeowners" and "make developers pay" for past negligence. For high-rise buildings (above 18 metres or at least six storeys), all cladding-remediation costs will met by the state. In lower-rise buildings (11 to 18 metres, or four to six storeys), where cladding costs are incurred, he announced a "long-term low-interest" loan scheme, limiting repayments to £50 a month per flat. That debt will remain with the property (depressing its value and raising the risk of negative equity) rather than the current leasehold owner.
How big is the package?
The new funding amounts to £3.5bn, in addition to the existing £1.6bn, says Jenrick. Details of the loan scheme are yet to be published, so its additional costs are not clear. To pay for some of this, Jenrick announced a new levy to be finalised in coming weeks and introduced in a forthcoming Building Safety bill, which will apply to high-rise developments only. A second, broader tax, on UK residential property developers, is projected to raise £2bn over a decade from 2022 to help pay for cladding remediation. Jenrick also acknowledged the risk fire-safety issues pose to the whole housing market, and urged lenders to back an initiative to cut the red tape holding back mortgages.
Will all this put an end to the issue?
Highly unlikely. One of the main Tory campaigners on the issue, Peter Bottomley, welcomed Jenrick's announcement as a necessary but not sufficient step forward. But another, Stevenage MP Stephen McPartland, echoed the widespread reaction from leaseholder campaign groups: he condemned Jenrick's statement as "all smoke and mirrors" and "a betrayal of millions of leaseholders". Jenrick is "very careful" to refer solely to cladding, tweeted the MP. "No mention of fire safety defects, waking watches or excessive insurance premiums, which are often the main costs for millions of leaseholders". The government's intervention is substantial, but this issue has a long way to run.
Simon Wilson's first career was in book publishing, as an economics editor at Routledge, and as a publisher of non-fiction at Random House, specialising in popular business and management books. While there, he published Customers.com, a bestselling classic of the early days of e-commerce, and The Money or Your Life: Reuniting Work and Joy, an inspirational book that helped inspire its publisher towards a post-corporate, portfolio life.
Since 2001, he has been a writer for MoneyWeek, a financial copywriter, and a long-time contributing editor at The Week. Simon also works as an actor and corporate trainer; current and past clients include investment banks, the Bank of England, the UK government, several Magic Circle law firms and all of the Big Four accountancy firms. He has a degree in languages (German and Spanish) and social and political sciences from the University of Cambridge.