Russia is now a liability for Western companies
Companies which have pulled out of Russia have incurred significant costs, but it's been worth it, says John Stepek – they've seen their market value increase.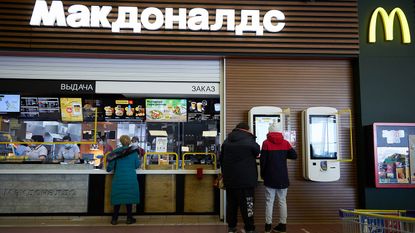 (Image credit: © Oleg Nikishin/Getty Images)
Following Russia's invasion of Ukraine, hundreds of companies have suspended or pulled out of operations in the country, including fast food giant McDonald's, oil major BP and hotel chain Marriott, often incurring significant costs in the process.
And yet, according to research from US professor Jeffrey Sonnenfeld and his team at Yale School of Management, the one-off costs are worth it, as far as markets are concerned.
Looking at the share price performance of more than 1,200 firms with business interests in Russia, it turns out, says Sonnenfeld, that "equity markets are actually rewarding companies for leaving Russia while punishing those that remain behind, with divergent stock performance generally corresponding with the degree of Russian exit".
Subscribe to MoneyWeek
Subscribe to MoneyWeek today and get your first six magazine issues absolutely FREE
Get 6 issues free
Sign up to Money Morning
Don't miss the latest investment and personal finances news, market analysis, plus money-saving tips with our free twice-daily newsletter
Don't miss the latest investment and personal finances news, market analysis, plus money-saving tips with our free twice-daily newsletter
The team split the companies into various categories, ranging from complete "withdrawal", to "scaling back" to "digging in". Weighted by market capitalisation (ie, big companies have more weight than small ones), companies that withdrew saw their share price rise by 3.6% from the invasion in late February to 19 April. Indeed, "the shareholder wealth created through equity gains [has] already far surpassed the cost of one-time impairments for companies that have written down the value of their Russian assets". Those which "dug in" by contrast, lost 6.8% on average.
Rewards for good behaviour?
The paper concludes that this outperformance is due specifically to leaving Russia, rather than compositional effects. For example, Shell and Exxon are both big oil producers who have left Russia, but have also benefited from the surge in oil prices caused by the war, so you might argue that it's tricky to split out the cause and effect. Yet other beneficiaries include drinks giants such as AB InBev, Heineken and Carlsberg, who are not obvious beneficiaries of rising energy costs.
That said, the idea that companies are being "rewarded for speaking out", as Sonnenfeld puts it, seems idealistic. Markets can be faddish but they don't tend to hand out prizes for good behaviour alone. It's more likely that there was already a long-term "Russia discount" applied to all Russian operations, and that the invasion has tipped the scales so far that exposure to Russia right now is no longer viewed as an asset at all – instead, it's a liability.
In other words, this looks not so much like a triumph for "doing the right thing" as a fairly rational set of market reactions being played out. That said, it's another very clear reason – as if you needed it – to be wary of having investment exposure to companies or countries where your property rights cannot be relied upon.
John is the executive editor of MoneyWeek and writes our daily investment email, Money Morning. John graduated from Strathclyde University with a degree in psychology in 1996 and has always been fascinated by the gap between the way the market works in theory and the way it works in practice, and by how our deep-rooted instincts work against our best interests as investors.
He started out in journalism by writing articles about the specific business challenges facing family firms. In 2003, he took a job on the finance desk of Teletext, where he spent two years covering the markets and breaking financial news. John joined MoneyWeek in 2005.
His work has been published in Families in Business, Shares magazine, Spear's Magazine, The Sunday Times, and The Spectator among others. He has also appeared as an expert commentator on BBC Radio 4's Today programme, BBC Radio Scotland, Newsnight, Daily Politics and Bloomberg. His first book, on contrarian investing, The Sceptical Investor, was released in March 2019. You can follow John on Twitter at @john_stepek.