Sustainable funds to invest in
Exposure to sustainable, or ethical, investment has slowly been creeping up - and despite recent underperformance, investors are still keen to use their money to do good. We look at the top sustainable funds to invest in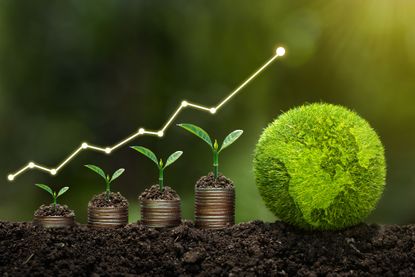 (Image credit: Getty Images)
Sustainable investments, also known as ESG (environmental, social and governance) investing, has often been labelled as a 'fad' and recent underperformance has not helped attract investors. But there are still some sustainable funds that could be worth investing in.
With investors still keen to use their money to help issues like climate change, sustainable funds still have a place in portfolios. And, according to fund platform interactive investor, in 2023, so far (to 31 Aug 2023), the overall portfolio exposure to sustainable investing is 2.44% - up from 1.59% in 2020, 1.99% in 2021, and 2.17% in 2022.
By backing companies that make efforts to preserve the environment, investors can make a difference by supporting important changes when it comes to cutting carbon emissions and moving towards cleaner energy.
Subscribe to MoneyWeek
Subscribe to MoneyWeek today and get your first six magazine issues absolutely FREE
Get 6 issues free
Sign up to Money Morning
Don't miss the latest investment and personal finances news, market analysis, plus money-saving tips with our free twice-daily newsletter
Don't miss the latest investment and personal finances news, market analysis, plus money-saving tips with our free twice-daily newsletter
This is important to those who feel the UK government is failing to deliver on making inroads in this area.
Recently the heads of Greenpeace claimed Rishi Sunak's government will "go down in history" as the administration that failed the UK on the climate crisis.
Emma-Lou Montgomery, associate director for personal investing at Fidelity International, says: "Sustainable investing is of increasing interest from those who want their money to do no harm in the world, but it is also applied by those who believe it makes financial sense for companies to operate in ways that can be grown and sustained into the future.
"For individual investors, building a sustainable investment portfolio can feel complicated. Ethics are personal and sustainable investment funds invest in lots of different ways."
Rather than trying to work out which companies have the highest ESG standards, you might find it easier to let the professionals do the leg work and invest in funds.
There are broad, actively run funds which find a wide range of companies that align with ESG principles. You can also find more specialist funds targeting one specific environmental area.
There are plenty of funds available – but which ones are worth a look? We look at the top sustainable funds to consider for your portfolio.
5 green sustainable funds to invest in
1. Guinness Sustainable Energy
This sustainable fund aims to provide capital growth by investing in companies globally involved in the generation, storage, efficiency, and consumption of sustainable energy sources. These include solar, wind, hydro, geothermal, biofuels and biomass.
Jason Hollands of wealth manager Evelyn Partners said: "Guinness Global Investors are leading specialist investors across all parts of the energy markets. Managers Will Riley and Jonathan Waghorn believe that over the next 20 years the sustainable energy sector will benefit from the combined effects of growing demand, improving economics and public and private support."
Top 10 holdings include First Solar, an American manufacturer of solar panels. Its share price is up 19% over the last 12 months.
The fund also holds Itron, a company that develops sophisticated meter-reading equipment to help utilities deliver power and water more efficiently and with less waste. Its share price is up 38% in a year. Over five years the fund has returned 106%.
2. Ninety One Global Environment
This fund has a unique approach, only investing in companies that will help the decarbonisation of the global economy.
Juliet Schooling Latter of Fund Calibre said: "It is estimated that, in order to reach global temperature goals of a maximum 2C rise, $2.4 trillion per year will need to be spent or reallocated. This fund looks to tap into the companies that will benefit from that spending."
As well as avoiding creating carbon emissions, companies in the fund will also have to have at least 50% of their revenues from three sectors: renewable energy; efficient use of resources, and electrification.
Its top 10 holdings include Voltronic Power Technology which designs, manufactures, and sells essential equipment for the use of electric cars such as energy storage units UPS (uninterrupted power supply) units for vehicle charging, inverters and solar power products. Its share price has risen 13% in 12 months.
Another holding is Schneider Electric SE that provides energy-related solutions globally. Its share price has risen 35% in 12 months. Over three years the fund has returned 15%.
3. Montanaro Better World
This fund aims to invest in companies whose products or services are making a positive impact on the world. To identify these companies, the team has six impact 'themes': environmental protection, the green economy, healthcare, innovative technologies, nutrition and wellbeing. To stay true to these themes, the team will also exclude companies that are causing harm, such as those involved in tobacco, weapons and fossil fuels extraction.
Its top 10 holdings include Melexis which develops, tests and markets advanced integrated semiconductor devices for use in automotive electronics. Its share price has risen 14% in 12 months. The fund has returned 20% in five years.
4. Baillie Gifford Responsible Global Equity Income
The fund aims to grow both income and capital over rolling five-year periods and achieve a yield higher than that of the MSCI AC World Index. Its managers James Dow, Toby Ross and Ross Mathison seek to do this by investing globally in those 'rare' companies which can deliver both a dependable income stream and real growth in income and capital. In addition, they want the companies to be managed and behave responsibly when it comes to the environment and society. They take a 'thoughtful' bottom-up approach, looking for companies which meet the 10 principles of the United Nations Global Compact encompassing human rights, labour, environment, and anti-corruption. That means excluding stocks which make more than 10% of their annual revenues from industries such as thermal coal production.
Holdings include energy solutions group Schneider Electric SE and Watsco which sells air conditioning, heating and refrigeration equipment that helps consumers and businesses reduce their carbon footprint by electrifying their heating, lowering their energy consumption and improving air quality. Its share price has risen 42% in a year.
The fund has returned 30% in three years.
5. Ninety One UK Sustainable Equity
This fund invests in companies making a positive impact on society or the environment.
The first step in identifying these businesses is excluding those whose activities result in significant negative impacts, such as companies that produce controversial weapons, tobacco, oil and gas, and coal. Violators of the UN Global Compact principles (a UN pact on the environment, human rights, labour, and anti-corruption) are also excluded.
Dominic Rowles, lead ESG analyst at Hargreaves Lansdown said: "Manager Matthew Evans then assesses companies across three pillars – financial strength and sustainability, the impact of its operations and the impacts of its products or services. The manager takes this approach because he believes the impacts that companies have, both positive and negative, will become increasingly important in the way they're valued in the future."
One holding is Agronomics, a company focused on cellular agriculture – the production of agricultural products (particularly cultivated meat) directly from cell cultures rather than via traditional agricultural methods. Its share price is down 21% over 12 months.
The fund has returned 5% in three years.
What to look out for when picking green funds
When choosing funds it's important to find those that truly invest sustainably or with impact as they might claim. The growth in the responsible investments market has led to widespread accusations of greenwashing, where the word "sustainable" or "responsible" is added to a fund's name to increase its marketing appeal.
To find out if a fund does what it says on the tin, some detective work is necessary. You'll need to study the fund factsheet which holds information on some of the companies it invests in, its objectives and how the fund is run. You could delve deeper and check out the company website to see if they regularly vote on corporate issues that matter to you, and challenge companies on any tricky issues.
Lisa Stanley, co-founder of Good With Money, says: "When it comes to sustainable investment, the UK government seems to be showing the same lack of pace and direction as it has demonstrated recently for the EV and heat pump sectors. It seems that, where the EU goes, the UK fails to follow.
"While the EU recently issued new rules banning generic environmental claims such as 'climate neutral' and 'eco' from 2026, the FCA has yet to publish its long-awaited final policy statement relating to the sustainability disclosure requirements and investment labels.
"The proposals are designed to answer people's desire to understand the positive environmental impacts of the investment products they choose.
"Until then, when choosing sustainable investment funds, it's important to do your own detective work to ensure the funds you choose will be invested in line with your values."
Holly Thomas is a freelance financial journalist covering personal finance and investments.
She has written for a number of papers, including The Times, The Sunday Times and the Daily Mail.
Previously she worked as deputy personal finance editor at The Sunday Times, Money Editor at the Daily/Sunday Express and also at Financial Times Business.
She has won Investment Freelance Journalist of the Year at the Aegon Asset Management Media Awards in November 2021.