Investment trusts for your ISA
Depending on your investment aims, these are the investment trusts to consider for your ISA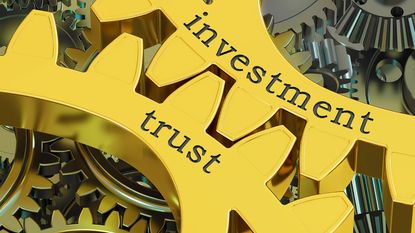 (Image credit: © Getty )
If you are considering your investment choices, then here are eight investment trusts for your ISA whatever your investment aims. Indeed, here at MoneyWeek, we've always believed investment trusts are one of the best places to invest your cash for the long term.
City of London investment trust (LSE: CTY)
If you're looking for income and stability, then City of London - a classic UK income fund that has been around since 1861 - is worth considering.
"The trust is a classic UK income fund in its construction, looking for large-cap companies paying sustainable and attractive dividends, boasting robust balance sheets, and trading at reasonable valuations," Lith Laith Khalaf, head of investment analysis at AJ Bell, tells MoneyWeek.
Subscribe to MoneyWeek
Subscribe to MoneyWeek today and get your first six magazine issues absolutely FREE
Get 6 issues free
Sign up to Money Morning
Don't miss the latest investment and personal finances news, market analysis, plus money-saving tips with our free twice-daily newsletter
Don't miss the latest investment and personal finances news, market analysis, plus money-saving tips with our free twice-daily newsletter
The £2bn trust aims to provide long-term growth in income and capital, principally by investment in equities listed on the LSE.
"UK shares have not been a happy place for investors to be in the last decade compared to more racy US tech stocks, but the one big benefit of the London Stock Exchange is the number of companies paying attractive dividends, and this trust is well-placed to capitalise on that," he adds.
It invests mainly in UK equities with a focus on large, multinational businesses able to grow their profits consistently over the long run. Some of the largest holdings are British American Tobacco, Shell and Diageo. Overseas holdings include TotalEnergies, Nestlé and Novartis.
At 5.1%, the trust offers one of the highest yields on the market and has increased its dividend every year since 1966.
Fidelity Special Values (LSE: FSV)
Managed by contrarian investor Alex Wright, unloved or overlooked companies that are set to stage a recovery is the name of the game at Fidelity Special Values.
"This opens up the potential for a performance kicker from smaller and medium-sized companies, which tend to outperform their blue chip cousins over the long run, and are a fertile hunting ground for active managers to sort the wheat from the chaff," says Khalaf.
This can be a higher-risk approach, but the fund is well diversified with over 100 holdings.
" Wright's focus on out of favour companies does mean investors need to be both adventurous and patient though," Khalaf warns.
The trust currently offers a divined yield of 2.9%.
ABRDN UK Smaller Companies (LSE: AUSC)
Small cap manager Harry Nimmo stood at the helm of ABRDN UK Smaller Companies for almost 30 years, before handing over to Abby Glennie at the end of last year. Nimmo and Glennie have worked together since 2013.
The trust uses a proprietary tool called 'the Matrix' to find investment opportunities that otherwise might be overlooked.
"Fans of the 1999 sci-fi classic might be disappointed to learn it doesn't have the ability to create entirely realistic worldscapes, but happily for investors, it helps the managers at Abrdn screen the small cap universe for potentially interesting companies based on growth, quality, momentum and value characteristics," says Khalaf.
This quantitative screen is then followed up with qualitative research to dig down into the details of each company, looking for those with good growth prospects and robust finances so they can weather the occasional storm.
"The resulting portfolio is concentrated in nature, which adds to the risk but also means if the managers get their stock picking right each investment can make a meaningful contribution to performance," Khalaf adds.
The stock supports a dividend yield of 2.6%.
Personal Assets Trust (LSE: PNL)
Personal Assets invests in a range of assets including high-quality companies, short-dated government bonds, cash and gold. The £1.9bn trust is run with conservative investment principles in mind, in particular minimising losses in falling markets, and the diversity of assets leads to a smoother ride than a pure equity approach.
"The fund won't shoot the lights out when markets are roaring away, but it should preserve capital better in tougher times, and that means it will have less ground to make up when the storm clouds clear. A trust for more conservative investors or those who simply want a bit of ballast in their portfolio," says Khalaf.
The trust has seen steady returns over previous years and has done well in difficult market conditions.
Itt is managed by experienced manager Sebastian Lyon, who's positioned defensively in this uncertain market.
Schroder Oriental Income (LSE: SOI)
Close to 60% of the companies that belong to the MSCI All Countries Pacific ex Japan index (which includes Australia) yield more than 3%, which is comparable to that seen in Europe and the UK, both of which are seen as high-yielding markets.
"This provides rich pickings for Richard Sennitt, manager of the Schroder Oriental Income investment trust, who focuses on high-quality companies able to deliver rising dividends, identified by the significant resources Schroders has on the ground in the region," says Khalaf.
"As a way to diversify a portfolio's sources of income or to provide less volatile exposure to Asia's growth potential, the trust has broad appeal. Add in lower valuations in the region compared with developed markets, experienced management and a proactive board and you get a trust that deserves a closer look," he adds.
With a yield of 4.6%, the shares offer one of the highest income returns of all the trusts featured here.
Life Science Reits (LSE: LABS)
One option for investors who are looking to preserve capital is Life Science REIT.
It is the only real estate investment trust (Reit), specifically targeting properties suitable for life sciences companies in the "Golden Triangle".
Management has been buying up underutilised office buildings that are prime conversion candidates, and then converting them to make them suitable for life sciences businesses. It focuses on properties in the so-called life science "Golden Triangle" of Oxford, Cambridge and London.
The UK life sciences market has proved itself to be incredibly resilient – It's one of the fastest-growing sections of the economy amid growing interest levels from developers, investors, and landlords regarding the science sector.
The stock currently offers a dividend yield of 6.3%.
Fidelity European Trust (LSE: FEV)
This £1.4bn trust aims to achieve long-term growth in both capital and income by predominantly investing in equities of continental European companies.
The fund's strategy is focused on identifying long-term growth opportunities in companies with strong fundamentals as well as long-term structural growth prospects.
The trust's manager Sam Morse has three decades of experience and looks for businesses exhibiting an ability to grow dividends sustainably over a three to five year period, according to the fund platform.
AJ Bell's research shows that the portfolio includes quality companies trading at reasonable valuations, best thought of as a GARP [Growth at a Reasonable Price Strategy] investment style.
The trust was trading on a -4.47% discount at the start of this month and has offered protection in falling markets through the past couple of years, while also outperforming both the broader European equity market and sector.
The trust is overweight in financials, technology and industrial sectors, featuring some of the household names like Nestlé, ASML and LVMH Moet Hennessy.
Law Debenture Trust (LSE: LWDB)
A MoneyWeek favourite in the UK equity income space is the Law Debenture Trust.
This trust has a unique structure in that it operates a professional services company alongside the investment portfolio. The division provides services such as pension and whistleblower management for other corporations, bringing in a steady, recurring income stream.
This also gives the firm's portfolio managers more flexibility. They can look outside the traditional UK equity income space when hunting for opportunities.
Ongoing charges of 0.49% are some of the lowest in the investment trust sector and the trust currently pays a dividend yield of 3.77%.
Kalpana is an award-winning journalist with extensive experience in financial journalism. She is also the author of Invest Now: The Simple Guide to Boosting Your Finances (Heligo) and children's money book Get to Know Money (DK Books).
Her work includes writing for a number of media outlets, from national papers, magazines to books.
She has written for national papers and well-known women's lifestyle and luxury titles. She was finance editor for Cosmopolitan, Good Housekeeping, Red and Prima.
She started her career at the Financial Times group, covering pensions and investments.
As a money expert, Kalpana is a regular guest on TV and radio – appearances include BBC One's Morning Live, ITV's Eat Well, Save Well, Sky News and more. She was also the resident money expert for the BBC Money 101 podcast .
Kalpana writes a monthly money column for Ideal Home and a weekly one for Woman magazine, alongside a monthly 'Ask Kalpana' column for Woman magazine.
Kalpana also often speaks at events. She is passionate about helping people be better with their money; her particular passion is to educate more people about getting started with investing the right way and promoting financial education.
With contributions from