Oil price races higher as demand rebounds
Supply constraints, increased demand and the Russian threat to Ukraine are sending the oil price racing towards $100 a barrel.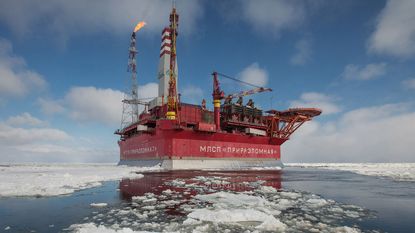 (Image credit: © Sergey Anisimov /Anadolu Agency/Getty Images)
Oil prices are racing towards $100 a barrel. Brent crude futures hit $96 a barrel early this week, the highest level in more than seven years. That reflected fears of an imminent Russian invasion of Ukraine, a risk that traders had largely ignored until now. "Russia produces ten million barrels of oil a day, roughly 10% of global demand," says Clifford Krauss in The New York Times. A war, and resulting Western sanctions, could remove some of that supply from global markets.
This week's jump shows traders starting to "price in a sizeable geopolitical risk premium" into oil prices, say Christopher Matthews and Collin Eaton in The Wall Street Journal. While Western governments are reluctant to sanction Russian energy, they may ultimately be forced to do so.
Demand exceeds supply
Oil markets were already tight. The Opec+ group of producers, which includes Saudi Arabia and Russia, is struggling to keep up with demand: it has been raising production quotas in response to a recovering global economy, but several members are pumping less than they planned. Total output was a record 747,000 barrels per day short of the collective quota in December, according to energy-research firm BloombergNEF.
Subscribe to MoneyWeek
Subscribe to MoneyWeek today and get your first six magazine issues absolutely FREE
Get 6 issues free
Sign up to Money Morning
Don't miss the latest investment and personal finances news, market analysis, plus money-saving tips with our free twice-daily newsletter
Don't miss the latest investment and personal finances news, market analysis, plus money-saving tips with our free twice-daily newsletter
A slew of recent outages in Nigeria, Ecuador, Libya and Kazakhstan is keeping a lid on global supply, says Radmilla Suleymanova for Al Jazeera. At the same time, the Covid-19 Omicron variant has also failed to dent the world's appetite for petroleum as much as had been feared at the end of last year. The International Energy Agency thinks that global demand for oil will return to pre-pandemic levels – roughly 100 million barrels per day – by the end of the year, up from the current level of 97 million per day, says The Economist. Some are more bullish: Opec+ expects demand to reach 103 million barrels per day.
Raising forecasts
Wall Street analysts have started to forecast $100 or even $120 a barrel oil, but not everyone is convinced. If Ukraine tensions cool and Washington manages to do a deal with Iran about its nuclear programme – which could bring one million barrels per day back onto global markets – then prices could yet fall. "The real wild card is shale," says the Economist. US investors are thought to have lost $300bn in the last boom-and-bust cycle, but higher prices are tempting some oil prospectors to try their luck again. Not for the first time, American shale drillers may yet come to the rescue.
High oil prices are ultimately "self-correcting" because they encourage higher output, says Jeremy Warner in The Daily Telegraph, "but they can do an awful lot of damage in the meantime". Oil appears to be following natural gas higher: European gas prices hit the oil-price equivalent of $350 a barrel late last year and are still trading at the oil-price equivalent of around $160 a barrel. That has given power stations in the US and Japan an incentive to shift from burning gas to burning oil for electricity, raising demand for the latter. Could oil spike as high as gas, towards $300 a barrel? "Perhaps not that high, but something much higher than now is certainly plausible."