Russian aggression is a big blow for the world's "net zero" ambitions
Switching the world economy over from fossil fuels to green alternatives was always going to be a challenge. It just got a lot harder. Simon Wilson reports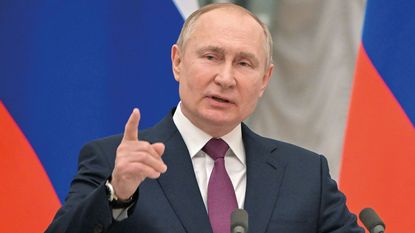 (Image credit: © MIKHAIL KLIMENTYEV/Sputnik/AFP via Getty Images)
Western nations are scrambling to cut exposure to Russian energy, and a rapid shift to green energy is looking ever more like a national security issue.
Russia's war on Ukraine "should motivate us to accelerate our transition to a clean energy future", tweeted US president Joe Biden on Wednesday. "To protect our economy over the long term, we need to become energy independent" – and clean energy "means tyrants like Putin won't be able to use fossil fuels as a weapon". Optimistic climate campaigners foresee a win-win: what could be better than starving the Putin war machine of funds while also saving the planet?
In future, clean energy will be seen as the "energy of freedom", reckons Christian Lindner, Germany's new finance minister. But others are sceptical. Renewables' capacity will be slow to ramp up, and weaning Europe off Russian gas will be a slow process. Meanwhile, energy prices are spiralling, emissions are rising, and some analysts expect fossil fuels to remain vital in the short-term as a bridge to net zero.
Subscribe to MoneyWeek
Subscribe to MoneyWeek today and get your first six magazine issues absolutely FREE
Get 6 issues free
Sign up to Money Morning
Don't miss the latest investment and personal finances news, market analysis, plus money-saving tips with our free twice-daily newsletter
Don't miss the latest investment and personal finances news, market analysis, plus money-saving tips with our free twice-daily newsletter
What will the effect of sanctions be?
As part of the wide-ranging sanctions on Russia, Biden signed an executive order blocking US imports of Russian coal and gas, with the aim of sending a "powerful blow to Putin's war machine". The US can afford to act swiftly; it gets only 7% of its imported oil from Russia.
By contrast, the EU gets 40% of its gas and just over 25% of its oil from Russia. It announced cuts to imports of Russian gas by two-thirds within a year – though this target would obviously become moot if Putin follows through on threats to cut off the gas in response to Western sanctions.
In the UK, the Boris Johnson government is briefing media that it is looking at "alternative sources of energy that are cheaper and more reliable and less vulnerable to the whims of a dictator". Kwasi Kwarteng, the business and energy secretary, said Britain would "phase out" imports of Russian oil by the end of 2022 and was "exploring options" to end Russian gas imports.
What is Johnson's plan?
The government's new "energy supply strategy", which it has signalled it will unveil within days or weeks, is likely to include an increase in North Sea oil and gas production, and more investment in nuclear and renewables, including offshore wind. It could also include looking again at fracking for shale gas, which has been under a moratorium for the past two years, although Kwarteng is reportedly not a fan. A policy paper is due within the next couple of weeks.
The UK's approach broadly reflects the fact that, in the short term, the Ukraine war means that Europe may be burning more coal, but in the long term it could drive a speeded-up green transition. Meanwhile, the whole question of the UK's net-zero ambitions is becoming more central to politics. Pressure is growing on the right of the Conservative party for a watering down of net-zero targets.
What about consumers?
Unlike many countries in mainland Europe, the UK gets very little gas from Russia: the proportion varies between 2% and 4% . However, gas is a global market, and constrained Russian supply dramatically affects the price we pay. On Monday, UK wholesale gas prices spiked wildly to a fresh record of 800p per therm, before falling back to 501p – up 8% on the day and more than 12 times the level of a year ago, when prices were around 40p per therm.
Brent crude oil soared to $139 a barrel, and fuel prices have surged over the past fortnight. When it costs £100 to fill up a car, the benefits of going electric might start to outweigh the doubts. Alternatively, high fuel prices could help motivate a backlash against net zero. It seems increasingly clear that this tension will be at the centre of UK politics for the next decade or more.
What about China?
China has been sending mixed messages on Ukraine. While it may be in Beijing's interests for a weakened Russia to be drawn further into its orbit, it is not in China's interests for the international system to collapse, fuelling a global recession and regional conflicts.
Like the UK, China directly gets relatively little gas from Russia (5% of gas imports, 10% of oil). But overall it is a net importer of energy, and a big emitter of carbon, and will be heavily affected by the rocketing prices for oil and gas.
"Typically, when China experiences energy shock, its response is to burn more coal," says Leslie Hook in the Financial Times. "So as oil and gas prices rise, we are likely to see China turn back to coal, which it can produce domestically, to keep power stations going." China is still building new coal plants, and emissions there rose 4% last year, accounting for a quarter of the global rise in emissions.
So the war could derail progress?
The transition was already in trouble before the Ukraine crisis. Last year the surging post-pandemic recovery boosted global demand for power, and coal power output in Europe rose 18%, its first jump in nearly a decade. Coal use globally surged to record levels over the northern hemisphere winter, and 80% of the world's energy is still from fossil fuels.
Most analysts, including within the industry, think the jump in coal will be short-lived. Yet there's a risk that the economic instability created by Russia's war of aggression will prove a long-term setback for the green transition, rather than an incentive, says energy economist Dieter Helm. What has happened this year is the first "net-zero price crisis", he says. It is a bitter reminder of just how costly the green transition will be – and also how necessary.
Simon Wilson's first career was in book publishing, as an economics editor at Routledge, and as a publisher of non-fiction at Random House, specialising in popular business and management books. While there, he published Customers.com, a bestselling classic of the early days of e-commerce, and The Money or Your Life: Reuniting Work and Joy, an inspirational book that helped inspire its publisher towards a post-corporate, portfolio life.
Since 2001, he has been a writer for MoneyWeek, a financial copywriter, and a long-time contributing editor at The Week. Simon also works as an actor and corporate trainer; current and past clients include investment banks, the Bank of England, the UK government, several Magic Circle law firms and all of the Big Four accountancy firms. He has a degree in languages (German and Spanish) and social and political sciences from the University of Cambridge.