Martinware pottery: grotesque birds soar in value
The market in "Martinware" pottery is booming with many of the grotesque figures fetching tens of thousands of pounds. But there are still bargains to be had, says Chris Carter.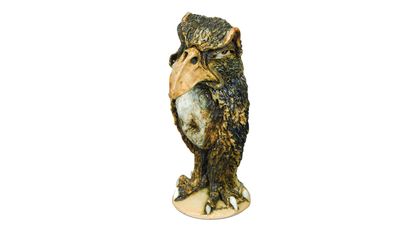 (Image credit: © Cheffins)
Squinting, grinning, gurning, hunched over with gaping maws, splayed paws and claws, hooked bills and monstrous features, the creatures that emerged from the studio of Victorian potters the Martin Brothers are anything but beautiful.
These stoneware pots, jugs and sculptures, known as "Martinware", are grotesque. So it was with no small irony that, in 2019, the government slapped an export ban on a smirking crab from 1880, citing its "outstanding aesthetic importance". Then again, there is beauty in the bizarre and this whimsical early example had featured in the Pall Mall Gazette in 1890. In 2020, this toothsome crustacean was saved for the nation, when the Box museum, in Plymouth, raised the £217,250 required to give the crab a permanent home on these shores.
Dreaming in clay
The story of Martinware begins in Fulham, west London, in 1873. Here, not far from the Thames, Robert Wallace, a trained sculptor, and his younger brothers, Walter, Charles and Edwin, began working on their Gothic creations in their own studio. Perhaps the most famous of these are the "Wally birds". These "bird pots" lampooned the traditional owl jugs of Staffordshire and take their name from an old English word for ceramic. They recall the colourful characters of Lewis Carroll and Edward Lear.
Subscribe to MoneyWeek
Subscribe to MoneyWeek today and get your first six magazine issues absolutely FREE
Get 6 issues free
Sign up to Money Morning
Don't miss the latest investment and personal finances news, market analysis, plus money-saving tips with our free twice-daily newsletter
Don't miss the latest investment and personal finances news, market analysis, plus money-saving tips with our free twice-daily newsletter
According to the Wiener Museum of Decorative Arts in Florida, "it was once said that Lear, Carroll and [Robert Wallace] Martin dreamed similar dreams only Wallace dreamt them in clay and baptised them with flame". One particularly fine specimen from 1889 (pictured)is appearing as part of a sale of Martinware with Cambridge-based auctioneers Cheffins on 24 February. Glazed in shades of ochre, blue and green, its miffed expression can be attributed to the bullet hole in its belly. It is expected to sell for between £10,000 and £15,000. Another item, a pair of stoneware andirons in the form of grotesque amphibians, carries a high pre-sale estimate of £80,000.
The brothers, however, were never rich. They could only afford to fire the kiln once or twice a year and they had no money for protective containers for the pots during firing, which meant that many were damaged, notes Cheffins's director Martin Millard. Robert Wallace survived until 1923, long enough to have apparently been shocked when a pot sold for £50 (£2,600 today) in 1921.
The valuations placed on Martinware pieces these days would, no doubt, have left Robert Wallace looking as astonished as some of his creations. Last September, a Wally bird fetched £30,000 with Christie's, while another, a caricature of prime minister Benjamin Disraeli, sold for $233,000 with Phillips in 2015. But, says Millard, collectors can find simpler pieces selling for just a few hundred pounds.
Banksy's stable
A miniature model of a stable daubed in red graffiti, made by anonymous street artist Banksy, has sold for £1m, including fees, with Anderson & Garland Auctioneers in Newcastle. The thatched building, complete with a tiny horse, and the words "Go big or go home", first appeared last summer at Merrivale Model Village in Great Yarmouth, as part of Banksy's series, the "Great British Spraycation". It sat there unnoticed among the other models for two days before a visitor pointed it out to the attraction's owners, Frank and Frances Newsome. Pest Control, Banksy's authentication service, claimed it as one of its own.
Pest Control is not always so obliging with its authentications, says Anny Shaw in The Art Newspaper. Nevertheless, Dutch auctioneer Richard Hessink is set to publish the first catalogue raisonné (comprehensive list) of the artist's works in early April. The unauthorised catalogue will feature almost 1,000 murals painted over 25 years, which Pest Control says are "not intended for resale". Hessink estimates that around three-quarters have been destroyed.
Pop singer Robbie Williams is selling three certified Banksy paintings with Sotheby's in London on 2 March. Vandalised Oil (Choppers) (2006), depicting a pair of Apache helicopters flying over a pastoral scene, and Kissing Coppers (2005) of two policemen embracing, come with high pre-sale estimates of £3.5m. The third is Girl With Balloon (2006), a partially shredded version of which sold for £18.5m last year. However, the current version, with a valuation of up to £3m, is on metal. Even Banksy may have a hard time shredding that one.
Auctions
Going…
An "extremely rare and important" Edward III leopard gold coin, from 1344, that was found by a metal detectorist in 2019, and declared treasure by a Norfolk coroner, is heading for auction with Dix Noonan Webb (DNW) in London on 8 and 9 March. The 23-carat coins were hammered at the Tower of London in January 1344, but withdrawn soon after on the advice of Florentine bankers, the foreign-exchange dealers of the time, says Nigel Mills of DNW on BBC News. The coin, depicting a leopard and royal banner, is expected to fetch up to £140,000.
Gone…
Michael Leigh-Mallory was a lapsed metal detectorist, who returned to his hobby with his children only to find a "fine example" of England's oldest gold coin – a gold penny from the reign of Henry III, says The Guardian. The coin (pictured), one of 52,000, was struck in around 1257 with precious metal imported from north Africa. Most were melted down when it became apparent that the value of the coin was less than the weight of its gold. Eight examples are known to have survived. The coin sold with auctioneers Spink in London for £648,000, with the proceeds split between Leigh-Mallory and the owner of the farmland on which it was found in Devon.
Chris Carter spent three glorious years reading English literature on the beautiful Welsh coast at Aberystwyth University. Graduating in 2005, he left for the University of York to specialise in Renaissance literature for his MA, before returning to his native Twickenham, in southwest London. He joined a Richmond-based recruitment company, where he worked with several clients, including the Queen's bank, Coutts, as well as the super luxury, Dorchester-owned Coworth Park country house hotel, near Ascot in Berkshire.
Then, in 2011, Chris joined MoneyWeek. Initially working as part of the website production team, Chris soon rose to the lofty heights of wealth editor, overseeing MoneyWeek's Spending It lifestyle section. Chris travels the globe in pursuit of his work, soaking up the local culture and sampling the very finest in cuisine, hotels and resorts for the magazine's discerning readership. He also enjoys writing his fortnightly page on collectables, delving into the fascinating world of auctions and art, classic cars, coins, watches, wine and whisky investing.
You can follow Chris on Instagram.