Collecting lego: the profits to be had in plastic bricks
Lego can be a good investment – if you buy the right sets. Chris Carter reports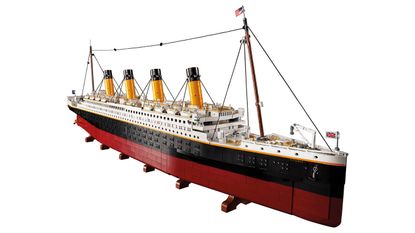 (Image credit: © Lego)
Christmas seems a long time ago already. That Lego Harry Potter Hogwarts Chamber of Secrets playset that cost £130 is probably gathering dust by now in the corner of an untidy bedroom. If so, you might in time be wishing that it had remained unspoilt in its packaging as Lego sets can make good investments. That's the conclusion of a paper from Russia's Higher School of Economics, published in this month's Research in International Business and Finance journal. The authors, Victoria Dobrynskaya and Julia Kishilova, compared the prices of 2,322 unopened sets, dating from 1987 to 2015, on the secondary market. They found that the sets yielded an average annual return of 8%, adjusted for inflation – more than from large stocks, bonds and gold.
The authors of the study also found that medium-sized sets tended to appreciate more slowly than small sets, due to the latter's tendency to contain unique parts and figures, and than big sets, which tend to be "produced in small quantities and are more attractive to adults". And what's attractive for adults is attractive for Lego.
"There's now a whole range… designed and directed specifically by the Danish icon at those of an age, you might have thought, to have long ago followed St Paul's advice and 'put away childish things'," says Harry de Quetteville in The Daily Telegraph. This "mature" section of the market drove Lego's net profits for the first six months of 2021 to almost $1bn, an increase of 140%. A glance at Lego's online bestseller list reveals 28 of the 33 sets listed carry 18+ age warnings. "Kidults" buying for themselves now account for an estimated 29% of Britain's £3.3bn toy market, according to market researcher NPD Group.
Subscribe to MoneyWeek
Subscribe to MoneyWeek today and get your first six magazine issues absolutely FREE
Get 6 issues free
Sign up to Money Morning
Don't miss the latest investment and personal finances news, market analysis, plus money-saving tips with our free twice-daily newsletter
Don't miss the latest investment and personal finances news, market analysis, plus money-saving tips with our free twice-daily newsletter
Lego's enduring appeal
Part of that is down to adults rediscovering their childhoods during the pandemic due to nostalgia fuelled by an excess of time and money. "The world has been extremely challenging for everyone and these toys spark joy for a subject people are passionate about," says Melissa Symonds, an analyst at NPD – a passion they are ready to shout to the world, as "a new generation of loud and proud social-media stars [flaunt] their vast collections online", notes Charlie Mitchell in The Times. As one "leading Lego influencer", David Halls, tells the paper, "hype and nostalgia play into how much you can get for reselling old sets". It's about getting their hands on the expensive set "they never got as a kid".
Sets aimed at adults therefore tend to be bigger and pricier. Lego had to start taking orders for its 9,000-piece replica of the Titanic after it sold out in less than a fortnight. At 1.3 metres long, it costs £570. But even that is cheaper than the model of an AT-AT walker from Star Wars, released last month with a £750 price tag. The key for collectors is "buying Lego that is based around franchises [such as Star Wars]... and… keeping them unopened", says Terry Booth of review platform Brandrated, quoted in The Sun.
A run on the Mint
The Royal Mint launched its collectable 50p coins last week, marking the Queen's Platinum Jubilee on 6 February. The obverse on the coins features a design by artist John Bergdahl of the Queen on horseback, while the reverse, designed by agency Osborne Ross, features a stylised "70" for the number of years of her record-breaking reign.
Demand for the new coins, priced at £7 each, plus postage, was so fierce that morning that a queuing system was put in place to allow a controlled number of customers into the Mint's online shop at any one time. Given the hype around special-edition 50ps, that was to be expected. A 50p coin celebrating Kew Gardens' 250th anniversary in 2009 fetched £155.75 on eBay last week – almost 312 times its face value, says The Sun. The Kew Gardens coins top the list of the rarest 50ps, as compiled by numismatic website Change Checker, with one selling for £707 last February, according to the paper. Just 210,000 were minted, compared with a little over 1.1 million 50p coins celebrating Olympic wrestling in 2011, the second-rarest on the list.
Several other Platinum Jubilee coins issued by the Royal Mint sold out quickly, including 5,000 £5 silver coins, costing £92.50 each, and 400 £5 gold coins individually priced at £2,725. But most fitting of all were the 52 £5 platinum coins, each costing £5,495, and weighing twice as much as the gold, at 94.20g – a reflection, perhaps, of the fact that, contrary to historical trends, gold is roughly twice as dear as platinum. But fans of the 50p coins can rest assured. Despite the morning frenzy last week, the Royal Mint states the "maximum coin mintage" as "unlimited" in its release. It seems the Bank of England's monetary tightening plans may have to wait until after the Queen's Jubilee has passed.
Auctions
Going…
In the early years of the 20th century, then-US president Theodore Roosevelt decided the designs on his country's coins did not reflect the emerging greatness of his nation. As a young man touring Europe years earlier, he had been impressed with the high-relief designs on the ancient Greek coinage he had seen in museums. So, in 1905, he met with American sculptor Augustus St. Gaudens and together they redesigned every denomination. Two years later, the $10 "rolled-edge" gold coins had been set for release when they were melted down due to design issues – all except for 42 examples. One (pictured above) will be offered by Legend Rare Coin Auctions on 27 January at the Bellagio in Las Vegas. It is expected to sell for at least $500,000.
Gone…
In the 1870s, William Wheeler Hubbell was a "smooth-talking patent lawyer, serial inventor, and shameless self-promoter" from Philadelphia, in the US state of Pennsylvania, who planned to create a new metric system of coinage, struck from his own, patented "goloid" alloy of gold, silver and copper, according to Dallas-based Heritage Auctions. As part of this system, he wanted to introduce a $4 coin, known as a "stella". Hubbell held some sway with Congress, which, in 1879, directed the Philadelphia Mint to start making the coins, and an initial 25 were minted that December to a "Flowing Hair" design of Liberty. One 1879 Flowing Hair stella fetched $264,000 with Heritage Auctions last month.
Chris Carter spent three glorious years reading English literature on the beautiful Welsh coast at Aberystwyth University. Graduating in 2005, he left for the University of York to specialise in Renaissance literature for his MA, before returning to his native Twickenham, in southwest London. He joined a Richmond-based recruitment company, where he worked with several clients, including the Queen's bank, Coutts, as well as the super luxury, Dorchester-owned Coworth Park country house hotel, near Ascot in Berkshire.
Then, in 2011, Chris joined MoneyWeek. Initially working as part of the website production team, Chris soon rose to the lofty heights of wealth editor, overseeing MoneyWeek's Spending It lifestyle section. Chris travels the globe in pursuit of his work, soaking up the local culture and sampling the very finest in cuisine, hotels and resorts for the magazine's discerning readership. He also enjoys writing his fortnightly page on collectables, delving into the fascinating world of auctions and art, classic cars, coins, watches, wine and whisky investing.
You can follow Chris on Instagram.