Collectables: a busy month for watch lovers
A number of rare and valuable timepieces are up for grabs this November. Chris Carter reports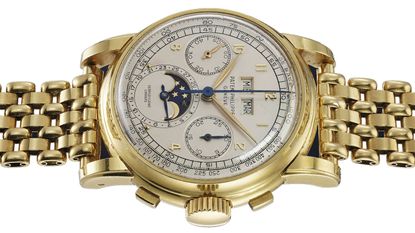 (Image credit: © Phillips)
November is going to be a busy month for watch collectors. Auction house Phillips, in association with Bacs & Russo, a watch consultancy, is holding two high-profile sales in Switzerland. The first, "The Geneva Watch Auction: XIV", on 5 and 7 November, promises to be a showstopper. Top billing goes to an "astonishingly well preserved" Patek Philippe wristwatch reference 2499 from 1952 (pictured). This first series example in yellow gold bears the stamp of its Venezuelan retailer, Serpico y Laino, on the bracelet and comes with a CHF4m (£3.2m) high pre-sale estimate.
Given its "unparalleled" rarity, according to Phillips, it may come as a surprise to watch aficionados, who previously had no idea this particular watch existed, that there is also a second previously unknown 2499 for sale. Both are perpetual calendar chronographs (meaning a watch that displays calendar information while also having the ability to record time); the second 2499 is a second series with a "superb dial". It is expected to sell for at least CHF800,000 (£630,000). Rare pairs of watches appears to be a theme. Phillips is also offering a fascinating and highly desirable Rolex "Deep Sea Special" (see below); as is Christie's in Geneva on 8 November.
The Michelangelo of watches
Four Grande & Petite Sonnerie watches by Swiss watchmaker Philippe Dufour, which chime the hour and quarter hour depending on whether they are set to "grande" or "petite sonnerie" mode, are among the other highlights of the Phillips auction. "To us and a huge community around the world, Philippe Dufour is the horological equivalent of Michelangelo," say senior consultant Aurel Bacs and Phillips watch specialist Alexandre Ghotbi. "The importance of his work cannot be overstated." Dufour began making his Grande Sonnerie pocket watches in the early 1980s, before miniaturising the movement to be able to fit on a wristwatch, of which five with white enamel dials were made. The yellow gold version of the wristwatch is the most valuable of the quartet up for sale, valued by the auction house at up to CHF2m (£1.6m).
Subscribe to MoneyWeek
Subscribe to MoneyWeek today and get your first six magazine issues absolutely FREE
Get 6 issues free
Sign up to Money Morning
Don't miss the latest investment and personal finances news, market analysis, plus money-saving tips with our free twice-daily newsletter
Don't miss the latest investment and personal finances news, market analysis, plus money-saving tips with our free twice-daily newsletter
A sale of incredibly rare pieces
Collectors will also be keeping their eyes on a complete set of five "incredibly rare" and "historically relevant" F.P. Journe "Souscription" N°1 watches. New to the market, these watches were sold to existing clients and friends of watchmaker François-Paul Journe under subscription, in order to finance the creation of his own brand in 1999. "[He] is certainly one of the most talented watchmakers of his generation… [whose] creations have gained incredible traction," say Bacs and Ghotbi. Collectors would appear to agree. Sotheby's in Hong Kong held its "Important Watches" sale last week, at which a F.P. Journe Tourbillon Souverain "Souscription" wristwatch sold for almost HK$16m (£1.5m). A yellow gold Patek Philippe 2499 first series of the kind mentioned above, that had been restored in the early 1990s, also made its market debut at the Sotheby's auction. It fetched HK$9.9m (£930,000).
The Holy Grail for Rolex collectors
The Deep Sea Special, two of which are appearing at auctions with Phillips and Christie's in Geneva next month (see above), is "something of a Holy Grail among Rolex collectors", says James Stacey for Hodinkee. It is famous for being able to survive a trip to the bottom of the ocean. In 1953, Rolex set out to design a watch that could reach depths in excess of 35,000 feet below the waves without being crushed. That's easier said than done, says Stacey. "Humans can't simply dive that deep, or really anywhere close." It's the height of a commercial airliner at cruising altitude, but inverted. After many years of test dives, on 23 January 1960 Rolex finally strapped the Deep Sea Special to the side of the Bathyscaphe Trieste, a submarine crewed by US Navy Lieutenant Don Walsh and Swiss oceanographer Jacques Piccard, and waited as their watch descended to the bottom of the Mariana Trench in the Pacific, the deepest place on Earth.
The Deep Sea Special reached a depth of 35,787 feet – and survived. That particular watch is now on display at the Smithsonian Institution in Washington DC. But Rolex made 35 commemorative versions in 1965, says Bryan Hood in the Robb Report. The integrated bracelet combines stainless steel and gold, while housed beneath a gigantic domed crystal is a black dial with gold markers. On the back of the case, the date of the dive and its water-resistance rating is etched. Examples of the commemorative Deep Sea Specials have only appeared at public sale five times – on the last occasion one sold for HK$3.4m with Christie's in Hong Kong (£262,000 at 2009 rates). This time both examples should sell for more. Phillips has placed a CHF2.4m (£1.9m) high estimate on theirs.
Auctions
Going…
Around 800 items that belonged to the British singer Amy Winehouse, who died in 2011, will be up for sale with California-based Julien's Auctions on 6-7 November. Winehouse's parents have decided to let her personal and professional possessions go and at prices that give her fans a chance to buy something, the auction house's Martin Nolan tells Reuters. Most of Winehouse's dresses are priced at $2,000 to $4,000; opening bids for belts, perfume, shoes, ballet slippers, guitars and drum kits start as low as $50. The green and black figure-hugging halter dress by Naomi Parry that Winehouse wore at her last stage performance, in Belgrade a month before her death at the age of 27, is expected to sell for at least $15,000.
Gone…
A vintage Grateful Dead t-shirt from 1967 sold at auction with Sotheby's in New York last week. Designed by Allan "Gut" Terk, who was a key figure in California's counterculture in the 1960s, the item is one of the earliest official t-shirts produced for the iconic rock band. The previous auction record had been held by a Led Zeppelin t-shirt from a 1979 show at Knebworth, Hertfordshire, which fetched $10,000 on eBay in 2011, says NME. That record was smashed by the Grateful Dead t-shirt, which sold for $17,640.
Chris Carter spent three glorious years reading English literature on the beautiful Welsh coast at Aberystwyth University. Graduating in 2005, he left for the University of York to specialise in Renaissance literature for his MA, before returning to his native Twickenham, in southwest London. He joined a Richmond-based recruitment company, where he worked with several clients, including the Queen's bank, Coutts, as well as the super luxury, Dorchester-owned Coworth Park country house hotel, near Ascot in Berkshire.
Then, in 2011, Chris joined MoneyWeek. Initially working as part of the website production team, Chris soon rose to the lofty heights of wealth editor, overseeing MoneyWeek's Spending It lifestyle section. Chris travels the globe in pursuit of his work, soaking up the local culture and sampling the very finest in cuisine, hotels and resorts for the magazine's discerning readership. He also enjoys writing his fortnightly page on collectables, delving into the fascinating world of auctions and art, classic cars, coins, watches, wine and whisky investing.
You can follow Chris on Instagram.