A vintage year for wine lovers
Collectors and tipplers are having a great time of it. Chris Carter reports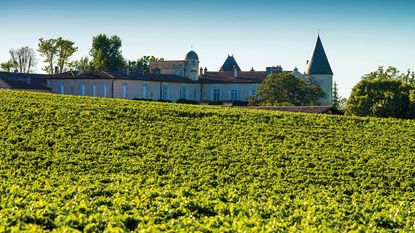 (Image credit: © Alamy)
Last year was a vintage one for wine collecting. The value of fine wine rose by 13% in the year to the end of June, according to research by analytics company Wine Owners, on behalf of Knight Frank, the estate agency and publisher of the Knight Frank Luxury Investment Index. That was a far better performance than from watches, say, which, as an asset class, appreciated by 5% over the same period, and classic cars, which gained 4%.
Sales of Bordeaux, in particular vintages between 1996 and 2000, have done well as these wines are at a price point where they can be drunk now or squirrelled away by well-off collectors, says Wine Owners' founder Nick Martin, quoted in The Times. Mouton Rothschild 2016 was one of the headiest risers, gaining 14% in value over the period. Other risers include Dom Pérignon 2008 Champagne, which has risen by 18.5% to £1,680 for 12 bottles, and "Super Tuscan" Sassicaia 2015, up 14.6%.
Even humbler Italians are starting to get a look in. Lured in by the prestigious regions of Tuscany and Piedmont, buyers are now starting to explore other Italian regions, such as Veneto, Abruzzo and Umbria, notes wine exchange Liv-ex in its recent Italy's Underdogs report. Italy's share of secondary market trade in fine wine sits at a record high of 16% year-to-date – Italy is now the third most-traded category on the secondary market after Bordeaux, with 40.5%, and Burgundy (20.4%).
Subscribe to MoneyWeek
Subscribe to MoneyWeek today and get your first six magazine issues absolutely FREE
Get 6 issues free
Sign up to Money Morning
Don't miss the latest investment and personal finances news, market analysis, plus money-saving tips with our free twice-daily newsletter
Don't miss the latest investment and personal finances news, market analysis, plus money-saving tips with our free twice-daily newsletter
Prices encompassing all Italian regions have risen by 12.2% in the past year, making the Liv-ex Italian fine wine sub-index the third best-performing, after Champagne and Burgundy, in the Liv-ex 1000 index, which tracks the prices of 1,000 wines from around the world.
Upsides from global warming
Climate change is also bringing new wines into our cellars. Warmer temperatures and longer ripening seasons have boosted cooler regions, such as southern England and British Columbia in Canada, says Alan Livsey in the Financial Times. And while warmer weather can be a boon for cooler climes, it can cut the other way for more established areas.
Frosts in Bordeaux last spring adversely affected vines, floods in Germany's Rhine Valley this summer could result in the widespread loss of mature vines, and wildfires in northern California last year contributed to "smoke taint".
Bordeaux, California and Italy are also producing more alcoholic wines, according to another study from Liv-ex, due to more sugar in the grapes. That's not necessarily a bad thing, but it does present new questions and challenges for wine-makers and collectors.
"Disaggregating rising fine wine prices from climate change is not easy", says Livsey. "It's fair to say that few investors have fully thought through the impact of climate change on wine portfolios."
Scandal in the French wine world
Two top wine-makers from Saint-Émilion, in southwestern France, stand accused of rigging the region's classification system in a landmark trial that has gripped the wider Bordeaux wine-making world, says Henry Samuel in The Daily Telegraph.
According to prosecutors, Hubert de Boüard, a wine consultant and co-owner of the famed chateau Angélus, and Philippe Castéja, a wine merchant and owner of the chateau Trotte Vieille, unfairly used their influence as members of the INAO, France's wine governing body, to ensure their own domains, along with others they were paid to advise, kept their ranking or joined the select club. Both men deny any wrongdoing.
Unlike Bordeaux's 1855 classification, St-Émilion's is reassessed every ten years. Inclusion in the two main categories of Grand Cru Classé and the more prestigious Premier Grand Cru Classé can boost wine prices by around 30%, and lift property prices.
Ausone, Cheval Blanc, Pavie and Angélus, the top four A-grade chateaux, produce some of the most expensive wines in the world, with the price of a bottle of Ausone "soaring into the thousands". In the latest rankings, from 2012, 64 chateaux made the cut for Grands Crus Classés, and 18 were awarded Premiers Grands Crus Classés status.
But the owners of three chateaux, who either were refused promotion or failed to make the grade, cried foul. They have accused the Bordeaux prosecutor's office of yielding to political pressure to save reputations by trying to have the case quashed before it went to court. They also contend that wine-tasting notes only account for 30% of the decisions to award rankings, with the rest based on the fame of the chateaux and other criteria. The trial continues.
Auctions
Going…
The "Number One" guitar, the earliest approved production model of the famed Gibson Les Paul electric guitar, is heading for auction with Christie's in New York. Made in 1952, the solid-body instrument bearing its creator's name is being sold by Les Paul's son, Gene, who dubbed it a "perfect rock and roll machine". Guitarists Jimmy Page, Pete Townshend and Jeff Beck all came to embrace the Gibson Les Paul. "I'd have to say, what's the Wright brother's first plane worth? What's Thomas Edison's first light bulb worth? The Paul guitar, the Les Paul Number One, was his crowning achievement," says Gene Paul. Bidders will decide on 13 October. The guitar is valued at between $100,000 and $150,000.
Gone…
A cassette recording from January 1970 of a 33-minute interview by four Danish school boys with John Lennon and Yoko Ono, whom they met while the couple were in Denmark, sold with auction house Bruun Rasmussen in Copenhagen last week. On it, the boys discuss the couple's peace campaign against the backdrop of the Vietnam War, Lennon's hair and his frustrations with The Beatles' image. Lennon also sings an unreleased song, called Radio Peace, which he wrote for a radio station of the same name that he and Ono had wanted to start in Amsterdam, and a rendition of Give Peace a Chance. The tape, along with a set of photographs from the meeting, fetched 370,000 kroner (£42,500).
Chris Carter spent three glorious years reading English literature on the beautiful Welsh coast at Aberystwyth University. Graduating in 2005, he left for the University of York to specialise in Renaissance literature for his MA, before returning to his native Twickenham, in southwest London. He joined a Richmond-based recruitment company, where he worked with several clients, including the Queen's bank, Coutts, as well as the super luxury, Dorchester-owned Coworth Park country house hotel, near Ascot in Berkshire.
Then, in 2011, Chris joined MoneyWeek. Initially working as part of the website production team, Chris soon rose to the lofty heights of wealth editor, overseeing MoneyWeek's Spending It lifestyle section. Chris travels the globe in pursuit of his work, soaking up the local culture and sampling the very finest in cuisine, hotels and resorts for the magazine's discerning readership. He also enjoys writing his fortnightly page on collectables, delving into the fascinating world of auctions and art, classic cars, coins, watches, wine and whisky investing.
You can follow Chris on Instagram.