Gold coins lose none of their shine as "Brasher" doubloon sells for a record price
The New York-style Brasher gold coin just set a new record auction sale price of $9.4. Chris Carter reports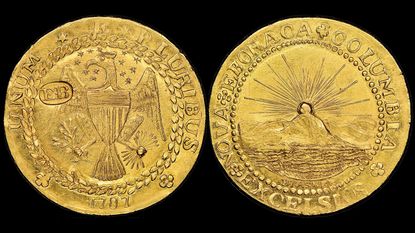 (Image credit: © Heritage Auctions)
The gold price may have lost some of its shine this year, but the same cannot be said for one gold coin in particular. Last month, a rare 1787 "New York-style Brasher" doubloon set a new record price for a gold coin when it sold for almost $9.4m with Texas-based Heritage Auctions. Another of the seven known to exist had held the record since December 2011 when it fetched $7.4m at auction, but the latest coin is said to be the finest of the lot. While the 1794 "Flowing Hair" silver dollar retains the overall record (it sold for $10m in 2013), the New York-style Brasher is nevertheless revered by collectors. It has even had a film-noir thriller named after it: The Brasher Doubloon from 1947, starring George Montgomery and Nancy Guild, and based on The High Window by Raymond Chandler.
Ephraim Brasher, after whom the doubloon is named, was a late 18th-century silversmith who had served in the Revolutionary War, and lived in New York at a time when the city was briefly the capital of the fledgling United States. George Washington was his next-door neighbour. As an expert in precious metal work, Brasher was later called on by the new US Mint to assay the purity and weight of the many foreign coins then in circulation, and which tended to be reserved for large purchases. (Coppers are what you would have used for trifling expenses. And if you did have trouble remembering what your British guineas where worth compared with your Spanish doblons (from where we get the name "doubloon"), the Bank of North America printed a guide setting out the various values in 1789.) On occasion, these bullion coins would need to be topped up with a little more silver or gold if they had been debased on their journeys around the world. When Brasher was happy, he stamped his initials "EB" on the coins, which became a hallmark of quality.
Brasher also made his own coins (of which the New York-style doubloons are the most famous). He had to. The US Mint didn't get going until 1792, so it was to Brasher that the young republic turned. His 1786 "Lima-style" doubloons were the first gold coins to be produced in the US, providing a model for the New York-style coins that followed. As such, in addition to his initials, the coin that was auctioned last month also bears his surname, Brasher, beneath the sun rising over a mountain on the obverse side. Flip it over and the American eagle of the Great Seal of the United States proudly displays its shield, olive branch and arrows. It is, as Heritage Auctions says, "the world's most famous coin".
Subscribe to MoneyWeek
Subscribe to MoneyWeek today and get your first six magazine issues absolutely FREE
Get 6 issues free
Sign up to Money Morning
Don't miss the latest investment and personal finances news, market analysis, plus money-saving tips with our free twice-daily newsletter
Don't miss the latest investment and personal finances news, market analysis, plus money-saving tips with our free twice-daily newsletter
How blunders add value to banknotes
Debasing US money quite literally chipped away at the value of these coins. It was illegal then as it is now (except for when the central bank does it). Errors made at the time of manufacturing, on the other hand, can often add major value for collectors. Just ask the bidder who paid nearly $400,000 for a $20 banknote, also with Heritage Auctions, last month.
In 2004, a student in Ohio received the note from a cash machine and was surprised to see it had a "Del Monte Ecuador" fruit sticker "in it". Modern US banknotes are printed in three stages, the auction house explains. The first prints the back, the second provides the face devices and the third adds the seals and serial numbers. At some point before the final printing at the Fort Worth Western Currency Facility in Texas, the offending fruit sticker found its way on and the rest of the note was printed over it. A student and his money are soon parted and he sold it on auction site eBay for $10,000. When it appeared for auction just two years later, it sold for $25,300.
Mistakes do happen. Last month, sci-fi fans spotted errors on new £2 coins marking 75 years since the death of author H. G. Wells, which featured a "monstrous tripod" from The War of the Worlds with four legs. Embarrassing for the Royal Mint, but great for coin collectors.
Auctions
Going…
The Royal Mint is out to break the £1m record for a British coin next month when it auctions a rare Henry VII fine gold sovereign, says The Daily Telegraph. It is the earliest gold sovereign a collector can own of which only four exist. Two are held by museums. The coin was hammered around 500 years ago, before being kept in the Tower of London. It has had numerous owners over the centuries, one of whom was US banking magnate J. P. Morgan, who owned the coin until his death in 1913. Bidding will start at £950,000, representing roughly how much it cost the Mint to source and buy the coin from its last American owner. The current £1m record was set last January with a gold sovereign of Edward VIII from 1936, the year he was crowned.
Gone…
Two English gold coins made headlines last month. The first is a gold penny featuring Henry III, from around 1257, and one of seven still in existence, says This Is Money. It is thought to bear the first "true" portrait of an English king on a coin and dates from a period when gold "was beginning to trickle back into European commerce after a dearth of nearly 500 years", according to Texas-based Heritage Auctions. It sold for $720,000. (A 2019 Elizabeth II gold coin, weighing 2kg, also sold at the same auction, for $360,000.) The second coin is dated 1656 and depicts Lord Protector Oliver Cromwell, says BBC News. The "extremely fine and rare" gold 50 shilling piece, one of 12 still in existence, sold with London-based Dix Noonan Webb for £471,200, a record for a Cromwellian coin.
Chris Carter spent three glorious years reading English literature on the beautiful Welsh coast at Aberystwyth University. Graduating in 2005, he left for the University of York to specialise in Renaissance literature for his MA, before returning to his native Twickenham, in southwest London. He joined a Richmond-based recruitment company, where he worked with several clients, including the Queen's bank, Coutts, as well as the super luxury, Dorchester-owned Coworth Park country house hotel, near Ascot in Berkshire.
Then, in 2011, Chris joined MoneyWeek. Initially working as part of the website production team, Chris soon rose to the lofty heights of wealth editor, overseeing MoneyWeek's Spending It lifestyle section. Chris travels the globe in pursuit of his work, soaking up the local culture and sampling the very finest in cuisine, hotels and resorts for the magazine's discerning readership. He also enjoys writing his fortnightly page on collectables, delving into the fascinating world of auctions and art, classic cars, coins, watches, wine and whisky investing.
You can follow Chris on Instagram.