The art market managed to tough it out in 2020
It's been a difficult year, but the art market has held up surprisingly well, says Chris Carter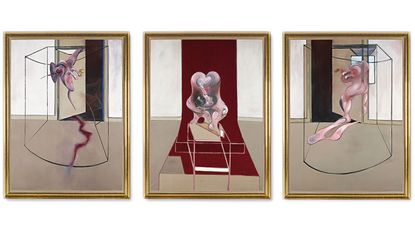 (Image credit: © Sotheby's)
It's been a tough year for auction houses. The "big three" – Christie's, Sotheby's and Phillips – suffered a combined 79% drop in revenue for the second quarter of 2020 compared with the same three months in 2019, according to art market analytics firm Pi-eX. Spring is usually a busy period on the art-market calendar, but the dearth was hardly surprising given the pandemic. The first wave saw art fairs and galleries around the world close, while hammers fell silent as auction sales retreated online. But therein lay the silver lining. Sotheby's says its online sales grew "a staggering" 540% year-on-year in the seven months to August, while the average lot value at online sales has "more than doubled" to $20,000 compared with last year.
Two trends to watch
Big-ticket items at online-only auctions undoubtedly did skew the figures a bit. And judging the health of the market from these star showings is "like trying to gauge the strength of the US car market by looking at Bugatti sales", as James Tarmy puts in on Bloomberg. But even the lower leagues of the auction market held up surprisingly well. That's because, in 2020, two trends, both years in the making, rode to the rescue.
Subscribe to MoneyWeek
Subscribe to MoneyWeek today and get your first six magazine issues absolutely FREE
Get 6 issues free
Sign up to Money Morning
Don't miss the latest investment and personal finances news, market analysis, plus money-saving tips with our free twice-daily newsletter
Don't miss the latest investment and personal finances news, market analysis, plus money-saving tips with our free twice-daily newsletter
The first was the growing market in Asia. Both Christie's and Sotheby's enjoyed strong sales in Hong Kong this autumn. Christie's achieved HK$3bn (£287m), with an "exceptional" 88% of lots sold. The auction house called it "a phenomenal display of market strength". It also noted that 20% of buyers were new to Christie's. Sotheby's said that, in the first seven months of the year, "more than 30% of all bidders and buyers in the period had never transacted with Sotheby's before" and a fifth were coming from Asia. It also noted that "more than 30% of all bidders and buyers [were] under 40". That leads us on to trend number two.
Christie's welcomed "a new generation of collectors" to its autumn auctions, classing 20% as "Millennial buyers". That chimes with a report released earlier this month from insurers Hiscox and art-market data firm ArtTactic. It found that, of collectors who have been collecting for no more than three years (most of whom were aged 35 and under), 82% bought works online between March and September compared with 36% in 2019. Nearly six in ten Millennial buyers said they were more interested and confident buying art online. However, it might yet be too soon to call time on "bricks and mortar" sales – almost half (48%) of all buyers said they preferred going to galleries and auctions, up from 36% last year, suggesting internet fatigue. But then 56% acknowledged that the art market's move online is here to stay. It is reassuring to know that, in difficult years such as this one, buyers and sellers will always find a way to meet.
The headline-grabbers
Collectors were undeterred in snapping up major works of modern and contemporary art. The summer months proved especially fruitful for the "big three" in New York. Francis Bacon's Triptych Inspired by the Oresteia of Aeschylus (1981) sold for $84.6m at Sotheby's, Roy Lichtenstein's Nude with Joyous Painting (1994) made $46.2m at Christie's and David Hockney's Nichols Canyon (1980) fetched $41m at Phillips. In October, collectors were shown a demonstration of the strength of the market in Asia. In Beijing, Wu Bin's Ten Views of a Lingbi Rock, a Ming-dynasty scroll from 1610, sold for ¥ 512.9m (£58m), and in Hong Kong, Ren Renfa's ink painting Five Drunken Princes Returning on Horseback (c.1300) fetched HK$306.5m (£29.5m). Nor was it just older works that were selling. Sanyu's 1950s Quatre Nus painting made HK$258m (£25m) in July, underscoring the artist's growing popularity.
A roaring success
Rare whisky didn't repeat the headline-grabbing sales of last year. That said, in August, a new auction record was set for a bottle of Japanese whisky at Bonhams in Hong Kong, with a Yamazaki 55-Year-Old fetching HK$6.2m (£593,000). It was a good year for classic cars too – a 1934 Bugatti Type 59 Sports set a new marque record in September, selling for £9.5m in London. And for Shakespeare lovers, a rare "First Folio" fetched just shy of $10m in New York, a record for a copy of the collection of plays from 1623. In a year that saw a pair of old trainers make $615,000 (Michael Jordan's Air Jordan 1s) and a 13.5kg chunk of the moon offered with a £2m price tag, perhaps the most surprising sale of 2020 was the $32m fetched at Christie's in October by "Stan", a 67-million-year-old Tyrannosaurus rex (pictured). Who knows what wonders 2021 holds for collectors?
Chris Carter spent three glorious years reading English literature on the beautiful Welsh coast at Aberystwyth University. Graduating in 2005, he left for the University of York to specialise in Renaissance literature for his MA, before returning to his native Twickenham, in southwest London. He joined a Richmond-based recruitment company, where he worked with several clients, including the Queen's bank, Coutts, as well as the super luxury, Dorchester-owned Coworth Park country house hotel, near Ascot in Berkshire.
Then, in 2011, Chris joined MoneyWeek. Initially working as part of the website production team, Chris soon rose to the lofty heights of wealth editor, overseeing MoneyWeek's Spending It lifestyle section. Chris travels the globe in pursuit of his work, soaking up the local culture and sampling the very finest in cuisine, hotels and resorts for the magazine's discerning readership. He also enjoys writing his fortnightly page on collectables, delving into the fascinating world of auctions and art, classic cars, coins, watches, wine and whisky investing.
You can follow Chris on Instagram.