Lego: building profits from plastic bricks
The popularity of Lego boomed as bored workers twiddled their thumbs at home. Chris Carter reports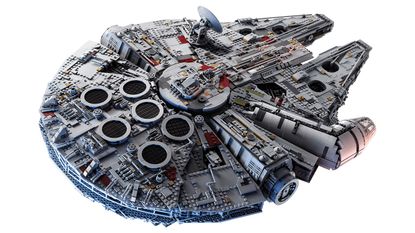 (Image credit: © LEGO Group)
When a video meeting got "a little boring" for Richard Weston, the 44-year-old from Birmingham did what many of us did during lockdown, says Shan Li in The Wall Street Journal. He watched a YouTube clip on his laptop, scanned Facebook and played with his Lego sets.
Thousands of Lego-builders went even further, BBC News reported in May, "taking advantage of lockdown… to create stop-motion movies and models of real-life constructions". It's little wonder, then, that sales of the colourful plastic bricks rose by 14% in the first six months of the year, and the addiction seems to be setting well and truly in. "We've seen momentum continue into the second half, even after people started going back to work and to school," says Niels Christiansen, CEO of the Danish toymaker. (Note who appears first in that sentence – Lego's not just for kids.)
Still others have had their eye on profits. Investment-related online searches for Lego jumped by 53% during lockdown in Britain, according to research commissioned by investment platform eToro. Over time, Lego sets can make serious money on the secondary market. "Dealers around the world trade the plastic bricks like any other asset," says Adam Williams in The Daily Telegraph. "Some buy brand-new sets and keep them in pristine condition; others scour the planet for vintage models." Over time, these sets can fetch significantly more than their original retail prices, with some going on to sell for thousands of pounds.
Subscribe to MoneyWeek
Subscribe to MoneyWeek today and get your first six magazine issues absolutely FREE
Get 6 issues free
Sign up to Money Morning
Don't miss the latest investment and personal finances news, market analysis, plus money-saving tips with our free twice-daily newsletter
Don't miss the latest investment and personal finances news, market analysis, plus money-saving tips with our free twice-daily newsletter
It's no surprise, then, that some "Afols" (adult fans of Lego, in the lingo) have turned their hobby into money-making opportunities. The original 2007 edition of the Star Wars Millennium Falcon, for example, was available on Amazon this summer for more than £7,000, 20 times its original value, according to self-storage firm Space Station.
But collectors should be careful, says Tim Auld in the Financial Times. When Lego released the Millennium Falcon, it was the biggest Lego set ever produced, consisting of 5,195 pieces and costing £342.49. After two years, it was discontinued. Five years later, an unopened set in a sealed case sold for $15,000, setting a record for Lego. "Admittedly, that's Las Vegas prices," Gerben van IJken, a toy expert at auction site Catawiki, tells Auld. But even elsewhere, that set would have fetched a lot of money. Then, in 2017, Lego reissued an updated version of the toy– good news for fans, "not so good for those who had squirrelled away their 2007 set unopened for a rainy day", says Auld. It may not be worth as much, but it is at least still valuable. Last Thursday, a used set in the US was sold to a buyer in Britain for almost $2,000 (including postage) on Ebay.
Chris Carter spent three glorious years reading English literature on the beautiful Welsh coast at Aberystwyth University. Graduating in 2005, he left for the University of York to specialise in Renaissance literature for his MA, before returning to his native Twickenham, in southwest London. He joined a Richmond-based recruitment company, where he worked with several clients, including the Queen's bank, Coutts, as well as the super luxury, Dorchester-owned Coworth Park country house hotel, near Ascot in Berkshire.
Then, in 2011, Chris joined MoneyWeek. Initially working as part of the website production team, Chris soon rose to the lofty heights of wealth editor, overseeing MoneyWeek's Spending It lifestyle section. Chris travels the globe in pursuit of his work, soaking up the local culture and sampling the very finest in cuisine, hotels and resorts for the magazine's discerning readership. He also enjoys writing his fortnightly page on collectables, delving into the fascinating world of auctions and art, classic cars, coins, watches, wine and whisky investing.
You can follow Chris on Instagram.