Cryptocurrency round-up: selling Tesla "merch" for dogecoin, and the Bank of England warns on cryptocurrencies
In a week that Tesla's Elon Musk says the company may accept dogecoin as a form of payment, Saloni Sardana looks at the week's top cryptocurrency stories.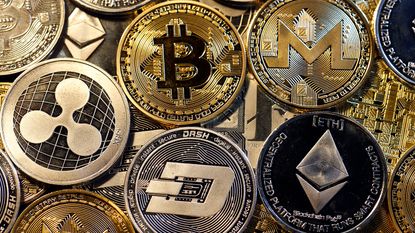 (Image credit: © Chesnot/Getty Images)
Welcome back,
There is never a dull moment when it comes to Elon Musk and cryptocurrencies, but this time it's the meme cryptocurrency doge making headlines, rather than bitcoin.
Here are the top stories that caught our eye this week.
Subscribe to MoneyWeek
Subscribe to MoneyWeek today and get your first six magazine issues absolutely FREE
Get 6 issues free
Sign up to Money Morning
Don't miss the latest investment and personal finances news, market analysis, plus money-saving tips with our free twice-daily newsletter
Don't miss the latest investment and personal finances news, market analysis, plus money-saving tips with our free twice-daily newsletter
Dogecoin rises after Elon Musk signals Tesla will accept payment using dogecoin
Joke cryptocurrency, dogecoin, which has little value or practical use, jumped by more than 20% on Tuesday after Tesla's Elon Musk said the electric vehicle company will accept dogecoin as a form of payment (though not necessarily for its cars).
"Tesla will make some merch buyable with Doge & see how it goes," the billionaire wrote on Twitter, though he fell short of clarifying which specific Tesla products would be purchasable using doge.
Dogecoin was created in 2013 by software engineers Jackson Palmer and Billy Markus. It is based on the popular internet "meme" of a Japanese type of dog, the shiba inu. But even though it began as a joke, the cryptocurrency now boasts a market cap of around $23bn, according to CoinMarketCap data.
This is not the first time Musk has lifted the price of cryptocurrencies, including dogecoin, via his Twitter account. Earlier this year, Musk made headlines when he said that his company would accept payment using bitcoin, only to make a series of apparent U-turns over concerns on the environmental impact of bitcoin mining (the process by which new bitcoins are created).
Doge has quickly gained recognition as Musk's favourite coin. The listing of dogecoin on Coinbase Pro in May also lent the joke cryptocurrency some legitimacy (dogecoin was already listed on Coinbase, but not on Coinbase Pro).
Worker who threw out £340m-worth of cryptocurrency hires NASA experts to help him retrieve data
A man who infamously threw out a hard drive that contained roughly £340m-worth of bitcoin (based on current prices) has hired Nasa data experts to help him in his quest to retrieve the cryptocurrency. James Howells, an IT worker based in Newport, claims he accidentally threw out a hard drive containing about 7,500 bitcoins back in 2013.
Howells has been trying to locate the hard drive for the last eight years, lobbying hard to win approval (so far unsuccessfully) from Newport City Council to search the local landfill site in which he thinks the hard drive has ended up.
Howells has hired workers at Ontrack, a data recovery company which was hired by Nasa in 2013 to help retrieve a hard drive that was onboard the Columbia space shuttle when it exploded after take-off in 2003. The company was able to recover 99% of the data. It is clear Howell is hoping for similar luck with this hard drive of bitcoins.
Ontrack reckons there's an 80%-90% chance that Howell's missing bitcoin can be recovered – assuming no damage to the hard drive.
Howells has been denied permission by the council to dig up the landfill several times, despite garnering the support of hedge funds who are willing to foot the bill for the cost of the search and equipment. He is also asking to carry out a 3-month feasibility study with the council so he can sit down and address the council's concerns.
The council says it is concerned about the impact digging up the landfill will have on the environment; and about who foots the bill if the hard drive is never found, or is damaged to such an extent that the bitcoins are not retrievable. The latter point is behind Howells recruitment of Ontrack: "They were able to recover from a shuttle that exploded and they don't seem to think that being at a landfill will be a problem".
Bank of England warns of growing cryptocurrency risks
The Bank of England warned on the growing risks posed by cryptocurrencies in its December Financial Stability Report. It said that while at present cryptocurrencies pose limited direct risks to the stability of the UK's financial system, they will inevitably become a more significant problem if the cryptocurrency market continues to grow at current levels. The report called for greater regulatory scrutiny both at global and a domestic level.
Markets
Here's what happened to five of the largest cryptocurrencies by market cap – according to data compiled by Coinmarketcap – in the last seven days:
Bitcoin fell 3% to $47,023
Ether fell 8% to $3,830.
Binance Coin fell 9.5% to $525.
Tether fell three points to $1.00
Solana fell 1.6% to $175.6.
What you need to watch out for
Coinbase Global is developing a non-fungible token (NFT) marketplace which could become a "super app" for trading, lending digital assets and custody, according to Barron's.
Saloni is a web writer for MoneyWeek focusing on personal finance and global financial markets. Her work has appeared in FTAdviser (part of the Financial Times), Business Insider and City A.M, among other publications. She holds a masters in international journalism from City, University of London.
Follow her on Twitter at @sardana_saloni