Cryptocurrency roundup: IMF calls for global crypto-regulation
In a week when the IMF said regulation of cryptocurrencies should be global and "Satoshi Nakamoto" won his court case, Saloni Sardana looks at the week's top cryptocurrency stories.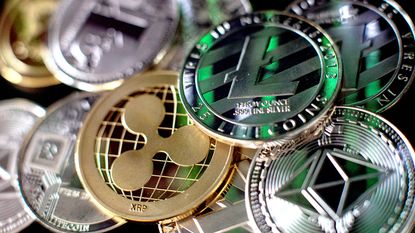 (Image credit: © Jack Taylor/Getty Images)
It was a bad week for cryptocurrencies. Bitcoin, along with the overall market, lost some steam ahead of the weekend as investors' nervousness over the Omicron variant of Covid-19 drove the price down by some 20%.
Here are the top stories that caught our eye.
Bitcoin founder Craig Wright wins case allowing him to keep crypto fortune
Craight Wright, who claims to be "Satoshi Nakamoto", the pseudonymous founder of bitcoin, has won a case that paves the way for him to keep his cryptocurrency fortune.
Subscribe to MoneyWeek
Subscribe to MoneyWeek today and get your first six magazine issues absolutely FREE
Get 6 issues free
Sign up to Money Morning
Don't miss the latest investment and personal finances news, market analysis, plus money-saving tips with our free twice-daily newsletter
Don't miss the latest investment and personal finances news, market analysis, plus money-saving tips with our free twice-daily newsletter
According to the claim Wright created bitcoin between 2008 and 2009 in collaboration with a man named David Kleinman, using the pseudonym Satoshi Nakamoto.
Kleinman died in 2013, prompting his family to launch a civil suit that claimed that Wright had not acknowledged Kleinman's role in creating bitcoin. But a jury in Florida rejected that claim, which means Wright won't have to split his stash bitcoin, which is rumoured to be worth over $50bn.
Roughly 1.1 million bitcoins are rumoured to have been "mined" – the process by which new bitcoins are created – in 2009. At current prices, this roughly amounts to $48bn.
While Wright has claimed legal ownership of the coins, he has fallen short of selling them or moving them. This caused many critics to question whether he was the sole founder of the cryptocurrency.
Since bitcoin was created, a number of people have come forward claiming to be the real Satoshi Nakamoto, but Wright is widely considered to be the most likely candidate.
Cryptocurrency CEOs ask the US Congress for more clarity on cryptocurrency rules
Executives from six cryptocurrency giants including Coinbase have urged the US Congress to provide more clarity on the future of rules in the sector.
California Democrat representative Maxine Waters, who called the hearing, warned about the exponential growth in cryptocurrencies: "Without tailored legislative solutions that are openly debated with public participation, the United States risks unnecessarily onerous and chilling laws and regulations," Alesia Haas, chief executive of Coinbase Inc warned, says Al Jazeera.
Congress is not likely to draft new cryptocurrency rules in the near future, say analysts.
It comes as cryptocurrencies, and particular stablecoins – ie, cryptocurrencies that are tied to the value of traditional currencies – have come under fire by regulators.
"The executives repeatedly criticised Gary Gensler, the chairman of the SEC, who has said that many crypto tokens fall under the agency's purview and should be registered as securities, which would require extra disclosure and compliance costs," reports the New York Times.
IMF moots global cryptocurrency regulation
The International Monetary Fund (IMF) has outlined its ideas on global cryptocurrency regulation. The IMF's role is to "safeguard the stability of the international monetary and financial system", it says in a blog post this week, and "crypto assets are changing the system profoundly".
Politicians are "struggling to monitor risks" which could "soon become systemic in some countries". And, while the sector's $2.5trn market cap indicates the value of the underlying blockchain technology, "it might also reflect froth in an environment of stretched valuations".
Of particular concern are emerging markets, which may face "immediate and acute risks of currency substitution through crypto assets" - so called -"cryptoisation".
The risks of cryptocurrencies "underscore why we now need comprehensive international standards". The cross-sector and cross-border nature of cryptocurrencies "limits the effectiveness" of national regulation, and the IMF's Financial Stability Board should develop a global framework for regulation "that can be consistently applied across jurisdictions".
Visa launches cryptocurrency advisory group
Payments giant Visa has created a cryptocurrency advisory group to help steer its clients through the world of digital currencies.
The Global Crypto Advisory Practice is aimed at clients and retailers who are looking to create non-fungible-tokens (NFT).
"For financial institutions eager to attract or retain customers with a crypto offering, retailers looking to delve into NFTs, or central banks exploring digital currencies, understanding the crypto ecosystem is a vital first step," Visa said in a statement.
Visa has been studying cryptocurrencies and has surveyed 6,000 "financial decision makers" across the world. It found a significant number of them are using or investing in cryptocurrencies.
Markets
Here's what happened in the cryptocurrency market in the last seven days:
Bitcoin fell 12% to $49,128.
Ether fell 7% to $4168.
Dogecoin fell 17% to $0.17.
Cardano fell 23% to $1.32.
Solana fell 23% to $180.
What you need to watch out for
It is worth keeping an eye out for Celo. The little known cryptocurrency is unique because it is an "environmentally friendly" blockchain network which uses less energy. An announcement this week that crowdfunding platform Kickstarter will be migrating to a platform on the Celo blockchain caused the cryptocurrency to rise by as much as 30% while the rest of the crypto market was down, says the Motley Fool.
Coinbase Global is developing a Non-Fungible Token (NFT) marketplace which could become a "super app" for trading, lending digital assets and custody, according to Barron's.
Saloni is a web writer for MoneyWeek focusing on personal finance and global financial markets. Her work has appeared in FTAdviser (part of the Financial Times), Business Insider and City A.M, among other publications. She holds a masters in international journalism from City, University of London.
Follow her on Twitter at @sardana_saloni