Record wage growth fuels fears of yet another rate hike
UK wages grow at 7.8% despite slowing jobs market. We explain what this means for interest rates, and the state pension.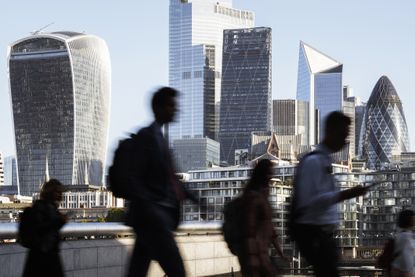 (Image credit: Getty Images)
UK wage growth hit a record high in July, piling fresh pressure on the Bank of England to raise interest rates as pay rises threaten to feed inflation, as well as providing a boost to the state pension.
British wages, excluding bonuses, rose 7.8% in the three months to July from the same period last year, according to the Office for National Statistics (ONS). It is the first time in almost two years that wages have not been outstripped by inflation, which currently stands at 6.8%.
Average earnings – which include bonuses – in the three months to July were up 8.5% on the year, the highest jump on record.
Subscribe to MoneyWeek
Subscribe to MoneyWeek today and get your first six magazine issues absolutely FREE
Get 6 issues free
Sign up to Money Morning
Don't miss the latest investment and personal finances news, market analysis, plus money-saving tips with our free twice-daily newsletter
Don't miss the latest investment and personal finances news, market analysis, plus money-saving tips with our free twice-daily newsletter
"Earnings in cash terms continue to increase, at a record rate outside the pandemic-affected period," says ONS director of economic statistics Darren Morgan.
"Coupled with lower inflation, this means people's real pay is no longer falling," he adds.
We explain why this may add pressure on the Bank of England to hike interest rates again, and what it means for the state pension.
Will the Bank of England hike rates again?
The ONS data is closely watched at the Bank of England as it prepares to decide whether a further interest rate hike is needed to bring inflation down. There seems to be consensus in the markets that a 25 basis point hike is all but certain.
"The further rise in wage growth will only add to the Bank of England's unease and supports our view that the Bank will raise interest rates once more, from 5.25% currently to a peak of 5.50%, next week," says Ashley Webb at Capital Economics.
The BoE has hiked the interest rate 14 consecutive times since December 2021, when the rate stood at 0.1%.
Nicholas Hyett, investment manager at Wealth Club, believes BoE hawks will likely push for another hike amid sticky inflation that is much higher than the Bank's 2% inflation target.
"Wage growth remains strong, rising ahead of wider inflation, and government forecasts suggest CPI will tick up again in August. We think that means the Bank of England will add a few more turns to the interest rate screw before declaring its job done," he says.
What does wage growth mean for the state pension?
Pay growth continues to present "a conundrum" for the Bank of England" says Yael Selfin, chief economist at KPMG UK.
"Today's pay data has significance not just for monetary policy but also for government spending, as the July figure determines the uprating of pensions next year under the triple lock guarantee," says Selfin.
Under the triple lock the state pension will rise by 8.5% in 2024, following a 10.1% rise this year as it increased in line with inflation.
The cost of the state pension is estimated to grow to anywhere between £5bn to £45bn by 2050, according to forecasts from the Institute of Fiscal Studies.
Steep rises to the state pension could jeopardise the future of the triple lock.
Unemployment rate ticks up
The figures also showed that the rate of unemployment lifted to its highest level for nearly two years, at 4.3% in the three months to July, up from 4.2% in the previous three months as job vacancies fell to below a million.
The unemployment rate rose to 4.3% in the three months to July from 4.2% a month earlier, and job vacancies fell to below a million.
The TUC has issued a warning that the UK economy has fallen into the "danger zone".
"Unemployment is up by nearly a quarter of a million over the last year," TUC general secretary Paul Nowak, says.
"And while average pay has finally inched above inflation, real wages are still falling across the public sector, retail, hospitality and construction.
"If pay packets had been growing at pre-crisis levels, workers would be on average £14,700 better off. It's little surprise that families are worried sick about paying their bills and keeping their jobs."
The ONS says the increase was largely driven by people unemployed for up to 12 months.
Chancellor Jeremy Hunt says: "It's heartening to see the number of employees on payroll is still close to record highs and that our unemployment rate remains below many of our international peers."
He says wage growth "remains high", but adds: "For real wages to grow sustainably we must stick to our plan to halve inflation."
Danni Hewson, head of financial analysis at AJ Bell, warns that the wider figures suggest a weakening economy.
"There may be trouble ahead — unemployment has ticked up, the number of self-employment jobs has experienced a record quarterly fall, and we've seen another record high in long term sickness levels.
"The labour market has been resilient but there are signs that the stress of the last couple of years has created a few cracks. The fear is that any more pressure might mean those cracks start to crumble."
Pedro Gonçalves is a finance reporter with experience covering investment, banks, fintech and wealth management. He has previously worked for Yahoo Finance UK, Investment Week, and national news publications in Portugal.
With contributions from