Four options for the sale of Chelsea FC
The UK's sanctioning of Chelsea owner Roman Abramovich resulted in Chelsea going up for sale. Matthew Lynn explains four options that should be considered.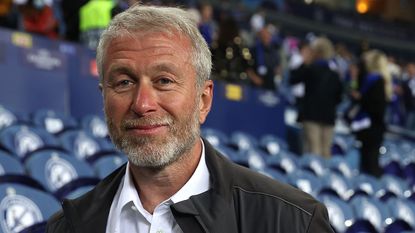 (Image credit: © Photo by Alexander Hassenstein - UEFA/UEFA)
The sanctioning of Roman Abramovich, the Russian oligarch who has controlled Chelsea football club for nearly 20 years, and who started the flood of foreign money into the game, resulted in the club going up for sale. By the time you read this we might know who has bought it.
Potential bidders for an asset that was expected to command well over £3bn included a consortium led by the owners of the LA Dodgers; another led by the Ricketts family who own the Chicago Cubs; a team led by the property developer Nick Candy; and one or perhaps two others who may yet make the final round. An offer from Amazon, Netflix, Disney, or Sky's owner, Comcast, would really shake things up – there could well be a surprise before the deal is finalised.
But whoever ends up buying it, there was a missed opportunity here – this could have been the moment to reinvent the way one of the UK's most successful industries is run.
Subscribe to MoneyWeek
Subscribe to MoneyWeek today and get your first six magazine issues absolutely FREE
Get 6 issues free
Sign up to Money Morning
Don't miss the latest investment and personal finances news, market analysis, plus money-saving tips with our free twice-daily newsletter
Don't miss the latest investment and personal finances news, market analysis, plus money-saving tips with our free twice-daily newsletter
Britain's Hollywood
The UK government is, quite rightly, vetting all the bids. It has said that all the money from the sale will go to charity, with much of it ultimately dedicated to helping the refugees flooding out of Ukraine.
But why are we selling it to another foreign multinational sports franchise? The Premier League is a great UK commercial success. It is the most popular sporting contest in the world; in many ways it is an asset as valuable to the UK as Hollywood is to the US.
But its ownership is a mess, dominated by an odd mixture of Gulf States, absentee American sports conglomerates, or Asian or Russian billionaires. Only a handful of clubs still have British owners.
None of them have any links to the towns where the teams are based and many owners are using the clubs simply to improve their reputations.
They have no interest in the towns where they are located, or even the long-term success of the sport. The sale of Chelsea in such strange circumstances is a chance to try something new. Here are four options we should be thinking about.
First, give it away. The club could simply be placed in the hands of a supporters' trust, with anyone who had held a season ticket for five consecutive years given a share. After that, it would be up to the fans to decide what to do with it. They could run it as effectively as they pleased. They could list it on the stockmarket, or if they really wanted to they could sell it to someone else. Sure, it would not have as much cash to spend on transfers as it might with another mega-rich owner. But there is plenty of money in football these days. Free of debt, there is no reason why Chelsea should not be self-sufficient financially and still do well.
Second, donate it to Chelsea. One share could be given to every resident in the Royal Borough of Kensington and Chelsea. With 156,000 of them, and a £3bn price tag for the club, that would come to almost £20,000 per person. Alternatively, why not give a share to everyone in London? Either way, the club would be owned by its local community.
Experimenting with ownership
Third, turn it into a national asset. The club could be put into a new company owned by the government and then floated. The money raised would be enough for at least a small temporary tax cut, which might help with the cost of living crisis. Finally, it could be placed in the hands of a broadcaster. Folded into the BBC, ITV or Channel 4, it could be the basis for a new sports streaming service, and at virtually zero cost. If streaming is the future, as many experts believe, that could create a powerful new UK company.
There may be other options, but the point is this: there is nothing necessarily wrong with foreign owners and global sports franchises. Over the last two decades they have brought a lot of money into the game and turned it from a domestic into a global contest. But the Premier League could use some different forms of ownership. The sale is a chance to try something new, creating models that might work better. We should take some time to debate that – not just flog it off as fast as possible.
Matthew Lynn is a columnist for Bloomberg, and writes weekly commentary syndicated in papers such as the Daily Telegraph, Die Welt, the Sydney Morning Herald, the South China Morning Post and the Miami Herald. He is also an associate editor of Spectator Business, and a regular contributor to The Spectator. Before that, he worked for the business section of the Sunday Times for ten years.
He has written books on finance and financial topics, including Bust: Greece, The Euro and The Sovereign Debt Crisis and The Long Depression: The Slump of 2008 to 2031. Matthew is also the author of the Death Force series of military thrillers and the founder of Lume Books, an independent publisher.