How should we go about "levelling up" Britain?
"Levelling up", long a mantra of Boris Johnson's government, now has a minister and a department in charge of delivering it. But will they succeed?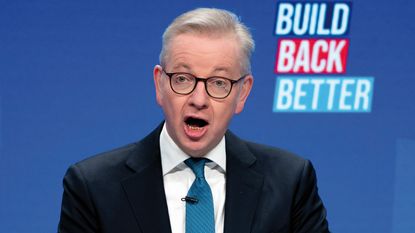 (Image credit: © James McCauley/Shutterstock)
What does it mean?
Levelling up means to reduce inequality between places while improving outcomes in all places. In recent decades the phrase has been used in education-policy debates, and has been seized upon by Boris Johnson as the core of his post-Brexit mission.
The problem at least is clear: according to OECD figures, the UK is one of the most regionally unequal economies of any in the advanced world. Measured by GDP per head, London is far ahead of all other regions, and especially Wales, the northeast of England and Northern Ireland.
Moreover, it is also highly unequal on a range of other measures, including overall wealth, health, educational attainment and social mobility. And at the local level, Britain has the worst inequality of any of the mainly rich countries in the OECD club, reflecting the fact that differences within regions are even bigger than the differences between them. London, for example, is over-represented at both the top and bottom of the income distribution.
Subscribe to MoneyWeek
Subscribe to MoneyWeek today and get your first six magazine issues absolutely FREE
Get 6 issues free
Sign up to Money Morning
Don't miss the latest investment and personal finances news, market analysis, plus money-saving tips with our free twice-daily newsletter
Don't miss the latest investment and personal finances news, market analysis, plus money-saving tips with our free twice-daily newsletter
What is the current government's plan?
The new Department for Levelling Up, Housing and Communities – with Michael Gove at the helm – defines levelling up "every part of the UK" as this government's "central mission". This will be achieved, it says, by "empowering local leaders and communities…; boosting living standards, particularly where they are lower; spreading opportunity and improving public services, particularly where they are weak; and restoring local pride". The white paper setting out actual policy proposals, promised by the PM for this year, is still described as "forthcoming".
Do we know anything?
We have the broad pledges made in the 2019 Conservative manifesto, which promised to "level up opportunities" across the UK by investing in towns, cities, and rural and coastal areas; giving those areas more control over how investment is made; levelling up skills using apprenticeships and a £3bn National Skills Fund; making life easier for farming and fishing industries; and creating up to ten freeports to boost trade in deprived communities.
In terms of steps taken by the new department, so far we have a new £4.8bn Levelling Up Fund, which will "invest in infrastructure to improve everyday local life and boost growth and jobs". An example cited by the department is major highways improvements around Birmingham city centre. In all, 106 successful bids, amounting to £1.7bn, have been announced, including the reopening of the Whorlton suspension bridge in County Durham and the redevelopment of Leicester's train station.
But more is planned?
Next year, a UK Shared Prosperity Fund will be launched, worth over £2.6bn, aimed at levelling up opportunity in "places in need, such as ex-industrial areas, deprived towns and rural and coastal communities, and for people in disadvantaged groups across the UK". Its first priority will be a "locally delivered new adult numeracy programme, Multiply, to help hundreds of thousands of adults improve their maths".
There's also a £3.6bn Towns Fund, aimed at "driving regeneration and levelling up towns from Birkenhead and Bloxwich, to West Bromwich and Wakefield", and a £150m Community Ownership Fund, to be spent over four years, helping communities buy and refurbish assets at risk of closure – such as sports halls, theatres and parks.
So it's just splashing a big wodge of cash?
That's the worry. A more ambitious version of levelling up, says Andrew Carter of the Centre for Cities think tank, would cut across departmental spending lines and create a virtuous circle that sees separate policy agendas – for example, net-zero, planning and transport reforms – working to reinforce the others.
His think tank reckons the core problem is the underperformance of Britain's big cities outside London – in terms of productivity – compared with second-tier cities in similar countries. The underperformance of places such as Birmingham, Manchester and Glasgow explains much of the problem – it accounts for almost 60% of the economy's lost output, which the think tank conservatively estimates at 4% of GDP a year.
The problem, as David Smith points out in The Times, is that these places have been spruced up in recent years but without attracting the kinds of high-productivity, exporting businesses that really make the difference economically. Fixing this should be much easier than lifting the performance of lots of smaller places. And those smaller places should anyway be lifted if their local cities did better. Devolving more powers to the regions will be key to fixing the problem.
Will any of that happen?
One promising sign is that Gove has co-opted the Bank of England's ex-chief economist Andy Haldane, long a champion of the levelling-up agenda. Haldane's vision is focused on regional differences in income and productivity, and he has argued for "a new regional ecosystem" covering infrastructure, innovation, skills, finance, social concerns (making places nice to live in) and governance, citing a need to devolve more power. Certainly, local delivery will be key to achieving results; many expect some form of devolution or local government reorganisation to be on the table.
How will success be measured?
Any real levelling up will be the work of years and decades, and will be measured by the distribution of wages, skilled jobs and skilled workers across the country, says Paul Johnson in The Times. But there's an even more fundamental yardstick: life expectancy. A man in Glasgow or Blackpool dies ten years earlier than one in Hart in Hampshire, because "people who are better off, and have happier, more fulfilling lives and good jobs, live longer and healthier lives than those who don't". We'll know levelling up has been a success when tragic gaps such as these have been closed.
Simon Wilson's first career was in book publishing, as an economics editor at Routledge, and as a publisher of non-fiction at Random House, specialising in popular business and management books. While there, he published Customers.com, a bestselling classic of the early days of e-commerce, and The Money or Your Life: Reuniting Work and Joy, an inspirational book that helped inspire its publisher towards a post-corporate, portfolio life.
Since 2001, he has been a writer for MoneyWeek, a financial copywriter, and a long-time contributing editor at The Week. Simon also works as an actor and corporate trainer; current and past clients include investment banks, the Bank of England, the UK government, several Magic Circle law firms and all of the Big Four accountancy firms. He has a degree in languages (German and Spanish) and social and political sciences from the University of Cambridge.