UK-Australia trade deal could mean a shopping spree for British companies
A new free-trade deal between the UK and Australia should lift restrictions on company ownership. Matthew Lynn outlines his buy list for UK firms.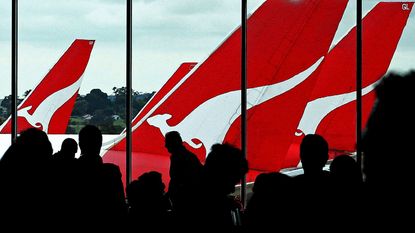 (Image credit: © Scott Barbour/Getty Images)
Despite fierce resistance from the agricultural lobby, the UK looks set to sign a substantial free-trade agreement with Australia, and one that should be a template for deals across the rest of the world. Once that is completed, we should see a lot more trade between the two countries. But we might see something more important as well: a round of takeovers of Australian companies by British ones – because there are lots of tempting targets.
Snap up an airline or a bank
An Australian trade deal won't, of course, be transformational. Its economy is not huge. With a GDP of $1.4trn, it is about 40% of the size of the UK, and far smaller than either the EU or the US. It is unlikely Australia will be selling us vast amounts of stuff, given the distance it will have to travel. Nor will we suddenly be selling vastly more products to them, for the same reason. It will be a decent market for British firms, yet hardly likely ever to be a crucial one.
Except, that is, in one sense. Right now, there are restrictions on foreign ownership across a range of industries, mainly because of worries that China might buy up the whole country if it was allowed to. A trade deal should remove all of those (if it doesn't, it should be renegotiated). British businesses should therefore not just be looking at selling goods and services into the market, but at taking over companies there as well. There are five obvious targets to start with.
Subscribe to MoneyWeek
Subscribe to MoneyWeek today and get your first six magazine issues absolutely FREE
Get 6 issues free
Sign up to Money Morning
Don't miss the latest investment and personal finances news, market analysis, plus money-saving tips with our free twice-daily newsletter
Don't miss the latest investment and personal finances news, market analysis, plus money-saving tips with our free twice-daily newsletter
First, airlines. In line with many other countries, Australia places ownership restrictions on its main national airline. Perhaps that was understandable in the past. Countries used to think it was important to control routes into and out of the country and, in the wake of Covid-19, it is unlikely they will give up on that completely. Even so, a free-trade deal should make a takeover possible. If so, Qantas would surely be a natural target for IAG, which already owns British Airways and Iberia. That really would be a global airline.
Second, banking. Both Lloyds and Barclays need to find a way to grow and Australia has a successful but mainly local finance industry. National Australia Bank could potentially be a great fit for either of those, although HSBC might find its links to China made it an unwelcome suitor no matter how much it might like a base in Australia. Third, in infrastructure, Sydney Airport Holdings, with a value of slightly over £8bn, would be a great fit with BAA, with its airports across the UK: plenty of people would be flying from one of its hubs to the other. Fourth, in retailing, Woolworths might have long since disappeared from the high street on this side of the world, but it is still a huge business in Australia, where it is mainly a supermarket grocery chain. It would surely make a tempting target for Tesco, now that it has recovered sufficiently from its problems in the UK market for it to start expanding again, or even for Sainsbury's or M&S. Finally, Australia has a surprisingly strong local pharmaceuticals and biotech industry. CSL might well prove a natural fit with GlaxoSmithKline or AstraZeneca.
Expect two-way traffic
There might well be some traffic in the other direction too. Lots of Australian entrepreneurs have built major businesses in the UK over the last few decades – Rupert Murdoch, for example. Its retailers and banks may well want to make acquisitions here. The important point is that the Australian and British economies are natural partners. They have similar legal structures and, perhaps more importantly, commercial cultures. British companies are likely to understand instinctively how an Australian business works and vice-versa. For a business from the UK looking to expand, Australia is a natural base and a springboard into the fast-growing Pacific. For Australian firms, the UK is a far bigger market than their own and while it is not the starting point for the European market it once was, it is still a hub for the Atlantic. Trade deals are often thought of as improving the flow of goods and services. The relaxation of ownership restrictions can often be far more important.
Matthew Lynn is a columnist for Bloomberg, and writes weekly commentary syndicated in papers such as the Daily Telegraph, Die Welt, the Sydney Morning Herald, the South China Morning Post and the Miami Herald. He is also an associate editor of Spectator Business, and a regular contributor to The Spectator. Before that, he worked for the business section of the Sunday Times for ten years.
He has written books on finance and financial topics, including Bust: Greece, The Euro and The Sovereign Debt Crisis and The Long Depression: The Slump of 2008 to 2031. Matthew is also the author of the Death Force series of military thrillers and the founder of Lume Books, an independent publisher.