Yet another big shake-up for the NHS – will this one do any good?
The government plans to "take back control" of the health service, ending the market-based reforms and reintroducing central command and control. Is this a good idea?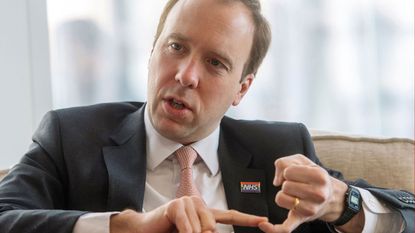 (Image credit: © Geoff Pugh/Shutterstock)
What is the government proposing?
Two big things, both of which amount to a dismantling of the last big NHS reorganisation, Andrew Lansley's Health and Social Care Act of 2012. First, the government's white paper details a series of organisational and technical policy changes aimed at encouraging better collaboration between different NHS organisations, and more "joined-up" provision to patients.
By contrast, the Lansley reforms were aimed at promoting market-based competition, but created structures widely seen as too complex and fragmented. Second, the government wants to "take back control" of the health service, giving politicians more say ("powers of direction") over how it's run. By contrast, Lansley sought to "depoliticise" the NHS by handing overall control to a new body, NHS England, albeit answerable to the health secretary. This has been run since 2014 by Sir Simon Stevens.
What's in the detail of the changes?
The government wants to reverse key elements of the 2012 Act by removing the requirement to competitively tender some NHS services and scrapping clinical commissioning groups (CCGs). These GP-led units, buying in services from local providers, were the cornerstone of NHS reform under Lansley. But in practice this attempt to create competition "came at the expense of increased fragmentation in the NHS, making it less rather than more efficient", says The Times. The government plans to replace them with "integrated care systems" (ICS) that bundle local service providers and GPs and incorporate local NHS bodies, local government and other organisations. A range of smaller reforms and a greater emphasis on obesity and dental health are also planned.
Subscribe to MoneyWeek
Subscribe to MoneyWeek today and get your first six magazine issues absolutely FREE
Get 6 issues free
Sign up to Money Morning
Don't miss the latest investment and personal finances news, market analysis, plus money-saving tips with our free twice-daily newsletter
Don't miss the latest investment and personal finances news, market analysis, plus money-saving tips with our free twice-daily newsletter
Do the proposals make sense?
Many commentators see the organisational reforms as a kind of grand tidying-up exercise that formalise processes already under way since 2014, as the NHS has quietly resisted and unwound the Lansley system. Encouraging collaboration to improve services makes sense, says Jeremy Hunt in The Guardian. The reforms could help motivate staff if they mean better links between hospitals, GPs and community care. And because the new ICS structures will (unlike CCGs) sit along local authority boundaries, it will be easier for the NHS and social-care systems to be integrated and (in time) to create single electronic health and care records. The big test, says Hunt, will be whether the reforms actually improve safety and quality of care. And for them to be genuinely effective, they would need to be "accompanied by proper workforce reform to boost staffing levels and a long-term plan for social care". As yet, there's little sign of either.
Will greater political control help?
It's not clear why it would, says Hugh Alderwick in Prospect. Under Sir Simon Stevens, NHS England has been widely seen as an effective structure for leading and overseeing the sprawling range of services that make up the NHS. The white paper includes a range of powers to strengthen the secretary of state's grip – including to direct NHS England, rejig national NHS bodies, and intervene earlier in the "reconfiguration" of services. Clearly, the NHS spends vast sums of public money and must be democratically accountable. But Jeremy Hunt himself (health secretary from 2012-2018) says he never felt he lacked the powers he needed. The white paper's implication that the Covid-19 pandemic demonstrates the need for more government control looks bizarre, says Dave West of the Health Service Journal. "The evidence of PPE supply, test and trace and late lockdowns (all government responsibilities, hindered by politicians), versus vaccination delivery and freeing up 30,000 hospital beds (NHS-led projects) says otherwise."
So why do it?
Probably to give "legislative cover" for changes already happening on the ground, says Paul Johnson in The Times, and to give Matt Hancock, the current health secretary, and PM Boris Johnson the "illusion" of central control that all governments crave. But it will have minimal effect, and no doubt another "re-disorganisation" will be along in ten years' time. The reforms are simply not needed, says Andrew Adonis in Prospect. "You don't need a new command-and-control system to empower front-line collaboration: just do it."
So what could improve the NHS?
Crucially, "ministers alone control the funding lever", says Adonis. Rather than fiddle about with structures, what's needed is "surgical interventions with special funding" in particular areas. And funding overall, over the past decade, has not kept pace with population growth and ageing. Funding is important, says The Daily Telegraph, but so are structures. The Tories seem to be shying away from more radical NHS reform and market-based solutions. After all, the "great success story" of Britain's coronavirus response is the vaccine rollout – a "win for the NHS, but also for private research and private distributors", overseen by an outside venture capitalist.
What about a social insurance system?
Why the NHS warrants such quasi-religious reverence is a mystery to many continental Europeans, who see it as "outdated, inefficient and hard to navigate", says Mary Dejevsky in The Independent. Comparative studies show that their insurance-based systems are "more responsive, offer more choice to patients, and are more effective... in treating disease and improving public health". Alas, the pandemic is likely to entrench the "gigantic, corrosive lie" at the heart of British politics, says Allister Heath in The Daily Telegraph: namely that anyone who suggests big NHS reform is "an ungrateful monster, secretly obsessed with importing America's dystopian healthcare system" into Britain. "It is morally right to reform a system that doesn't work as well as it could" and the continuing "conspiracy of silence" on the subject is shameful.
Simon Wilson's first career was in book publishing, as an economics editor at Routledge, and as a publisher of non-fiction at Random House, specialising in popular business and management books. While there, he published Customers.com, a bestselling classic of the early days of e-commerce, and The Money or Your Life: Reuniting Work and Joy, an inspirational book that helped inspire its publisher towards a post-corporate, portfolio life.
Since 2001, he has been a writer for MoneyWeek, a financial copywriter, and a long-time contributing editor at The Week. Simon also works as an actor and corporate trainer; current and past clients include investment banks, the Bank of England, the UK government, several Magic Circle law firms and all of the Big Four accountancy firms. He has a degree in languages (German and Spanish) and social and political sciences from the University of Cambridge.