Four ways to boost Britain's stricken economy
When lockdowns end, we will need a plan to get our businesses up and running again. Matthew Lynn outlines four urgently needed measures that the government should bring in.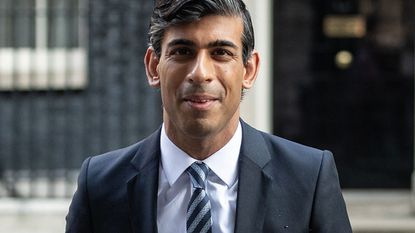 (Image credit: © Leon Neal/Getty Images)
We learned last week that the British economy shrank by the most of any major country in the world during 2020 in a recession that was the deepest in 300 years. It is a slump of historic proportions – with shops and restaurants locked down, gyms and bars closed, and travel restricted, output was 9.9% lower in 2020 than in 2019. You have to go all the way back to the Great Frost of 1709 for a bigger fall in output than the one we have just witnessed. And yet Chancellor Rishi Sunak has been oddly quiet recently. Surely a historic slump demands an equally historic response?
Over the course of the last year Sunak has stepped in with one scheme after another. Employers have been allowed to furlough their staff with 80% of their salaries covered by the Treasury. Taxes and business rates have been postponed. Soft loans have been made available, and the government has started co-investing in start-ups to keep them alive until the economy opens up again. But with the vaccines rolling out at an accelerating rate, what we need now is a clear plan for getting the economy roaring again. Here are the four most urgently needed measures.
1. Give business some certainty
There needs to be a clear roadmap out of lockdown. When vaccination rates hit 70% of the adult population, the government needs to give a clear pledge that all restrictions will be lifted, even if the virus is still circulating, as it probably will be. Once deaths and hospitalisations are down at levels that make it little different from any other disease, then businesses need to be allowed to operate freely again. Firms will also need to know what they can and cannot demand from staff and customers. Can they insist workers get a jab before returning to work? Can they demand a "vaccine passport" before letting people into a theatre or nightclub? Businesses need clear answers to questions such as these.
Subscribe to MoneyWeek
Subscribe to MoneyWeek today and get your first six magazine issues absolutely FREE
Get 6 issues free
Sign up to Money Morning
Don't miss the latest investment and personal finances news, market analysis, plus money-saving tips with our free twice-daily newsletter
Don't miss the latest investment and personal finances news, market analysis, plus money-saving tips with our free twice-daily newsletter
2. Rule out tax rises
A constant stream of leaks from Treasury officials and reports from think tanks arguing for one form of tax rise or another doesn't help anything. Higher property taxes, capital gains taxes, or even wealth taxes are not going to lift confidence. In fact, there is no evidence higher taxes are necessary. Debt will rise to about 100% of GDP to pay for this pandemic, but that is in the middle of the range for developed countries, and with interest rates so low there is not much sign the government cannot afford it. Covid-19 is a one-off event that will be paid off over a couple of generations. Tax rises in the short-term will only make the recession worse.
3. Boost consumer demand
The main cause of the recession is a slump in spending. As we come out of lockdown, we will need to reverse that, and quickly. The Eat Out To Help Out scheme last summer might have been too early, but it was still a good idea. We will need a lot more wheezes like that. A temporary VAT cut would help, so would a subsidy for theatre and club tickets, and a suspension of air travel duty once the borders are open again. So long as they have been working people have money – but we need to get them spending it again.
4. Launch a blitz of deregulation
We are going to need a wave of new businesses to replace all the companies that are not going to open up again once lockdown ends. And we are going to need lots of new industries to replace all those that have been lost in the slump. The easiest way to do that is to deregulate and let new business ideas flourish. There is going to be lots of empty office space after we all realise we would rather not go back to our desks five days a week, for example. We should make it simple for landlords to redesignate office blocks for residential development or for whatever there might be a demand for. At the same time, we should slash the entrepreneurs' rate of capital gains tax to zero for anyone who starts a new business in 2021 and 2022 – a one-off recovery bonus for anyone brave enough to launch a new enterprise in the face of a recession.
Matthew Lynn is a columnist for Bloomberg, and writes weekly commentary syndicated in papers such as the Daily Telegraph, Die Welt, the Sydney Morning Herald, the South China Morning Post and the Miami Herald. He is also an associate editor of Spectator Business, and a regular contributor to The Spectator. Before that, he worked for the business section of the Sunday Times for ten years.
He has written books on finance and financial topics, including Bust: Greece, The Euro and The Sovereign Debt Crisis and The Long Depression: The Slump of 2008 to 2031. Matthew is also the author of the Death Force series of military thrillers and the founder of Lume Books, an independent publisher.