Covid: were the lockdowns worth it?
Governments around the world followed the authoritarian example of China in dealing with the emergence of Covid-19. Was that a wise choice?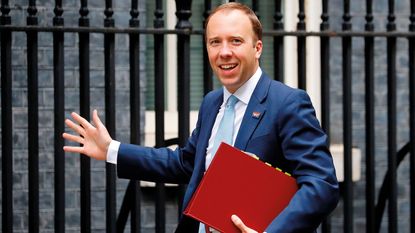 (Image credit: Health Secretary Matt Hancock © TOLGA AKMEN/AFP via Getty Images)
What's happened?
In the face of a rise in Covid-19 cases (though not a significant rise in hospitalisations or deaths), England is tightening its rules on social gatherings from Monday, making it illegal to gather in groups of more than six. Currently, two households of any size are allowed to meet indoors or outdoors – as are up to six people from several households outdoors – but the police have had no powers to stop gatherings unless they exceeded 30. The change, which applies to private homes but not schools or workplaces, is part of a widespread retightening of Covid-19 restrictions across Europe. This week, health secretary Matt Hancock refused to rule out a second blanket lockdown – a move that is also under consideration in Spain and France. And while that appears a remote prospect for now, the possibility is certain to intensify the debate over whether lockdowns actually work.
Do they?
The merits of Italy, Spain, and then most other Western governments following the Wuhan example of adopting strict lockdowns – stay-at-home orders and the closure of non-essential businesses – will no doubt be debated for decades to come. It's possible that they saved lives – perhaps millions of them across Europe, according to The Economist – and that "early Covid-19 lockdowns contained the virus best". Compared with Italy and France, for example, the UK's relatively late lockdown meant the virus spread much more freely and that appears to have led to a higher death toll. But there is no doubt that lockdowns are a "blunt tool" that have "crippling economic side effects". The question, then, is not so much whether they work, but whether they are "worth it".
So are they?
It's looking increasingly doubtful, says Larry Elliott in The Guardian. Obviously, it's difficult (and ethically tricky) to conduct a bald cost-benefit analysis of the UK's blanket shutdown. First, estimates of the economic hit from the pandemic are shifting all the time. Second, it's not clear what element of this should be ascribed to the lockdown (businesses were shutting their offices long before the government told them too). And third, there's much disagreement about how many lives were saved. However, one group of respected economists have had a go at an authoritative analysis – and it makes for "grim reading".
Subscribe to MoneyWeek
Subscribe to MoneyWeek today and get your first six magazine issues absolutely FREE
Get 6 issues free
Sign up to Money Morning
Don't miss the latest investment and personal finances news, market analysis, plus money-saving tips with our free twice-daily newsletter
Don't miss the latest investment and personal finances news, market analysis, plus money-saving tips with our free twice-daily newsletter
What did they find?
The research by David Miles et al. (published in the National Institute Economic Review) found that the costs of the lockdown, as measured by reduced GDP, easily outweighed the "benefits" as measured by the economic value attached by policymakers to the lives saved. In terms of benefits, Miles (probably generously) assumes that each person whose life was saved would enjoy a further ten "quality-adjusted life years", each valued at £30,000 (the figure used to make judgements about cost-effective NHS treatment). He assumes 60,000 excess deaths in the UK, then looks at a range of lives saved, from 20,000 to 440,000 (the number implied by Professor Neil Ferguson's influential March model predicting 500,000 deaths without tough restrictions). Thus, in terms of benefits, the maximum "saving" (under the Ferguson scenario) is £132bn. The figure falls to £30bn if 100,000 lives were saved by the lockdown and to £6bn if 20,000 lives were saved.
And the cost?
Output fell 20% in the second quarter, and the latest Bank of England forecast is that GDP will fall by 9.5% overall this year – around £190bn. Miles's model ascribes two-thirds of the economic damage to the lockdown, giving a cost of £127bn. In other words, the lockdown was only remotely close to being "worth it" if it did in fact save hundreds of thousands of lives. And that looks highly implausible – people and businesses would have taken (and were already taking) distancing measures of their own volition, to name just one possible mitigating factor. Moreover, this model only takes account of the direct economic hit – not any ongoing economic damage, nor the costs of missed schooling, the impact on non-Covid-19 patients, and so on.
What about lockdowns globally?
Here in Britain, the lockdown has driven a "growing social divide" between the affluent classes who have the luxury of working at home (and are even fuelling a post-lockdown housing boom) and the lower-earners who don't, says Jeremy Warner in The Daily Telegraph. Think of all the distribution, transport, health and construction workers who have been operating throughout the crisis so that "the rest of us don't starve to death while overdosing on Netflix and Zoom". That same divide has been mirrored on the global level, says Jonathan Wheatley in the Financial Times. While rich-world economies protected citizens with wage subsidies and mortgage holidays, some of the largest emerging economies, including India and Mexico, have "suffered the most from coronavirus-related lockdowns". Many countries – South Africa, Argentina, Peru and the Philippines, for example – imposed tough, early and long lockdowns, and have seen their economies devastated as a result. "India and South Africa, along with Latin America, have shown that in the main, low-income countries just can't win against the virus," says Charles Robertson, chief economist at Renaissance Capital. "They will have to give up on lockdowns – they just don't work and they are not worth the economic pain."
So what's the way forward?
The alternative to blanket lockdowns is pretty clear, say Ranu Dhillon and Abraar Karan in Harvard Business Review. It's more targeted, shorter, smarter lockdowns that people are more likely to comply with; smarter testing and tracing; and better prevention strategies in workplaces. The question is whether governments have the will and ability to invest in this route.
Simon Wilson's first career was in book publishing, as an economics editor at Routledge, and as a publisher of non-fiction at Random House, specialising in popular business and management books. While there, he published Customers.com, a bestselling classic of the early days of e-commerce, and The Money or Your Life: Reuniting Work and Joy, an inspirational book that helped inspire its publisher towards a post-corporate, portfolio life.
Since 2001, he has been a writer for MoneyWeek, a financial copywriter, and a long-time contributing editor at The Week. Simon also works as an actor and corporate trainer; current and past clients include investment banks, the Bank of England, the UK government, several Magic Circle law firms and all of the Big Four accountancy firms. He has a degree in languages (German and Spanish) and social and political sciences from the University of Cambridge.