Alex Jones: America's top crank goes bust
Alex Jones is the world's loudest and most prolific conspiracy theorist. Now his claims have failed to stand up in court and his Infowars website has filed for bankruptcy.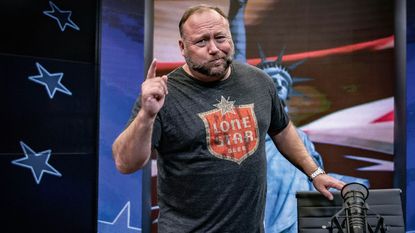 (Image credit: © Alamy)
Hours after the massacre of 20 children and six adults at the Sandy Hook Elementary School in Connecticut in 2012, Alex Jones began peddling the theory that the shooting was a hoax, fabricated by gun-control advocates and the media, which had hired actors to fake the incident.
Nearly ten years on, the host of the far-right Infowars website is facing a legal reckoning from families of the victims. Having won multiple defamation suits (and rejected an offer from Jones' lawyers of $120,000 per plaintiff), they're awaiting a court case to establish damages, likely to run to multi-millions of dollars.
Time for some fast financial footwork. In time-honoured fashion, says Fortune, Jones has resorted to the bankruptcy courts. In mid-April, Infowars' holding company and two other media assets owned by Jones filed for Chapter 11 – thereby halting the trial that was scheduled to begin in Texas last week. Infowars told the bankruptcy court it had "estimated assets of $50,000 or less" and estimated liabilities of $1m-$10m. Jones took to the airwaves to pronounce that he was "totally maxed out" financially, urging his audience to contribute money or buy products from the Infowars warehouse.
Subscribe to MoneyWeek
Subscribe to MoneyWeek today and get your first six magazine issues absolutely FREE
Get 6 issues free
Sign up to Money Morning
Don't miss the latest investment and personal finances news, market analysis, plus money-saving tips with our free twice-daily newsletter
Don't miss the latest investment and personal finances news, market analysis, plus money-saving tips with our free twice-daily newsletter
A massive money-spinner
Lawyers for the families, who accuse Jones of trying to hide millions of dollars in assets, allege that he is seeking bankruptcy protection for "sinister" purposes. One can understand the choice of word, says Rolling Stone. The families say Jones profited handsomely from his claims – even as they were subjected to harassment and death threats from his followers.
The Infowars store – an online bazaar selling "a variety of survivalist items, dubious brain supplements, and more" – has long been a useful money-spinner. Records show Jones raked in $165m in three years between 2015 and 2018. The Huffington Post found that, on the days that Jones went public with his claims about Sandy Hook, sales at the store rose. "I know when I'm watching a movie and when I'm watching something real," he told followers on 18 November 2016. Total profit for that day? $103,513.11.
New York magazine once described Jones, 48, as "America's leading conspiracy theorist". He's certainly one of the most prolific. His overarching theory is that governments and big business have colluded to create a "New World Order" to subjugate the masses – via "manufactured economic crises, sophisticated surveillance tech and… inside-job terror attacks that fuel exploitable hysteria". It seems he believes it.
"I'm not a business guy, I'm a revolutionary," remarked Jones in 2018. He caught the bug young, says The New York Times. Born in Dallas in 1974, he was inspired as a high-school student by the 1971 book None Dare Call it Conspiracy, and galvanised by the 1993 Waco siege.
From then on, he sought ways to get on air – eventually landing a spot on an Austin cable-TV talk-in "hawking outlandish conspiracy theories". In 1996, he moved to radio, broadcasting out of his own home with money supplied by his father. He later produced videos, starring himself, about 9/11 being "an inside job" – Infowars was founded as a mail-order outlet to sell them.
Conspiracy-proof toothpaste
Jones's talent has always been to merge his claims with his merchandise. "His customers buy in, and then they buy." In need of "something extra to fight the globalist agenda"? Try his special "testosterone boosters". Worried about the agenda to poison water? Protect yourself with toothpaste "laced with counteractive iodine". By 2014, he was turning over more than $20m.
Multiple legal battles may spur him "to keep pleading for more cash", says Rolling Stone. He recently launched a lawsuit against a Congress committee after it summonsed him for records over "his role in planning" the January 2021 Capitol riots. Still, having pushed theories about a school shooting, provoking anger over vote fraud couldn't have seemed like "a big deal".
Jane writes profiles for MoneyWeek and is city editor of The Week. A former British Society of Magazine Editors editor of the year, she cut her teeth in journalism editing The Daily Telegraph's Letters page and writing gossip for the London Evening Standard – while contributing to a kaleidoscopic range of business magazines including Personnel Today, Edge, Microscope, Computing, PC Business World, and Business & Finance.
She has edited corporate publications for accountants BDO, business psychologists YSC Consulting, and the law firm Stephenson Harwood – also enjoying a stint as a researcher for the due diligence department of a global risk advisory firm.
Her sole book to date, Stay or Go? (2016), rehearsed the arguments on both sides of the EU referendum.
She lives in north London, has a degree in modern history from Trinity College, Oxford, and is currently learning to play the drums.