Carl Icahn: "King Kong" takes a bite of McDonald's
Legendary corporate raider Carl Icahn is showing a softer side, taking a slice of fast-food giant McDonald's to improve animal welfare. No doubt he is seeking to secure his legacy too.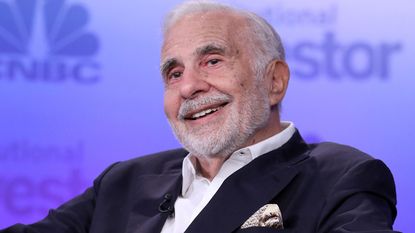 (Image credit: © Heidi Gutman/Getty Images)
In his terrifying heyday, the veteran corporate raider Carl Icahn went by the moniker "King Kong" on Wall Street. He was also known as "The Lone Wolf" and "The Great White Shark". At 86, the fearless boardroom challenger is still predatory, says the Financial Times.
His latest prey is McDonald's, where he has installed two new directors and is agitating for change. So far, so Icahn. What really surprised observers, though, was his stated rationale, which showed a distinctly "softer side". He doesn't like the way McDonald's suppliers treat their pigs.
Activism in the blood
Icahn, who is known to have inspired Gordon Gekko's "If you want a friend, get a dog" quote from the 1980s movie Wall Street, says he has felt "very emotional" about the pigs' plight ever since they were brought to his attention by his vegetarian daughter, Michelle, says Forbes. Cynics reckon the "bigger mission" of the octogenarian billionaire (he is worth $16.6bn) is to set his legacy straight. Icahn's new-found interest in sow husbandry coincides with a new HBO documentary, The Restless Billionaire – a retort against those who paint activist investors as "bad guys", spliced with entertaining scenes of family life at his home in Indian Creek, Miami, an area known as the "Billionaire Bunker".
Subscribe to MoneyWeek
Subscribe to MoneyWeek today and get your first six magazine issues absolutely FREE
Get 6 issues free
Sign up to Money Morning
Don't miss the latest investment and personal finances news, market analysis, plus money-saving tips with our free twice-daily newsletter
Don't miss the latest investment and personal finances news, market analysis, plus money-saving tips with our free twice-daily newsletter
The film gives a full rundown of Icahn's "greatest hits" down the decades – from Texaco to Apple, says The Wall Street Journal. He also expounds upon his "methods and philosophy", outlining what he sees as a crisis in corporate governance that is feeding into America's current economic predicament. "Part of the reason for inflation is [poor] productivity," he says. "And that's because [some] of these CEOs are inept. They don't care a hell of a lot." His calling in life has always been to make them care. "He has activism in his blood," says one Wall Street analyst.
Born in 1936 and raised in Far Rockaway, Queens, his father was a synagogue cantor and his mother a schoolteacher, with whom he had a "stormy" relationship, says Bloomberg. He got to Princeton to study philosophy, funding himself from poker winnings; dropped out of medical school to join the US army, before heading for Wall Street in 1961. Icahn's first hostile takeover campaign in 1978 targeted appliance-maker Tappan: he sold off its assets and ultimately doubled his initial investment, says Forbes. "The thrill of the hunt got him hooked." Future targets included the airline TWA (a campaign funded with debt from junk-bond king Michael Milken), RJR Nabisco, Marvel, Time Warner and eBay.
The Icahn lift
Some campaigns bombed, but collectively they reshaped the landscape. CEOs lived in dread of the terrifying words, "Carl Icahn is on the phone". Investors followed his every move. When Icahn bought into a company, the subsequent upswing of shares became a phenomenon known as the "Icahn lift". In 2013, Apple's market capitalisation jumped by $17bn on the back of one of his tweets. In the run-up to the 2016 presidential election, Donald Trump floated the idea of making Icahn his Treasury Secretary. The idea came to nothing, though, as Icahn's biographer later noted, his cold-blooded smarts would have been the perfect foil to Vladimir Putin.
In recent years, Icahn has been stumbling, says the FT. His contrarian philosophy of buying something "when no one wants it" sat at odds with the momentum-driven, tech-led bull market. But he may have the last laugh as bets in energy companies such as Occidental start paying off big time. "As the famous saying goes," Icahn says gleefully, "the trend is your friend, till the end."
Jane writes profiles for MoneyWeek and is city editor of The Week. A former British Society of Magazine Editors editor of the year, she cut her teeth in journalism editing The Daily Telegraph's Letters page and writing gossip for the London Evening Standard – while contributing to a kaleidoscopic range of business magazines including Personnel Today, Edge, Microscope, Computing, PC Business World, and Business & Finance.
She has edited corporate publications for accountants BDO, business psychologists YSC Consulting, and the law firm Stephenson Harwood – also enjoying a stint as a researcher for the due diligence department of a global risk advisory firm.
Her sole book to date, Stay or Go? (2016), rehearsed the arguments on both sides of the EU referendum.
She lives in north London, has a degree in modern history from Trinity College, Oxford, and is currently learning to play the drums.