El Salvador's Nayib Bukele – the "coolest dictator in the world"
Nayib Bukele, El Salvador's president, took power in a landslide in 2019, promising to clean up politics and end gang violence. He also has a taste for cryptocurrency and grandiose schemes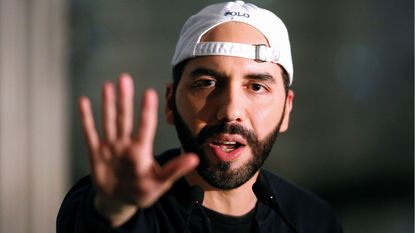 (Image credit: © Alamy)
El Salvador made headlines in September when it became the first country to adopt bitcoin as legal tender. On the first day of the new regime, the cryptocurrency's global price slumped by more than 10%, noted the Financial Times. Undeterred by that, or the botched implementation of his trailblazing experiment, president Nayib Bukele tweeted that the small central American nation had increased its holdings. "Buying the dip…" he wrote, adding a winking emoji.
"CEO of El Salvador"
Unimpressed bond traders rushed to sell off Salvadorian debt. But the jitters weren't just finance-related. Since taking power in a landslide election victory in 2019, Bukele has staged a power grab, packing the Supreme Court with sympathisers who then changed the constitution to enable him to run again in 2024. Last year he marked a speech to the UN by describing himself on his ever-changing Twitter bio as "the coolest dictator in the world" (his current moniker is "CEO of El Salvador"), says The Observer. His approval rating is currently topping 80%.
There were certainly grounds for optimism when Bukele swept to power three years ago on an "anti-crime, anti-corruption" ticket – marketing himself brilliantly as "untainted" by the graft of the two main parties, says The Sunday Times.
Subscribe to MoneyWeek
Subscribe to MoneyWeek today and get your first six magazine issues absolutely FREE
Get 6 issues free
Sign up to Money Morning
Don't miss the latest investment and personal finances news, market analysis, plus money-saving tips with our free twice-daily newsletter
Don't miss the latest investment and personal finances news, market analysis, plus money-saving tips with our free twice-daily newsletter
Bukele was born in 1981 into a well-heeled immigrant family of Palestinian and Greek heritage (his father converted to Islam later in life). He was a law-school dropout who spent much of his 20s managing nightclubs in which his family had invested, says The Economist. He got his start in politics in 2012, when he was elected as the youthful mayor of Nuevo Cuscatlán – following that up three years later when he won the mayoralty of El Salvador's capital, San Salvador. In both positions he earned plaudits for cutting homicide rates, cleaning up city centres and instigating social handouts. For many, he remains a man who has made life better and "gets things done".
It was Bukele's drive to clean up crime that provided the first warning of his autocratic tendencies. In February 2020, frustrated by delays in financing his security programme, he arrived in Parliament with gun-toting soldiers and sat in the speaker's chair. Critics claim he has since used the pandemic to bolster his position, says The Observer – presenting an "apocalyptic scenario" in which the only solution was to give the president more power. And Bukele's tendency to keep things in the family hasn't added to his democratic credentials, says The Economist. His uncle is commerce secretary, his wife Gabriela "picked much of the cabinet", and his "most influential associates are his brothers: Karim, Ibrajim and Yusef". One economist argues that El Salvador's government has become "a corporatist family project" – aided by the regime's growing ties with China.
The world's first bitcoin city
Meantime, Bukele is working on plans to build the world's first bitcoin city at the base of the Conchagua volcano, which would use geothermal energy to power mining. But the cryptocurrency's big fall in value may not be the only cloud on Bukele's horizon, says The Wall Street Journal. Growing evidence that he has been "playing footsie with transnational criminal organisations" in an effort to quell local gangs and boost his stranglehold on power is unlikely to play well at home. Some Salvadorians took to the streets last September to protest. That trickle of discontent could turn into a flood.
Jane writes profiles for MoneyWeek and is city editor of The Week. A former British Society of Magazine Editors editor of the year, she cut her teeth in journalism editing The Daily Telegraph's Letters page and writing gossip for the London Evening Standard – while contributing to a kaleidoscopic range of business magazines including Personnel Today, Edge, Microscope, Computing, PC Business World, and Business & Finance.
She has edited corporate publications for accountants BDO, business psychologists YSC Consulting, and the law firm Stephenson Harwood – also enjoying a stint as a researcher for the due diligence department of a global risk advisory firm.
Her sole book to date, Stay or Go? (2016), rehearsed the arguments on both sides of the EU referendum.
She lives in north London, has a degree in modern history from Trinity College, Oxford, and is currently learning to play the drums.