Bitcoin is now legal tender in El Salvador. What does that mean for investors?
El Salvador has become the first country in the world to adopt bitcoin as legal tender. Saloni Sardana explains why, and looks at what it might mean for investors.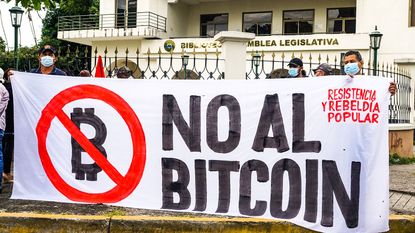 (Image credit: © APHOTOGRAFIA/Getty Images)
El Salvador has become the first country in the world to adopt bitcoin as legal tender.
What initially began a cryptocurrency experiment between two Americans at the beach town of El Zonte is now being closely watched by the world to see what happens when bitcoin becomes legal tender in a nation for the first time.
El Salvador's government has started building bitcoin ATMs and created a $150m fund to help facilitate exchange between bitcoin and the US dollar.
Subscribe to MoneyWeek
Subscribe to MoneyWeek today and get your first six magazine issues absolutely FREE
Get 6 issues free
Sign up to Money Morning
Don't miss the latest investment and personal finances news, market analysis, plus money-saving tips with our free twice-daily newsletter
Don't miss the latest investment and personal finances news, market analysis, plus money-saving tips with our free twice-daily newsletter
But the country is still deeply divided as to how it will work and whether it is in the best interests of the people. So what is El Salvador's legal tender law and why should you care about it?
What does legal tender mean?
Generally speaking, legal tender is the officially recognised payment mechanism that is used to meet a financial commitment. It is the economic medium of exchange that is recognised by the legal system.
Officially, legal tender relates to coins and banknotes. The US dollar and the pound are obvious examples. So where does legal tender fit in the scope of El Salvador's "Bitcoin Law"?
Probably the biggest change is that both companies and the government will technically have to accept bitcoin as a form of payment for goods and taxes, although president Nayib Bukele has said that it will be optional and that salaries and pensions will still be paid in US dollars.
Why is El Salvador doing this?
El Salvador's native currency was the Salvadoran colon from 1892 until 2001, when the country effectively adopted the US dollar (a process known as "dollarisation").
So why the change? El Salvador is highly dependent on remittances sent by citizens who live and work abroad. Remittances came to almost $6bn in 2019, accounting for 16% of GDP. So one reason behind the move is the hope that Salvadorans will increase the value of remittances they send back – some argue that it will be cheaper to send the money as bitcoin, though this is disputed.
Proponents also argue that it will help promote "financial inclusion" for those without bank accounts.
El Salvador has also floated the idea of using geothermal energy to power bitcoin mining, says CoinDesk: "Diversifying the country's dollar reserves into bitcoin could create opportunities to earn yield, thus increasing the size of the reserves."
Whether that happens or not remains to be seen, but polls certainly suggest that the country is largely unprepared to adopt bitcoin – most Salvadorans are against it and those quoted in various news reports largely seem understandably confused by the whole thing – while the World Bank rejected a request from El Salvador in June to help it implement bitcoin as legal tender.
Where did the idea come from?
In 2019, cryptocurrency pioneers Nicholas Burtey and Michael Peterson launched a bitcoin project in El Zonte, a small beach town that has a modest population of 3,000 people. The project paved the way for multiple services including salon treatments and groceries to be paid for with bitcoin.
Since then, bitcoin and the wider cryptocurrency market have become very contentious issues in El Salvador. While the bitcoin law has been welcomed by crypto enthusiasts, mass protests have taken place, with citizens worried that the government has given them too little information about cryptocurrencies and how the legal tender law will work.
Salvadorans may also be concerned about the volatile nature of cryptocurrencies. After hitting a high of almost $63,000 in July, the price of bitcoin more than halved to trade below $29,000 by July due to a host of reasons, including crackdowns by China. Since then it has largely recovered and is now trading at around $50,000.
That might be fine for a high-risk portfolio investment, but it's not ideal for businesses or consumers who rely on their money being worth roughly the same from one day to the next. So how El Salvador plans to shield its citizens against crypto volatility remains a big question for the government.
What are the challenges?
To date, no other country has adopted bitcoin or any other cryptocurrency as legal tender, so plenty of eyes are on El Salvador.
As deVere Group's chief executive Nigel Green puts it, many other countries are likely to follow suit. "Other countries, in particular other Central and South American nations, will be watching with great interest to see if the experiment works to shore up El Salvador's shaky economy."
The main challenge is likely to be citizens being unwilling to use cryptocurrencies. A poll conducted by the Central American University (UCA) found that only 4.8% of respondents understood bitcoin. And three out of four Salvadorans were still sceptical about its adoption in July, according to Reuters.
The government is offering $30 (£22) worth of free bitcoins to citizens in the hope that they will use the national wallet system (Chivo – Salvadoran slang for "cool", notes the FT) and warm up to the idea of bitcoin as a legal tender. The government has also started installing bitcoin ATMs, to help citizens swap their digital tokens into cash.
But despite this, protests have been taking place in the country's capital, San Salvador. And even if individuals do accept bitcoin, it's hard to see why they would spend them, rather than dollars, on their daily grocery shopping, given the potential for appreciation.
Another challenge is technological infrastructure. Citizens in El Salvador need the internet to access bitcoin. Yet only 45% of the population has access to the internet. There are also concerns that bitcoin becoming legal tender will accelerate crime levels in a country which is already notorious for high corruption.
What does this mean for investors?
Much depends on how cryptocurrency prices fare once the adoption takes place and whether other countries follow suit. At the time of writing, bitcoin is trading 3% higher at around $51,700. If the country makes a success of the legal tender and overcomes any "teething problems" it can encourage others to do the same and may result in bitcoin becoming a mainstream legal tender. But if the opposite happens, cryptocurrency prices could come under pressure.
As LIAN Group's Josue Lopez, who has also been involved in advising El Salvador's government on bitcoin, puts it: "The imminent success of the use of cryptocurrency in the Central American nation will dictate the future for other countries that are hesitant on adopting bitcoin as legal tender."
Meanwhile social media groups are calling for people to purchase small amounts of bitcoin to "support" El Salvador's legal tender move. Social media users on platforms such as Reddit and Twitter are openly encouraging users to buy around $30 of bitcoin to commemorate the bitcoin law coming into effect.
But some – probably rightly – think that investors will neither gain nor lose from El Salvador's plans. "Bitcoin investors will be keen to see how the experiment works, but I don't think it will make a huge difference," says Neil Wilson of Markets.com. In all, he tells the BBC, "this looks like nothing more than an attention-seeking move by the autocratic regime."
Saloni is a web writer for MoneyWeek focusing on personal finance and global financial markets. Her work has appeared in FTAdviser (part of the Financial Times), Business Insider and City A.M, among other publications. She holds a masters in international journalism from City, University of London.
Follow her on Twitter at @sardana_saloni