Stéphane Bancel: Moderna's biotech whizz who changed the world
Stéphane Bancel had a safe job as CEO of a French multinational when he decided to risk it all on a promising but unproven medical technology. The bet paid off handsomely.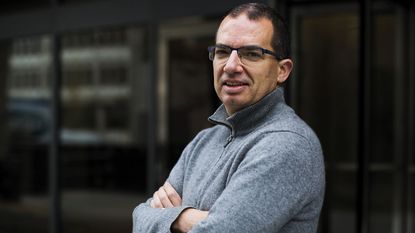 (Image credit: © Adam Glanzman/Bloomberg via Getty Images)
If Stéphane Bancel ever questioned his ability to move markets, he got his answer last week. The Moderna CEO's observation that existing vaccines will be less effective at tackling Omicron than earlier strains of Covid-19 rattled investors sufficiently to spark another global lurch downwards, says the Financial Times. The mood has since lightened – there are signs the variant may prove less serious than feared. But Moderna and other vaccine-makers still have their work cut out. Bancel reckons Moderna could make between two and three billion Omicron-targeted doses next year, but it's a balancing act. "It would be risky," he says, to shift the entire production capacity into the fight when other variants are still in circulation.
At the vanguard of science
Moderna is now such a household name that it's almost a shock to recall that its sole commercial product is the Covid-19 vaccine. "Before the pandemic, Moderna was simply a heavily loss-making biotech with unproven technology," says The Sunday Times. But delivery of its mRNA jab "has cemented its place at the vanguard of scientific discovery". It has also made a small fortune for Bancel, who owns around 8% of the Cambridge, Massachusetts-based outfit's shares, which have jumped by more than 1,000% since it floated on Nasdaq in 2018. In just over a decade since Moderna was founded – on the-then radical hunch that mRNA could be used to treat cancer, diabetes and genetic diseases – its market value has shot up to nearly $115bn. As a peer observes: "The pandemic came almost as a blessing to prove the technology".
According to early investor Baillie Gifford, the pugnacious Frenchman has always stood out from the crowd as "a relentless risk optimiser". Bancel famously quit a "safe job", as CEO of the French diagnostics multinational BioMérieux, to join the fledgling Moderna in 2011 – telling his photographer wife, Brenda, there was just a 5% chance that its "crazy idea" would work. As he observed on a recent Distillations podcast, he couldn't forego the "chance of changing medicine forever".
Subscribe to MoneyWeek
Subscribe to MoneyWeek today and get your first six magazine issues absolutely FREE
Get 6 issues free
Sign up to Money Morning
Don't miss the latest investment and personal finances news, market analysis, plus money-saving tips with our free twice-daily newsletter
Don't miss the latest investment and personal finances news, market analysis, plus money-saving tips with our free twice-daily newsletter
The emperor was clothed
Born in 1972, Bancel grew up in Marseilles, the son of an engineer and a doctor – fusing these professions into his own life when he chose to study biomolecular engineering at École Centrale in Paris. His subsequent move to Minnesota for a masters opened up the world of US business. Bancel's first job was at BioMérieux, which had sponsored his MBA at Harvard. At 29 he joined the US drug-maker Eli Lilly, before returning to lead BioMérieux when he was just 34.
In Moderna's early days, cash was so tight it often struggled to keep the lights on for six months at a time. Bancel, who had "an almost messianic reverence for the mRNA technology", took an all or nothing approach: you either got with the plot, or you were out, noted industry journal Stat in 2016. Reports of conflicts and defections multiplied – even as Bancel succeeded in persuading the industry's big-hitters of Moderna's potential (forging a transforming $240m partnership with AstraZeneca in 2013). He later consulted the HR departments of some tech firms for "tips on employee retention". The charge of scientific critics back then was that Moderna was "a case of emperor's new clothes". Whatever Bancel's current challenges, he has been vindicated. As the world queues up for Moderna shots, you don't hear much talk of naked emperors.
Jane writes profiles for MoneyWeek and is city editor of The Week. A former British Society of Magazine Editors editor of the year, she cut her teeth in journalism editing The Daily Telegraph's Letters page and writing gossip for the London Evening Standard – while contributing to a kaleidoscopic range of business magazines including Personnel Today, Edge, Microscope, Computing, PC Business World, and Business & Finance.
She has edited corporate publications for accountants BDO, business psychologists YSC Consulting, and the law firm Stephenson Harwood – also enjoying a stint as a researcher for the due diligence department of a global risk advisory firm.
Her sole book to date, Stay or Go? (2016), rehearsed the arguments on both sides of the EU referendum.
She lives in north London, has a degree in modern history from Trinity College, Oxford, and is currently learning to play the drums.