Jamie Dimon: the "president of Wall Street"
Since Jamie Dimon became CEO of JPMorgan, the bank has made total returns that easily outstrip its rivals and sits on $3.4trn in assets. What's the secret of his success?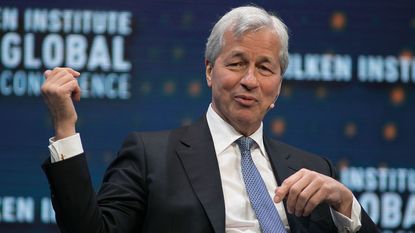 (Image credit: © Shutterstock)
In 2018, Jamie Dimon "thought about thinking about" a run for the US presidency, saying of the then incumbent Donald Trump: "I'm as tough as he is, I'm smarter than he is". Eventually persuaded he had no chance, the JPMorgan Chase boss had to settle for an unofficial title instead: "president of Wall Street", says The Sunday Times.
Bloodied but unbowed
What is indisputable is that Dimon, at 65, is one of banking's great survivors. Having "made it to the top with his idiosyncratic blend of arrogance, self-confidence and warmth", he ensured JPMorgan emerged from the 2008 crash "bloodied but unbowed", becoming the US government's buyer of last resort for stricken rivals like Bear Stearns. More recently, he has survived throat cancer and emergency heart surgery.
Detractors point to "errors of judgement", such as the London Whale scandal of 2012, which Dimon initially dismissed as "a tempest in a teapot", but wound up costing the bank $6.2bn. They also note his ruthlessness at pushing out potential successors. But ultimately performance counts. Since the dawning of the "Dimon era" in 2005, JPMorgan's total returns have easily outstripped those of competitors. With $3.4trn in assets, "the only bigger banks in the world are China's state-owned giants".
Subscribe to MoneyWeek
Subscribe to MoneyWeek today and get your first six magazine issues absolutely FREE
Get 6 issues free
Sign up to Money Morning
Don't miss the latest investment and personal finances news, market analysis, plus money-saving tips with our free twice-daily newsletter
Don't miss the latest investment and personal finances news, market analysis, plus money-saving tips with our free twice-daily newsletter
Dimon – a descendant of Greek immigrants – had a cushioned start in life. Both his father and grandfather were stockbrokers and the family moved to New York's Upper East Side when Jamie was 12. After attending Browning, a private boys' school, he graduated from Boston's Tufts University with a degree in psychology and economics, and put in a stint as a management consultant before heading to Harvard for an MBA. Dimon got his big break when his father passed on an essay he'd written to Sandy Weill, then heading American Express, who took him on, says Vanity Fair. They went on to build the Citigroup banking behemoth, "pieced together merger after merger". But the relationship, while close, was complicated. "The hyper-ambitious Dimon wanted Weill's job"; his mentor wasn't about to give it up, and in 1998 Dimon was abruptly fired – he didn't see it coming.
That humiliation galvanised him. He headed to Chicago "to lick his wounds", taking control of the little-known Bank One, sprucing it up and eventually selling out to JPMorgan – in the process becoming CEO. Aside from his obvious drive, the secret of Dimon's success is his "genuine love of the 'plumbing' of the business", says Vanity Fair. Others credit an unusual ability to be "both strategic and very hands on", says The Sunday Times. Dimon is the kind of boss who remembers the names of juniors he meets in the lift. He also carries around a list of who owes him favours.
America's least-hated banker
Dubbed "America's least-hated banker" by The New York Times in 2010, Dimon has spent the past decade framing himself as a thinker and statesman. He likes to press the flesh, and apparently relishes his role as international powerbroker, claiming he's "not swayed by geopolitical winds". And he certainly seems entrenched at JPMorgan, says The Sunday Times – recently accepting a "golden handcuffs" package of $49m in stock options spread over ten years. Dimon says "the board insisted" he accepted. Then again, "as both chairman and chief executive" of arguably the world's most powerful bank, "he really is the board".
Jane writes profiles for MoneyWeek and is city editor of The Week. A former British Society of Magazine Editors editor of the year, she cut her teeth in journalism editing The Daily Telegraph's Letters page and writing gossip for the London Evening Standard – while contributing to a kaleidoscopic range of business magazines including Personnel Today, Edge, Microscope, Computing, PC Business World, and Business & Finance.
She has edited corporate publications for accountants BDO, business psychologists YSC Consulting, and the law firm Stephenson Harwood – also enjoying a stint as a researcher for the due diligence department of a global risk advisory firm.
Her sole book to date, Stay or Go? (2016), rehearsed the arguments on both sides of the EU referendum.
She lives in north London, has a degree in modern history from Trinity College, Oxford, and is currently learning to play the drums.