Nguyen Thi Phuong Thao: Vietnam's airline billionaire rides high
Nguyen Thi Phuong Thao first spotted business opportunities in the former Soviet Union. Now she is Vietnam's first and only female billionaire. Here in the UK, she has sparked controversy.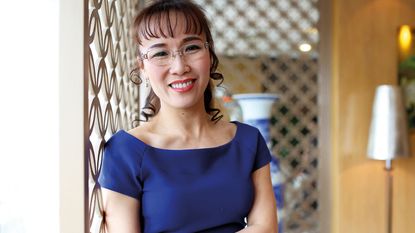 (Image credit: © Linh Luong Thai/Bloomberg via Getty Images)
Another year, another endowment row at Oxford University. But while the question of whether to accept the fascist-tainted Mosley millions continues to divide dons, a quiet revolution has taken place at Linacre College. Following a £155m "transformative donation" from the Vietnamese tycoon Nguyen Thi Phuong Thao – the country's first and only female billionaire – the institution has voted to rename itself Thao College.
An entrepreneur in the USSR
Bad news for the ghost of Thomas Linacre, the 16th-century founder of the Royal College of Physicians, after whom the postgraduate college was originally named. Good news for "Madam Thao", as she is popularly known in Vietnam, in her quest to put herself and her budget air carrier, VietJet Air, on the international map. As the 51-year-old entrepreneur observes: "I've always aimed big" – and this, notes The Guardian, is "the largest donation given to Oxford in at least 500 years". Linacre has countered "a barrage of criticism" about enabling the "commercialisation" of learning on the grounds that it is "one of the least well-endowed colleges at the university". But the donation – made by Thao's holding company, Sovico, on the eve of Cop26 – has also been slammed by environmentalists because Sovico's many interests include oil and gas projects in Vietnam.
There are also concerns about Thao's political background, says The Mail on Sunday. She and her husband Nguyen Thanh Hung, an expert in cybernetics, have close connections with the ruling Communist Party of Vietnam (CPV), "which is judged to have one of the world's worst human-rights records". Sovico also "retains close links with the Kremlin" and the ex-Soviet republic of Kazakhstan, where it was involved in building the capital city Nur-Sultan (formerly Astana).
Subscribe to MoneyWeek
Subscribe to MoneyWeek today and get your first six magazine issues absolutely FREE
Get 6 issues free
Sign up to Money Morning
Don't miss the latest investment and personal finances news, market analysis, plus money-saving tips with our free twice-daily newsletter
Don't miss the latest investment and personal finances news, market analysis, plus money-saving tips with our free twice-daily newsletter
Thao's links with Russia date back to her student days, says Nikkei Asia. Born into a well-to-do family at the height of the Vietnam War in 1970, she joined the "Cold War milieu of Vietnamese who cut their teeth in the old Soviet bloc" when she was selected to attend university in Moscow. Considered a brilliant student, Thao was awarded three degrees, including one in economic management, but made her real mark in the Soviet Union as a youthful entrepreneur importing latex rubber and fax machines from Vietnam, says The Guardian. "Before she had turned 21 – or graduated – she had made her first million."
Thao met her husband in the Soviet Union and the couple remained there for a decade before relocating to Vietnam, where she began investing in banking – notably, HDBank – and real-estate projects in Ho Chi Minh City and holiday resorts.
Inspired by the rise of budget airlines such as Malaysia's AirAsia, Thao launched VietJet Air in 2011. The airline made a rapid ascent, turning a profit by its second year – partly thanks to Thao's policy of advertising a service "featuring bikini-clad flight attendants", says Forbes. Yet even without the sexy gimmicks, VietJet could count on huge pent-up demand, says Asia Nikkei. "Selling flights for less than $50," it enabled "millions of Vietnamese" to board an aircraft for the first time.
The Midas touch
When Thao floated VietJet in 2017, shares jumped 47% in months – helping to seal a personal fortune put at around $2.7bn. With typical pragmatism, she sidestepped the pandemic travel ban by converting the airline into a freight carrier, eking out a $3m profit last year. Having ordered some 200 more planes at a cost of $23bn before Covid-19 hit, her ambition now is to expand VietJet to become the "Emirates of Asia". "Some say that anything I put my hands on will be profitable," Thao once told CNBC. "I don't think it's that simple." But while her effective purchase of an Oxford College might seem the height of hubris, few can deny she's on a roll.
Jane writes profiles for MoneyWeek and is city editor of The Week. A former British Society of Magazine Editors editor of the year, she cut her teeth in journalism editing The Daily Telegraph's Letters page and writing gossip for the London Evening Standard – while contributing to a kaleidoscopic range of business magazines including Personnel Today, Edge, Microscope, Computing, PC Business World, and Business & Finance.
She has edited corporate publications for accountants BDO, business psychologists YSC Consulting, and the law firm Stephenson Harwood – also enjoying a stint as a researcher for the due diligence department of a global risk advisory firm.
Her sole book to date, Stay or Go? (2016), rehearsed the arguments on both sides of the EU referendum.
She lives in north London, has a degree in modern history from Trinity College, Oxford, and is currently learning to play the drums.