The legacy of Angela Merkel
German leader Angela Merkel is leaving office to spend more time with her family after 16 years at the helm. But what has she got to show for it?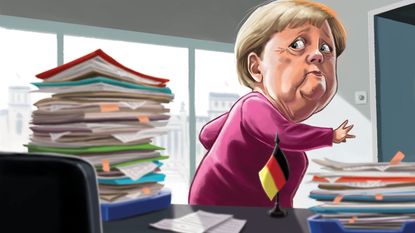 (Image credit: )
How will she be remembered?
For all the justified criticism of Angela Merkel's tenure as chancellor – that she is a master of getting through crises without ever quite resolving them – she will be remembered chiefly as a steadying influence in an age of turbulence. There is a reason, says Oliver Moody in The Sunday Times, why Merkel leaves office with a sky-high approval rating of "an almost hagiographic 64%". That is the sense of authentic, calm reassurance and solidity that she embodies and projects.
Those who don't understand her lasting popularity forget Germany's punishing history: a century and a half of "unification, imperial hubris, military defeat, hyperinflation, Nazism, division and reunification". Germans now value "peace, stability, prosperity, solid government and incremental change". And as the chancellor who has governed for 16 years – more than half the period since reunification in 1990 – Merkel has given them just that.
But what has she actually achieved?
In terms of major legislation, there's oddly little to show for 16 years in office. Highlights include the introduction of the minimum wage, the abolition of national service, strict social-media laws, the phasing out of the coal industry 17 years from now, and gay marriage. The latter was initially opposed by Merkel, but she changed her mind in a typical piece of what German pundits call "asymmetric demobilisation", says Jan-Werner Müller in The Guardian.
Subscribe to MoneyWeek
Subscribe to MoneyWeek today and get your first six magazine issues absolutely FREE
Get 6 issues free
Sign up to Money Morning
Don't miss the latest investment and personal finances news, market analysis, plus money-saving tips with our free twice-daily newsletter
Don't miss the latest investment and personal finances news, market analysis, plus money-saving tips with our free twice-daily newsletter
Roughly akin to Clintonian "triangulation", this phrase means seizing the centre ground and "making sure supporters of other parties do not bother to vote, because they have been lulled into a sense that 'Mutti' [as Merkel is known in Germany] has taken care of everything already". Indeed, many of the legislative highlights were passed at the instigation of her (mostly centre-left) coalition partners.
So she's been lucky?
Many economists think so – in that the bedrock of Germany's economic success since 2005 has been the "Agenda 2010" labour-market and welfare reforms introduced under Chancellor Gerhard Schröder of the SPD-Green governments of 1998-2005. Schröder's unpopular reforms "cost him his job but paved the way for a decade of robust growth", says The Times – letting Germany bounce back rapidly from the global financial crisis and re-emerge as the economic powerhouse of Europe.
Under Merkel, Germany's economic success was "more luck than policy", Marcel Fratzscher, of the German Institute for Economic Research, told The Economist. In addition to the Schröder-era reforms, which helped keep unemployment down, China's accession to the World Trade Organisation in 2001 "opened a vast market for mighty German exporters".
Then the EU's eastward expansion in 2004 "created a pool of cheap labour and extended supply chains, and a source of skilled, working-age immigrants". Meanwhile, in terms of foreign relations, "American power has held the peace that was a condition for German trading success", and "transatlantic spats over nugatory German defence spending have had few serious consequences".
Did she make the right calls?
Merkel has been a crisis chancellor whose most consequential decisions were thrust upon her – and who took the right decisions when needed, says the Financial Times. She kept Greece inside the euro; endorsed measures by the European Central Bank to keep the single currency together; allowed in more than a million Syrian and other refugees during the 2015-2016 migrant crisis; and supported a pandemic EU recovery fund financed by common borrowing.
But where Merkel fell short was in the "incremental business of keeping Germany up with the times". She hands over a country marked by "digital backwardness; a creaking education system; ineffective, overlapping layers of government; and a lack of ambition for decarbonising Europe's industrial powerhouse".
There is also a looming pensions crisis, a swelling low-wage sector, growing income inequality, child poverty, and a misjudged energy policy resulting in the highest electricity bills in the EU.
What was her biggest mistake?
Chief among them was the overhasty decision to shutter Germany's nuclear power industry in 2011 in the wake of Fukushima, says James Hawes on UnHerd. The need to replace nuclear has kept Germany overly reliant on "filthy brown coal" power stations, and the Nord Stream gas pipeline fuelling German industry directly from Russia. "As a result, Germany is incredibly vulnerable to energy blackmail from Moscow, Putin's regime has been mightily succoured, and the average German citizen now produces getting on for twice as much atmospheric carbon as the average Frenchman or Brit."
What about foreign policy?
Under Merkel, Europe's largest economy assumed, however unwillingly, an ever greater leadership role within Europe, while mostly fending off French efforts meaningfully to deepen the EU. She grappled with the strains of a more isolationist US ally under Donald Trump, and tried to keep out of Brexit.
A crucial challenge she flunked, says Yascha Mounk in The Atlantic, was the rise of authoritarian populists in Europe. When Viktor Orbán was first elected, the EU could have imposed real sanctions on Hungary to halt the country's slide into autocracy. Instead, Merkel opposed meaningful steps to hold Orbán accountable and let his party remain a member of the main centre-right (EPP) group in the European Parliament.
In short, Merkel's legacy must be regarded as mixed at best. She oversaw Germany's rise to "undoubted pre-eminence in Europe, yet leaves the country's partners across the world crying out for stronger German leadership", says The Times. "Sadly there is little sign that whoever succeeds her will provide it".
Simon Wilson's first career was in book publishing, as an economics editor at Routledge, and as a publisher of non-fiction at Random House, specialising in popular business and management books. While there, he published Customers.com, a bestselling classic of the early days of e-commerce, and The Money or Your Life: Reuniting Work and Joy, an inspirational book that helped inspire its publisher towards a post-corporate, portfolio life.
Since 2001, he has been a writer for MoneyWeek, a financial copywriter, and a long-time contributing editor at The Week. Simon also works as an actor and corporate trainer; current and past clients include investment banks, the Bank of England, the UK government, several Magic Circle law firms and all of the Big Four accountancy firms. He has a degree in languages (German and Spanish) and social and political sciences from the University of Cambridge.