Clive Sinclair: the father of the home computer
Clive Sinclair was a serial inventor and visionary whose output also included the prototype electric car. His other interests included poetry, marathon-running and poker.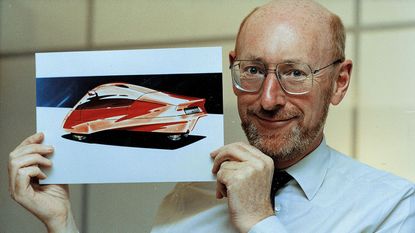 (Image credit: © Shutterstock)
"RIP, Sir Sinclair. I loved that computer," tweeted Elon Musk. He wasn't alone, says the Financial Times. The death, aged 81, of Sir Clive Sinclair, the entrepreneur behind the UK's first mass-market home computer, brought tributes from "a host of engineers, entrepreneurs and tech billionaires" who claimed "their careers had been built on his inventions" – notably the affordable ZX Spectrum.
Coming a cropper
"One part visionary, one part dotty uncle and one part marketing genius", for a few years in the 1980s Sinclair epitomised "the new hi-tech, go-ahead Britain", says The Guardian. But his reputation "came a cropper" in 1985 with the launch of the C5, his prototype electric car. The three-wheeled, low-slung vehicle had a top-speed of 15mph and a battery that needed recharging every 20 miles.
Sinclair predicted annual sales of 100,000, but the "tricycle with a modified Hoover washing-machine engine" sank "under gales of derisive media laughter". Several ensuing inventions – including an electric bicycle called a Zike and a tiny radio that could fit in the ear – did little to dispel his eccentric image. But his descent into mad-professor territory never deterred him, says The Independent on Sunday. "If an idea is good enough, it's going to appear pretty crazy to almost anyone," he observed. "Either you do it yourself or it ain't going to happen."
Subscribe to MoneyWeek
Subscribe to MoneyWeek today and get your first six magazine issues absolutely FREE
Get 6 issues free
Sign up to Money Morning
Don't miss the latest investment and personal finances news, market analysis, plus money-saving tips with our free twice-daily newsletter
Don't miss the latest investment and personal finances news, market analysis, plus money-saving tips with our free twice-daily newsletter
Born in 1940, in the London suburb of Richmond, Sinclair was "the son and grandson of engineers", says The Guardian. His own enthusiasm was apparently sparked by an inventor character on the children's radio programme Toytown. By the age of 12, "he had designed a one-person submarine out of a petrol tank".
Leaving school with A-Levels in maths and physics, Sinclair eschewed university to become a journalist on the trade paper Practical Wireless. His passion was "miniaturisation" and in 1962 he and his first wife, Ann, formed a company, Sinclair Radionics, making mail-order radio kits "using transistors bought cheaply... and dispatched to customers" from their home.
The combustible calculator
Sinclair's drive for innovation saw him produce what he claimed to be the world's first pocket calculator in 1973, says The Daily Telegraph. Its tendency to burst into flames nearly caused "an international incident": when a Soviet diplomat's device exploded in London, the Russians thought it was "an assassination attempt".
Sinclair's own temperament was no less explosive. Reportedly "he only went into computing to annoy his ex-employee, Chris Curry, who left Sinclair Research to develop home computers and founded the successful Acorn brand". Indeed, Sinclair prided himself on never using computers.
Sinclair's rivalry with Curry may be one reason he took his eye off the commercial ball. By the mid-1980s, the Spectrum had been eclipsed by its rival Amstrad and a new generation of IBM PCs and clones. He consoled himself with other interests, including poetry, marathon-running and poker.
Memories of the Sinclair C5
By Dr Michael Tubbs
The newspapers have been full of pictures of Sinclair's C5 car, but he should really be remembered for bringing affordable computers such as the ZX Spectrum into British homes.
I remember receiving a call from a headhunter when I was running the product R&D at Lucas, which was then the UK's largest supplier of automotive and aerospace components and systems. I had R&D projects on electric vehicles and new batteries at Lucas, so I was not surprised when the headhunter told me that he had an exciting new position to fill as technical director of a very well-funded new electric vehicle company. He mentioned a salary of twice what Lucas were paying me, so I went along to an interview with the managing director.
He described the company and explained that they wanted to launch a new electric car. I asked him how he believed he could solve the problem of a worthwhile range and performance with a battery of the size and weight that could be fitted in a small car. He replied that he had a solution but could not even outline it to me until I had accepted the job. Of course, he did not have a solution as I realised a little later. I replied that I needed an answer before I could consider accepting an offer so, since neither of us would budge, I left.
Some weeks later I opened my copy of The Sunday Times and saw a picture on the front page of the man who had accepted the job I had refused, and he was seated in a Sinclair C5 that looked like a white bathtub driving round Hyde Park corner with a double-decker London bus towering over him. I thought "rather you than me". He drew the large technical director's salary for only a few more weeks – production was cut by 90% just three months after launch, and ceased soon after that.
With an IQ of 159, he became chair of the British arm of Mensa. At 70, he married a former pole-dancer 36 years his junior. Sinclair long ago secured his legacy as "the father of the home computer", says The Conversation. "But time is only now vindicating his other creations" – particularly "electrified personal transportation". Even his so-called failures were prescient.
Jane writes profiles for MoneyWeek and is city editor of The Week. A former British Society of Magazine Editors editor of the year, she cut her teeth in journalism editing The Daily Telegraph's Letters page and writing gossip for the London Evening Standard – while contributing to a kaleidoscopic range of business magazines including Personnel Today, Edge, Microscope, Computing, PC Business World, and Business & Finance.
She has edited corporate publications for accountants BDO, business psychologists YSC Consulting, and the law firm Stephenson Harwood – also enjoying a stint as a researcher for the due diligence department of a global risk advisory firm.
Her sole book to date, Stay or Go? (2016), rehearsed the arguments on both sides of the EU referendum.
She lives in north London, has a degree in modern history from Trinity College, Oxford, and is currently learning to play the drums.