Pedro Castillo: leftist outsider who rode to power in Peru
Pedro Castillo amassed support among the left-behind as a trade-union leader before riding to power in this year's presidential race. What has the country let itself in for?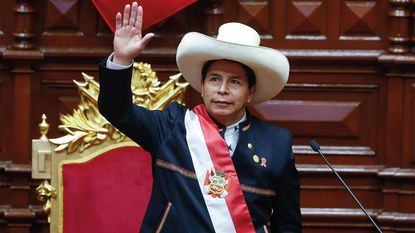 (Image credit: © CHINE NOUVELLE/SIPA/Shutterstock)
Pedro Castillo was "a virtual unknown" before he joined this year's presidential race in Peru – eventually snatching a narrow win over his far-right rival Keiko Fujimori in June. A rural teacher and union activist who, as the Financial Times notes, rode to vote on horseback in "his trademark Stetson hat", he had campaigned on the slogan "No more poor in a rich country" – tempered with reassurances that he was "his own man", not beholden to the Marxist ideology embraced by some in the Free Peru party that had adopted him.
A taste for outsiders
Still, any expectation that Castillo might lead a moderate government were dashed almost as soon as he donned the presidential sash, says Bloomberg. A day after taking office he appointed one of Peru's most controversial politicians, Guido Bellido, as prime minister. Bellido is currently under investigation for being "an alleged apologist for terrorists" – having publicly supported members of the "Shining Path" Maoist rebel group that killed tens of thousands of Peruvians in an attempt to seize power in the 1980s and 1990s, says The Guardian. After a month of turmoil, the administration has just survived a vote of confidence motion in Parliament. It's unlikely to be the last.
That some kind of political accord has now been cobbled together is largely down to financial fears. Already reeling from one of the world's worst per capita Covid-19 death tolls and a savage recession, Peru has suffered a sobering financial shock since Castillo rode onto the scene. Stocks saw their worst crash in years on his election and the Peruvian sol has been hammered. Barclays estimates investors have pulled some $3bn out of the country since April, when the Peruvian electorate had to choose between an unreconstructed socialist or fascist government.
Subscribe to MoneyWeek
Subscribe to MoneyWeek today and get your first six magazine issues absolutely FREE
Get 6 issues free
Sign up to Money Morning
Don't miss the latest investment and personal finances news, market analysis, plus money-saving tips with our free twice-daily newsletter
Don't miss the latest investment and personal finances news, market analysis, plus money-saving tips with our free twice-daily newsletter
How did a middle-aged country primary school teacher, untried in public office, rise to take power? Peru has always "had a taste for electing outsiders", says The Economist, but none with "as little political experience or knowledge of the world" as Castillo. In his only previous bid for elected office – when he stood for mayor of a small town in 2002 – he lost. He was born in 1969 to an illiterate family of peasant farmers based in the remote Cajamarca region of the Andes. His life story resonated among millions left behind by uneven economic growth in the world's second-biggest copper exporter. He paid for his studies to become a teacher selling ice-creams on the street. As a union leader, he travelled to outlying towns and villages, amassing grassroots support. "Rage against the political establishment" following the devastation of the pandemic was a big factor in his rise. Castillo played up to it by presenting himself as a crusader, notes the BBC. He was rarely seen without two key props: the traditional white hat of his region and "a huge inflatable pencil" representing his background in education.
True to his populist credentials, Castillo has renounced the presidential palace (built on the site of the house of Francisco Pizarro, the Spanish conquistador of Peru) and vowed to draw a salary equivalent to what he was paid as a teacher. Opponents claim he's little more than a puppet of hard-left ideologues.
Creating another Venezuela?
What happens next is anyone's guess. Castillo has said he wants to "rewrite the nation's charter" along similar lines to that of other Latin American radicals such as Hugo Chávez in Venezuela. Opponents say they will resist that at all costs. Investors used to say that Peru's economy is impervious to "crazy politics", says the FT. In the current morass, they are now discovering "that politics matters after all".
Jane writes profiles for MoneyWeek and is city editor of The Week. A former British Society of Magazine Editors editor of the year, she cut her teeth in journalism editing The Daily Telegraph's Letters page and writing gossip for the London Evening Standard – while contributing to a kaleidoscopic range of business magazines including Personnel Today, Edge, Microscope, Computing, PC Business World, and Business & Finance.
She has edited corporate publications for accountants BDO, business psychologists YSC Consulting, and the law firm Stephenson Harwood – also enjoying a stint as a researcher for the due diligence department of a global risk advisory firm.
Her sole book to date, Stay or Go? (2016), rehearsed the arguments on both sides of the EU referendum.
She lives in north London, has a degree in modern history from Trinity College, Oxford, and is currently learning to play the drums.