Nigel Rudd: Sir Sell-out's latest offer may be his last
An industry joke has it that Nigel Rudd's businesses are always a buy because he'll soon be selling up. His latest deal is likely to be his swansong.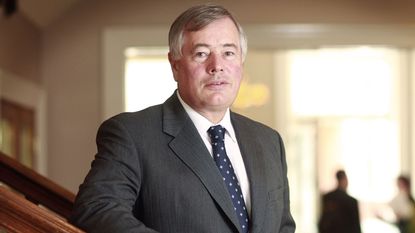 (Image credit: © Jason Alden/Shutterstock)
Back in 2007, when Nigel Rudd had just sold off two of the companies he chaired, Boots and Pilkington, to foreign bidders, he was dubbed Britain's "corporate super-salesperson". Subsequent efforts secured instead the nickname "Sir Sell-out" and, over the past week, the moniker has had quite an airing. Rudd's deal to sell the FTSE 250 defence and aerospace contractor Meggitt to its US rival Parker Hannifin for £6.3bn marks his seventh mega-deal and the second in a year. It has also landed him in the middle of a row about defence and the national interest.
To complicate matters, Rudd now has "a dogfight" on his hands, says The Sunday Times. The mooted deal has triggered a higher £7bn offer from a private-equity-style outfit named TransDigm,also American. Rudd has always nailed his colours to achieving the best price for shareholders. Now he maintains that were a suitor to try and win Meggitt on price alone, ministers must step in. Parker's bid, as he points out, includes legally binding commitments to invest in Meggitt's Coventry HQ and maintain or grow spending on research and development.
The Thatcherite go-go years
A "bluff and forthright" captain of industry of the old school, Derby-born Rudd, 74, has always divided opinion. Many view him as an "exceptional dealmaker", says the Daily Mail; others as "the man who sold Britain". He has certainly always been a man in a hurry. The son of a weights-and-measures inspector, he was academically promising, but left grammar school before his 16th birthday to join a firm of Midlands accountants. Rudd gained his commercial education from the firm's industrial clients. "I observed who was successful and who wasn't – and why." He moved on to become a troubleshooter for the holding company London & Northern, but didn't stay long. "I was always a flitterer," he later told Management Today. "I was never interested in the boring bit of running a company. I was always interested in the angles." Newly married, he headed to the industrial heartlands of south Wales, made a fortune in property development, and then bought a local company with a clapped-out foundry, Williams Engineering. Rudd and his business partner Brian McGowan "transformed Williams into a Thatcher-era go-go stock", says The Sunday Times, taking advantage of the 1980s industrial recession to snap up companies on the cheap. At its peak, assets included Yale and Chubb, Polycell, Rawlplugs, Cuprinol and Crown Paints. But he saw the writing on the wall for conglomerates early and, in 2000, broke Williams up.
Subscribe to MoneyWeek
Subscribe to MoneyWeek today and get your first six magazine issues absolutely FREE
Get 6 issues free
Sign up to Money Morning
Don't miss the latest investment and personal finances news, market analysis, plus money-saving tips with our free twice-daily newsletter
Don't miss the latest investment and personal finances news, market analysis, plus money-saving tips with our free twice-daily newsletter
Spending more time with wine
The move left Rudd free to do what he likes most: chairing companies and wringing the best value out of them. By the mid-2000s his reputation for disposals preceded him, says Management Today. It became a "joke" that shares in Rudd's companies were always "a buy" because he'd soon be selling up. He pushed through deals despite strong opposition and negative feedback from analysts. There were a few close shaves, notably in 2007 when, as deputy chairman of Barclays, he championed a giant deal to buy the Dutch bank ABN Amro. Fortunately for him, RBS got there first.
Boots, Invensys, BAA, Signature… Many of Rudds' deals and break-ups are still raked over by those accusing him of "leaving UK plc a poorer place". Rudd isn't fussed, says The Sunday Times. But Meggitt looks like his swansong. Rudd wants to spend more time at his South African vineyard, perfecting his chenin blanc. The vines should prepare for a pruning.
Jane writes profiles for MoneyWeek and is city editor of The Week. A former British Society of Magazine Editors editor of the year, she cut her teeth in journalism editing The Daily Telegraph's Letters page and writing gossip for the London Evening Standard – while contributing to a kaleidoscopic range of business magazines including Personnel Today, Edge, Microscope, Computing, PC Business World, and Business & Finance.
She has edited corporate publications for accountants BDO, business psychologists YSC Consulting, and the law firm Stephenson Harwood – also enjoying a stint as a researcher for the due diligence department of a global risk advisory firm.
Her sole book to date, Stay or Go? (2016), rehearsed the arguments on both sides of the EU referendum.
She lives in north London, has a degree in modern history from Trinity College, Oxford, and is currently learning to play the drums.