José Neves: the Buddhist transforming luxury fashion
José Neves cornered the market in building bespoke websites and apps for boutique fashion brands and retailers. That put him in a sweet spot when the pandemic arrived.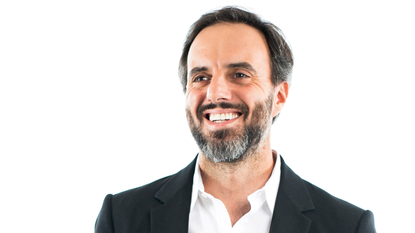 (Image credit: © Bloomberg via Getty Images)
"The essence of Zen is: be here now," says José Neves. "In a crisis, that's really useful because you train your mind to be aware that external situations around you [are] going to pass." He's had his share of hairy moments. But for the moment "now" must be a sweet place for the Portuguese entrepreneur who, fittingly for someone who got his start in shoes, seems to have the luxury fashion industry at his feet. Neves, 47, runs Farfetch, a digital platform hosting a collection of independent boutiques and designer labels that has thrived in the pandemic. He's credited with keeping many independents afloat when shops closed. That was just the start, says Forbes. Having cornered the market in building bespoke websites and apps in the sector, the London-based, New York-listed outfit has placed itself "at the centre of the online luxury digital revolution".
Reimagining the shopping trip
Admirers credit the "visionary" Neves's unique pedigree of fashion smarts and tech expertise, and a knack for bridge-building that a politician might envy. An unlikely alliance, sewn together last November with the aim of cracking the Chinese market, succeeded in uniting Alibaba, Richemont and Artemis. All are rivals in the ecommerce wars (Richemont, for instance, owns Farfetch's biggest e-tail competitor Yoox Net-a-Porter), "yet all three are placing their bets on Neves's ability to reimagine how we shop". Forbes makes comparisons with Jeff Bezos, but Neves – a self-styled Buddhist "by philosophy, not by religion" – dislikes the comparison, noting that Amazon set out to trash the competition; Farfetch's raison d'être is to nurture the entire eco-system. Given that lofty goal, it's perhaps not surprising that the outfit has yet to make a profit.
Growing up in Porto in Portugal, where his grandfather ran a shoe factory, he hated fashion, preferring to spend his time with his ZX Spectrum computer, "coding, coding and more coding". Still, he could never quite shake off his heritage. While studying economics at the University of Porto he teamed up with Cipriano Sousa (now Farfetch's chief technology officer) to start a software house catering to the many shoe factories in the region. "Neves came to see fashion as a passport to the wider world," says The Robb Report. He took up shoemaking himself and, in 1996, launched a trainer brand, Swear, from "a shoebox of a store" in London's Covent Garden. Building the website a year later, he had a light-bulb moment. "I knew that fashion was going to be transformed by the internet."
Subscribe to MoneyWeek
Subscribe to MoneyWeek today and get your first six magazine issues absolutely FREE
Get 6 issues free
Sign up to Money Morning
Don't miss the latest investment and personal finances news, market analysis, plus money-saving tips with our free twice-daily newsletter
Don't miss the latest investment and personal finances news, market analysis, plus money-saving tips with our free twice-daily newsletter
Playing the long game
It took Neves 11 years to translate that instinct into Farfetch, via a series of other ventures. In 2007 he arranged a showroom during Paris Fashion Week for an assortment of small British shops and labels. It was a short step to offering them an online marketplace. "José played a long game," an early backer told the Financial Times. "He thought the big brands would never talk to us until the boutiques talked us up to them. And he was right." A key moment came in 2017 when Kering-owned Gucci signed up. The following year, Farfetch staged a flashy Wall Street initial public offering valued at $6bn.
Investors have had quite a ride, says the FT. In 2019 the "shares hit rock-bottom" due to fears that Farfetch was "little more than an overhyped ecommerce player". But the pandemic "brought a reckoning". Sales have jumped (it is even whispered that profitability may be in sight), but nothing like the share price, which surged by 475% in 2020, says The Robb Report. Investors, it seems, are still sold on the notion that Neves has emerged as "luxury's lodestar" for navigating a "new world order".
Jane writes profiles for MoneyWeek and is city editor of The Week. A former British Society of Magazine Editors editor of the year, she cut her teeth in journalism editing The Daily Telegraph's Letters page and writing gossip for the London Evening Standard – while contributing to a kaleidoscopic range of business magazines including Personnel Today, Edge, Microscope, Computing, PC Business World, and Business & Finance.
She has edited corporate publications for accountants BDO, business psychologists YSC Consulting, and the law firm Stephenson Harwood – also enjoying a stint as a researcher for the due diligence department of a global risk advisory firm.
Her sole book to date, Stay or Go? (2016), rehearsed the arguments on both sides of the EU referendum.
She lives in north London, has a degree in modern history from Trinity College, Oxford, and is currently learning to play the drums.