Meet Andy Jassy – the new broom at Amazon
Andy Jassy is taking over from departing CEO Jeff Bezos at the world's largest online retailer. Will he be able to fill the founder's shoes? Jane Lewis reports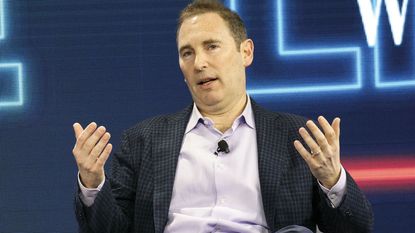 (Image credit: Andy Jassy © Patrick T. Fallon/Bloomberg via Getty Images)
"He's been there almost as long as Jeff" is what everyone says about Andy Jassy, 53, the new man in the hot seat at Amazon. No one can dispute that, says The Seattle Times. Long considered the heir apparent to founder Jeff Bezos, who is now stepping down, Jassy joined pretty much straight out of Harvard Business School in 1997, and has been at the heart of the company's buccaneering journey from online bookseller to global dominance. "His first seat at Amazon" was in an office "the size of a closet" near Seattle's Pike Place Market.
No mere Bezos clone
Times have changed. But Amazon under Jassy is unlikely to feel much different. His management style is considered "close to a carbon copy" of that of Bezos – in part as a result of 18 months spent shadowing his mentor in a "chief-of-staff-like role" during the formative years of 2002 and 2003. The two executives share "an intense focus on the customer" and "nerves of steel". Much like Bezos, Jassy comes across "as detail-orientated and more than a little nerdy", adds The Economist. Amazon's second-largest shareholder, he's a paid-up subscriber to the founder's "rigorous, tight-fisted insistence that Amazon employees treat every day as if it were 'day one' at a hard-pressed start-up".
But it would be wrong to relegate Jassy to mere clone status, says The Verge. Critically, he was instrumental in two of the firm's most important historical shifts: leading the branch out from books to music CDs in the very early days and – from 2003 – as the brains behind Amazon Web Services, the highly profitable cloud-computing division that, in the company's last record-breaking quarter, accounted for nearly half ($45bn) of its $100bn sales.
Subscribe to MoneyWeek
Subscribe to MoneyWeek today and get your first six magazine issues absolutely FREE
Get 6 issues free
Sign up to Money Morning
Don't miss the latest investment and personal finances news, market analysis, plus money-saving tips with our free twice-daily newsletter
Don't miss the latest investment and personal finances news, market analysis, plus money-saving tips with our free twice-daily newsletter
Staff also credit him with being "way more approachable" and gregarious than Bezos. A keen fan of Seattle's rock music scene and a sports fan, Jassy "has a reputation for mischievous humour" and is a great giver of nicknames, says The Seattle Times. He often invites friends and co-workers to watch games in his basement, which he has had turned into a bar. Somewhat typically, a chicken-wing-eating contest that he instituted in the company's early days – dubbed the Tatonka Bowl – has morphed into "the largest wing-eating competition in the world".
Constant reinvention
The son of a lawyer, Jassy grew up in Scarsdale, a small town in Westchester County just north of New York and attended the local high school, says The Daily Telegraph. He went on to Harvard and then Harvard Business School. His only job outside Amazon was as a programmer at MBI Inc, a maker of jewellery and coins. When he joined Amazon 1997, it had just floated and was riding high on the dotcom boom. Jassy, notes The Verge, reportedly made "a peculiar first impression" on Bezos "by accidentally hitting him in the head with a kayak paddle during a characteristically competitive game of broomball".
Amazon's larger-than-life founder is a tough act to follow, says The Economist. "Does Andy Jassy have the chops?" Most observers seem to think so – though it is of course questionable how much control Bezos, who "plans to boot himself upstairs to executive chairman", will actually cede: many anticipate "a bit of backstreet driving". Jassy is billed "more as a continuity candidate than a revolutionary". It will be interesting to see if he sticks with that narrative. Besides, what could change at Amazon really mean? As Jassy might observe, the driving force at Amazon has always been constant reinvention.
Jane writes profiles for MoneyWeek and is city editor of The Week. A former British Society of Magazine Editors editor of the year, she cut her teeth in journalism editing The Daily Telegraph's Letters page and writing gossip for the London Evening Standard – while contributing to a kaleidoscopic range of business magazines including Personnel Today, Edge, Microscope, Computing, PC Business World, and Business & Finance.
She has edited corporate publications for accountants BDO, business psychologists YSC Consulting, and the law firm Stephenson Harwood – also enjoying a stint as a researcher for the due diligence department of a global risk advisory firm.
Her sole book to date, Stay or Go? (2016), rehearsed the arguments on both sides of the EU referendum.
She lives in north London, has a degree in modern history from Trinity College, Oxford, and is currently learning to play the drums.