Mukesh Ambani: the Indian billionaire eyeing global expansion
Mukesh Ambani is already the richest man in India by a large margin, but his ambitions do not end there. He wants India to be at the front of the world's next great leap forward.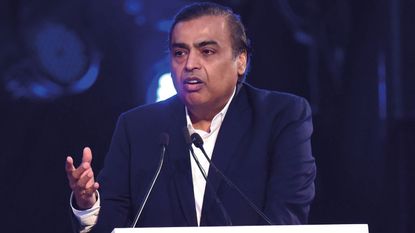 (Image credit: © Subhankar Chakraborty/Hindustan Times via Getty Images)
Bad news for lovers of British department stores, says Bloomberg: India's richest man has lost interest in Debenhams. Reports that Mukesh Ambani's Reliance Retail had emerged as a leading suitor for the dowdy chain, which collapsed into administration for the second time in a year in April, always seemed somewhat surprising. Ambani, after all, has plenty of other stuff to be getting on with – not least consolidating the extraordinary economic power he has amassed in India, where his Reliance conglomerate, juiced by a game-changing move into digital technology, is now increasingly described as "a state within a state". As a former employee told the Financial Times: Ambani "wants to be Netflix, he wants to be Alibaba…He wants to be everything".
Leading the fourth industrial revolution
The figures tell their own story, says Quartz. According to Forbes' latest tally of the top 100 richest Indians, Ambani's net wealth increased by 73% over the past year to nearly $89bn. He is now more than three times richer than the country's second wealthiest person, industrialist Gautam Adani, who is "miles behind at $25.2bn".
Shares in Ambani's Reliance Industries – whose interests stretch from energy, via retail and media, to telecoms – have risen sharply this year, mostly due to the positive sentiment surrounding the company's digital arm, Jio Platforms, which, in recent months has raised over $20bn from Western investors including Facebook and Google. Ambani reckons the world is embarking on a "fourth industrial revolution", says the Indian daily Business Standard. Having largely missed out on the first three, India (or more specifically, the dynamic Jio Platforms) is poised to lead it.
Subscribe to MoneyWeek
Subscribe to MoneyWeek today and get your first six magazine issues absolutely FREE
Get 6 issues free
Sign up to Money Morning
Don't miss the latest investment and personal finances news, market analysis, plus money-saving tips with our free twice-daily newsletter
Don't miss the latest investment and personal finances news, market analysis, plus money-saving tips with our free twice-daily newsletter
At 63, the camera-shy Ambani is still "not particularly recognisable outside of India", says the Financial Times. But his "sober appearance" and the "deep bags under his eyes" belie his undoubted attraction to the "hoodie-wearing" bosses of Silicon Valley. For them, he is the human "gateway" into "one of the last great global growth stories": India's blossoming digital and consumer-led economy. When Facebook, previously thwarted by regulatory scuffles with the government, invested in Jio in April, it sparked an investment spree. "For Ambani, it marked the triumphant apex of a career remaking his father's energy juggernaut into a conglomerate fit for the 21st century."
A family feud
The Ambani family grew up idolising their father, Dhirubhai, who was born into poverty and built an industrial powerhouse from scratch, gaining renown as a political fixer unafraid to play hardball. Mukesh seems to be built in the same mould: his "single-minded pursuit of success and scale" has meant trampling over many standing in his path, "including his own brother", Anil – the original telecoms entrepreneur of the family.
For more than a decade after their father's death in 2002, India was gripped by the brothers' bitter feud for control of his legacy. There's no doubt who's come out on top. Last year, Anil's debt troubles were so acute he was days away from being jailed. Anil conveyed his "sincere and heartfelt thanks to my respected elder brother" when Mukesh delivered a last-minute bailout.
The recent drive into "Jio-politics" hasn't done much to improve Mukesh's image as an unloved billionaire, however, says the Financial Times. "Observers point to a near unparalleled ability to leverage his wealth, political nous and Reliance's scale to build an ecosystem that works in his favour." Government ministers and business rivals alike are "wary" of Ambani because he is so powerful. "There is a sense," says one official, "that he needs to be handled with care."
Jane writes profiles for MoneyWeek and is city editor of The Week. A former British Society of Magazine Editors editor of the year, she cut her teeth in journalism editing The Daily Telegraph's Letters page and writing gossip for the London Evening Standard – while contributing to a kaleidoscopic range of business magazines including Personnel Today, Edge, Microscope, Computing, PC Business World, and Business & Finance.
She has edited corporate publications for accountants BDO, business psychologists YSC Consulting, and the law firm Stephenson Harwood – also enjoying a stint as a researcher for the due diligence department of a global risk advisory firm.
Her sole book to date, Stay or Go? (2016), rehearsed the arguments on both sides of the EU referendum.
She lives in north London, has a degree in modern history from Trinity College, Oxford, and is currently learning to play the drums.