Terence Conran: the man who banished the spam fritter
Terence Conran, who has died aged 88, introduced a country of grey houses and colourless mackintoshes to the dolce vita. He instigated a revolution in taste.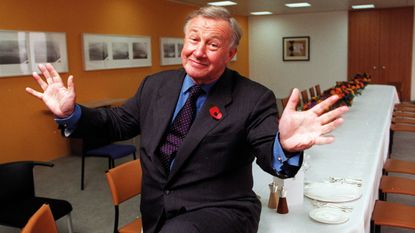 (Image credit: © Shutterstock)
"In these dark times… it is important to celebrate someone, however flawed, who knew what the dolce vita was and wanted us to have some of it too." That, says Suzanne Moore in The Guardian, was the great gift bestowed by Sir Terence Conran, who has died aged 88. Whether designing furniture or opening restaurants, the Habitat founder "instigated a revolution in taste", viewing it as his mission to democratise design long before Ikea flooded the world with its flat-packed furniture. Starting out in the post-war years (he worked on the 1951 Festival of Britain), Conran waged war on "the grey houses, the spam fritters, the colourless mackintoshes". He brought the sensuality of "abroad" home.
The importance of garlic
"Critics said he was a magpie, a plagiarist, not himself a top designer." But that missed the point, says The Observer. What Conran did, as he put it, "was to make things available". Conran's attempt to build a retail conglomerate ultimately failed; and he once claimed not to know what "entrepreneur" meant. But that understated "the skill and nerve" he deployed "tapping the consumer culture of the 1960s" with Habitat; and, indeed, his nous as a restaurateur. Conran's first venture – The Soup Kitchen, born in Charing Cross in 1953 – was inspired by his time in Paris working as a dishwasher.
Born in Kingston upon Thames in 1931, Conran's father ran a business importing a varnish resin from the Belgian Congo, says The Times. "A dreamy and solitary boy", he made his first foray into design at the age of 12 while recuperating from a burst appendix, making furniture for dolls houses. Educated at the Bryanston School in Dorset, Conran later studied at the Central School of Art and Design, before setting up his own furniture business, says The Mail on Sunday. A key mentor was his tutor, Eduardo Paolozzi, whom he later also credited with introducing him to "the importance of garlic".
Subscribe to MoneyWeek
Subscribe to MoneyWeek today and get your first six magazine issues absolutely FREE
Get 6 issues free
Sign up to Money Morning
Don't miss the latest investment and personal finances news, market analysis, plus money-saving tips with our free twice-daily newsletter
Don't miss the latest investment and personal finances news, market analysis, plus money-saving tips with our free twice-daily newsletter
Famously a young man in a hurry, Conran was already on his third wife when, in 1964, he opened Habitat on the Fulham Road in Chelsea. He financed the move by selling a £100,000 stake in his furniture company to the investment bank Morgan Grenfell. After becoming "a darling of the newspaper colour supplements", Habitat enjoyed steady growth throughout the Seventies, says The Times. By 1981, when Conran floated it in London, it had 50 stores worldwide. Aspiring to a new role as an Eighties retail baron, Conran completed the reverse takeover of the considerably bigger Mothercare Group a year later and, in 1986, merged it with BHS to create the Storehouse group. He'd overstretched himself – the conglomerate's fortunes crashed when the 1980s retail boom ended. He hung on to just one outlet, The Conran Shop.
The last days of the tsar
By then, Conran had matured into a cigar-chomping "grand old tsar" – the patriarch of a flourishing family of designers and restaurateurs. Conran always had a new project on the go, says the FT. In later decades, he opened restaurants, including Bibendum and Le Pont de la Tour, and was a prime mover behind the Design Museum. But he was happiest pottering around at home, doodling designs and contemplating life. If he had his time again, Conran said, "he would have been a gardener".
Jane writes profiles for MoneyWeek and is city editor of The Week. A former British Society of Magazine Editors editor of the year, she cut her teeth in journalism editing The Daily Telegraph's Letters page and writing gossip for the London Evening Standard – while contributing to a kaleidoscopic range of business magazines including Personnel Today, Edge, Microscope, Computing, PC Business World, and Business & Finance.
She has edited corporate publications for accountants BDO, business psychologists YSC Consulting, and the law firm Stephenson Harwood – also enjoying a stint as a researcher for the due diligence department of a global risk advisory firm.
Her sole book to date, Stay or Go? (2016), rehearsed the arguments on both sides of the EU referendum.
She lives in north London, has a degree in modern history from Trinity College, Oxford, and is currently learning to play the drums.