The dawn of a new space age
Jostling to be the first billionaire in space might seem to be a daft ego trip, but it is all part of a broader space industry with important real-world applications.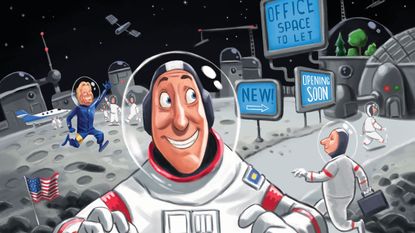 (Image credit: MoneyWeek "Space Race" cover illustration)
What's happened?
The race to create a viable space tourism model is hotting up – and so is the race to attract investment funds into the space sector as a whole. Last Sunday Richard Branson became the first commercial spaceflight pioneer to take a test drive to space and experience zero gravity in his own spaceship, beating Jeff Bezos (who is due to leave Earth next week) and Elon Musk. Together with two pilots and three other colleagues, Virgin Galactic's Unity 22 rocket plane blasted off from Spaceport America in the New Mexico desert, reaching a height of 86km, and safely returning an hour later. That is suborbital "space" by the definition of the US Air Force – above 80km – though it's short of the Kármán line, at 100km, often cited as the boundary between the Earth's atmosphere and "outer space". But it's still a significant milestone in the development of commercial space travel. Branson said he was honoured to "test the customer experience" and declared: "Welcome to the dawn of a new space age."
What happens next?
Virgin Galactic aims for two more test flights before taking paying customers next year. Meanwhile Amazon's recently retired boss Jeff Bezos aims to go slightly higher next Tuesday in a vertical-launch vehicle built by his own space firm, Blue Origin. Commercial space tourism is a big step closer (for those who have $250,000 to spend on a ticket). But such tourism is only a small part of the broader space economy "that has boomed over the past decade thanks to advances in rocketry and satellite technology", says The Economist. Blue Origin's long-term strategy is not about thrill-seeking: it wants to develop a large new rocket for satellite launches, sell rocket engines and bid for Nasa contracts, such as for a system for landing humans on the Moon. In short, it wants to become more like Elon Musk's SpaceX, whose reusable Falcon 9 rocket has helped revolutionise the economics of space, with the potential to drive down launch costs by as much as 90%.
What is Musk's strategy?
If Bezos and Branson look like "dabblers in zero-gravity tourism", then Musk is more of an "emergent space monopolist", says Richard Waters in the Financial Times. Musk's SpaceX has brilliantly followed a "time-tested" Silicon Valley strategy of riding on the back of government-funded research, while also using government – in this case Nasa – as the "anchor customer to fund the development of a new market". It is now using another familiar route with the launch of its own broadband satellite service, Starlink. "This echoes a strategy used by Microsoft to dominate PC software, and Apple to cash in on its iPhone," says Waters. First, build a dominant new tech platform (a low-cost way to get to space), then create the "killer apps" that the new platform makes possible (the space-borne broadband network). One day, Musk dreams of humans colonising Mars. For now, it seems like he's ruthlessly focused on exploiting real opportunities.
Subscribe to MoneyWeek
Subscribe to MoneyWeek today and get your first six magazine issues absolutely FREE
Get 6 issues free
Sign up to Money Morning
Don't miss the latest investment and personal finances news, market analysis, plus money-saving tips with our free twice-daily newsletter
Don't miss the latest investment and personal finances news, market analysis, plus money-saving tips with our free twice-daily newsletter
How big is the sector?
Morgan Stanley predicts the global space industry could be worth more than $1trn in annual revenue by 2040, up from $350bn in 2020. Bank of America predicts a $2.7trn sector by 2040. Either way, the wave of innovation in space technology has caught the attention of investors. Total venture-capital investment in the field rose by 95% to $8.7bn in the 12 months to the end of March, according to the Seraphim SpaceTech index, a tracker of funding deals in the sector. That figure includes a combined $4.2bn raised by SpaceX and OneWeb, a firm that aims to use satellites in low Earth orbit to improve broadband speeds and access that was rescued by the UK government and India's Bharti last November. But even stripping these out, and excluding deals for drones and flying taxis, private funding for commercial space ventures jumped by 52% to $4.1bn. "We believe we are at a watershed moment," says James Bruegger of Seraphim Capital, whose firm achieved lift-off this week.
How so?
By launching a retail investment trust giving exposure to smaller, space-related businesses. Seraphim Capital's listing of its Seraphim Space Investment Trust on the London Stock Exchange was oversubscribed, raising £180m. Seraphim's backers include the British Business Bank, Airbus and Branson (the trust is chaired by ex-Virgin Galactic president Will Whitehorn). Space is now "open for business" and no longer just the preserve of billionaires, says Mark Boggett, Seraphim's chief executive. But the "space" category is broadly defined, as the rapid decline in the cost of satellites brings a surge in the number of orbiters collecting data about the Earth – useful for everything from predicting the weather to facilitating insurance claims. "Space is not about rockets and satellites. It's actually about a digital play," says Boggett. "The companies that we are investing in don't see themselves as space infrastructure companies. They see themselves as data companies."
How else can investors get access?
There are a handful of exchange-traded funds (ETFs) that specialise in the sector. Virgin Galactic is the largest holding (4.9%) in the Procure Space Ucits ETF, an Ireland-domiciled, London-listed ETF with the cute ticker YODA, which launched last month. It's a sister fund of the Nasdaq-listed Procure Space ETF, launched in 2019 with the ticker UFO. The make-up of the space ETFs reflects the current dominance of satellite launches and the potential for satellite broadband, says James Phillipps on Citywire. YODA's top-ten holdings include satellite firms Globalstar, Maxar Technologies (a key supplier to Google Earth and Maps) and MDA. Two other ETFs worth investigating are the SPDR S&P Kensho Final Frontiers (ROKT) and the ARK Space Exploration & Innovation (ARKX), but note that their holdings include big name aeronautic and defence giants who stand to gain from the space race, as well as more straight space plays.
Simon Wilson's first career was in book publishing, as an economics editor at Routledge, and as a publisher of non-fiction at Random House, specialising in popular business and management books. While there, he published Customers.com, a bestselling classic of the early days of e-commerce, and The Money or Your Life: Reuniting Work and Joy, an inspirational book that helped inspire its publisher towards a post-corporate, portfolio life.
Since 2001, he has been a writer for MoneyWeek, a financial copywriter, and a long-time contributing editor at The Week. Simon also works as an actor and corporate trainer; current and past clients include investment banks, the Bank of England, the UK government, several Magic Circle law firms and all of the Big Four accountancy firms. He has a degree in languages (German and Spanish) and social and political sciences from the University of Cambridge.