What is Elon Musk's net worth?
Elon Musk is the enigmatic billionaire behind Tesla, Space X and most recently, Twitter. But how did he make his fortune?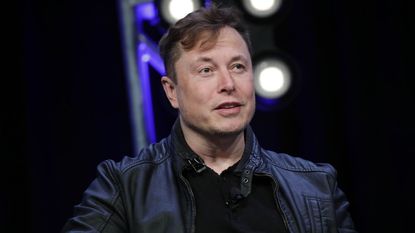 (Image credit: © Anadolu Agency)
Elon Musk is undoubtedly one of the most captivating and enigmatic figures of our era. He is the mastermind behind some of the most groundbreaking companies of our time, including SpaceX, Tesla, SolarCity and The Boring Company.
More recently Musk made one of his more controversial acquisitions, Twitter for $44bn.
According to Bloomberg, Elon Musk has a total net worth of around $231bn, making him the richest person on the planet.
Subscribe to MoneyWeek
Subscribe to MoneyWeek today and get your first six magazine issues absolutely FREE
Get 6 issues free
Sign up to Money Morning
Don't miss the latest investment and personal finances news, market analysis, plus money-saving tips with our free twice-daily newsletter
Don't miss the latest investment and personal finances news, market analysis, plus money-saving tips with our free twice-daily newsletter
But how did Elon Musk make his money? The answer is far from simple; it involves a combination of different factors.
How Elon Musk built his fortune
Born in South Africa in 1971, Musk moved to the US at the age of 17 to attend college. He pursued degrees in physics and economics before founding his first company, Zip2. The company provided online business directories and maps to newspapers and was later sold to Compaq for almost $300m in 1999.
Musk used the proceeds from the sale of Zip2 to start X.com, an online payment company that later became PayPal. In 2002, eBay acquired PayPal for $1.5bn. After the sale of PayPal, Musk turned his attention to space exploration, founding SpaceX in 2002. The company aimed to reduce the cost of space travel and eventually colonise Mars. SpaceX has since become a significant player in the space industry, launching satellites and resupply missions to the International Space Station.
Musk is also the CEO of Tesla, which he co-founded in 2003. The company is best known for its electric cars, but it also produces solar panels and energy storage systems. Tesla has been the main reason why his wealth has exploded in recent years.
The growth of Tesla is a commendable one, with the company's revenue jumping from $12bn in 2017 to $54bn in 2021. According to Forbes, Tesla's stocks hit a four-month high in June with its share price sitting at $214. This boosted his net worth by 19%.
Apart from his involvement with SpaceX and Tesla, Musk has also been involved in other ventures, such as SolarCity, a solar panel installation company that Tesla acquired in 2016. He also founded The Boring Company, focused on building underground transportation systems.
How Elon Musk created Tesla
Tesla's rise to the top of the automotive industry can be attributed to a variety of factors, all of which have played a crucial role in the company's meteoric success. Tesla's relentless focus on innovation and cutting-edge technology has been the most significant factor contributing to its success. By creating electric cars that surpass anything else on the market, Tesla gained a competitive advantage over its rivals and established itself as a pioneer in the field of electric vehicles.
Tesla's marketing strategy was another critical factor in driving sales and creating a loyal customer base. Tesla generated significant buzz and excitement around its products by positioning itself as a leader in sustainable transportation, appealing to a wide range of consumers looking for environmentally friendly alternatives to traditional petrol-powered cars.
Elon Musk's vision and determination have helped steer Tesla towards success, even in the face of significant challenges and setbacks. By investing heavily in research and development, Musk has ensured that Tesla's products remain at the cutting edge of electric vehicle technology while driving down costs and improving efficiency.
Its innovative outlook is also proving to be favourable with Tesla using artificial intelligence (AI). Musk tweeted on his social media platform 'the car has a mind,' referring to Tesla's advancements in using AGI. Although there have been no details on a breakthrough, it's a teaser of what to expect from the company.
Tesla's commitment to safety is yet another key factor contributing to the company's success. Tesla cars are equipped with a range of advanced safety features, including collision avoidance systems and advanced driver assistance features, which have established the company as a leader in the field of automotive safety.
Factors contributing to Elon Musk's net worth
So, how did Musk make his money? His success is a result of his entrepreneurial spirit, ability to innovate and willingness to take risks.
He has always been willing to take on significant challenges and pursue his passions, even when the odds are against him. His achievements with Zip2 and PayPal gave him the financial resources to pursue his dream of space exploration with SpaceX. His success with Tesla has propelled him to the top of the Forbes billionaires list.
His more recent acquisition of Twitter also raised some eyebrows. The billionaire has a 9% stake in Twitter, making him the largest shareholder in the company. Musk's outspoken character is what wanted to bring to the social media platform. He's already unblocked controversial personalities since taking over such as Andrew Tate, and has previously mentioned getting Donald Trump back on the platform.
Despite the controversies surrounding Musk's management style, tweets and public comments, he remains one of the most visionary and influential figures of our time. His companies are making a profound impact on the world, from reducing the cost of space travel to accelerating the transition to sustainable energy.
More from MoneyWeek:
Vaishali graduated in journalism from Leeds University and she has experience working with the likes of Leicester Mercury, Inews and The Week. She also comes from a marketing background, where she has done copywriting and content creation for businesses.
Currently writing about all things personal finance, Vaishali is passionate about finding the best deals around, whether it's the best credit cards or the cheapest personal loans, as well as sharing top money hacks to help people save and better manage their money.