Cathie Wood: the superstar investor shooting for the stars
Cathie Wood has quietly built a reputation for picking the unloved and misunderstood stocks that go on to thrive. She has just launched a new ETF that seeks profits in space exploration.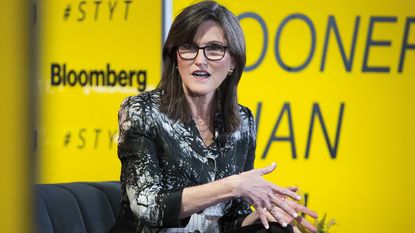 (Image credit: © Alex Flynn/Bloomberg via Getty Images)
New York-based asset manager Ark was "one of the hottest investors of 2020", thanks to its emphasis on backing "disruptors", says Bloomberg. Founder Cathie Wood's "magic touch is so powerful that she can trigger gains for funds she doesn't even run". When Wood announced plans last month to launch a new space exploration ETF, she sparked a rally in stocks "linked to everything from intergalactic travel to out-of-this-world broadband", as well as putting a rocket under rival space funds. "People want to follow her," says James Pillow of wealth manager Moors & Cabot. "She pounded the table on battery technology and electric vehicles when no one else was interested… and she was right. People don't forget that."
The stocks that fall through the cracks
High-profile bets on the likes of Tesla and Bitcoin have made Ark's portfolio of ETFs some of the best performers in the industry, "luring new cash by the billions". So much so that Wood's flagship fund, the Ark Innovation ETF, became "the largest active ETF in the world" in December. Not bad for a woman whose friends thought she'd fail when she quit her job at AllianceBernstein to found her own firm in 2014, says Citiwire USA. In fact, "Wood seems to have been preparing for the launch of a firm like Ark her entire career". As a young equity research analyst in the 1980s, she was stymied by the territorialism of established analysts. "So I had to scrape around and try and find my own names…It led me to companies that fell through the cracks." She learned that if something doesn't "fit neatly" into a portfolio it is often "a real opportunity to surprise on the upside". Back then, that meant emerging internet and wireless stocks. More recently, Wood has focused on identifying neglected and misunderstood stocks in five key fields of innovation: DNA sequencing, energy storage, robotics, deep learning and blockchain technology.
"Wood emits boundless curiosity," says Investors Business Daily. "As a kid, she never lived in one place long." Her father was an air force design engineer who moved from base to base and took his family with him. By the time she was 12, Wood had spent time in England, Ireland (where both her parents are from), Alabama, upstate New York and California. "You know how kids ask: 'Why? Why? Why?' I was probably one of those kids," she says. After high school in LA, her dad nudged her towards economics. At the University of Southern California, she found a mentor in economics professor Art Laffer (of Laffer Curve fame) who, in 1977, got her an internship at Capital Group, an investment firm known for espousing the long-term view. "I had this 'wow' moment."
Subscribe to MoneyWeek
Subscribe to MoneyWeek today and get your first six magazine issues absolutely FREE
Get 6 issues free
Sign up to Money Morning
Don't miss the latest investment and personal finances news, market analysis, plus money-saving tips with our free twice-daily newsletter
Don't miss the latest investment and personal finances news, market analysis, plus money-saving tips with our free twice-daily newsletter
Welcoming a chorus of critics
Wood, an "unabashed" Trump supporter, continues to take "a top-down approach to building portfolios", notes Forbes. "Economics is central", as is crowdsourcing. She throws open Ark's Friday research meetings to outsiders, who can call in via Zoom. She's perfectly happy to have a chorus of critics. "It almost makes me feel comfortable… because it means if we're right, then the rewards will be pretty enormous." Since its inception, Ark has earned almost 2.4 times more than the S&P 500 and 1.7 times the Nasdaq, according to Bloomberg. And yet, for all her success at picking winners, Wood has received relatively little notice. That at last seems to be changing. Cathie Woods has emerged as America's "newest superstar investor".
Jane writes profiles for MoneyWeek and is city editor of The Week. A former British Society of Magazine Editors editor of the year, she cut her teeth in journalism editing The Daily Telegraph's Letters page and writing gossip for the London Evening Standard – while contributing to a kaleidoscopic range of business magazines including Personnel Today, Edge, Microscope, Computing, PC Business World, and Business & Finance.
She has edited corporate publications for accountants BDO, business psychologists YSC Consulting, and the law firm Stephenson Harwood – also enjoying a stint as a researcher for the due diligence department of a global risk advisory firm.
Her sole book to date, Stay or Go? (2016), rehearsed the arguments on both sides of the EU referendum.
She lives in north London, has a degree in modern history from Trinity College, Oxford, and is currently learning to play the drums.