Harley Finkelstein's Shopify: the "Amazon for entrepreneurs"
Shopify started as a snowboard shop that baulked at gifting its customers to Amazon. Now,it is an essential part of the internet's infrastructure. Harley Finkelstein, the firm's driving force, is aiming higher.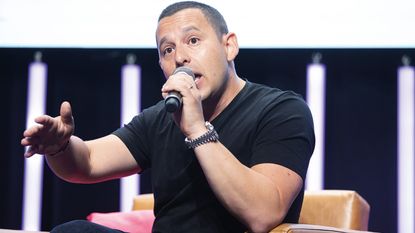 (Image credit: © Getty Images)
It's been a barn-storming year for the Canadian e-commerce platform Shopify. Its shares more than tripled during the pandemic, taking its market value to a peak of $180bn in February, notes the Financial Times. Although still widely unknown to the general public, Shopify's services – which allow brands and independent stores to sell directly to customers through their own websites or via social-media platforms – have been embraced as an alternative to trading through Amazon or other large marketplaces. Total spending by consumers on the 1.7 million merchants that use Shopify grew by 99% in the last quarter of the year.
Beyond the plumbing
Doubtless the backlash against the might and perceived monopolistic tendencies of Amazon has helped. But Shopify has also thrived on word-of-mouth during lockdown – as a hassle-free way for restaurants and independent shops to set up an online presence quickly while their premises were closed. The favourite statistic of the company's president and driving force Harley Finkelstein, 37, is that "every 28 seconds, a new entrepreneur makes their first sale on Shopify", says The Times. The only thing the customer sees is a "Shop Pay" logo flashing up at the checkout. Finkelstein relishes the anonymity. "We are intentionally not front and centre. We exist only to make merchants looks really good." That said, his ambitions stretch far beyond technological plumbing. "Google is the search company. Facebook is the social company, but no one is the entrepreneurship company," he says. "We're not there yet – but we have the best shot at it."
Entrepreneurship is a favourite theme of Finkelstein's – not least because his own father was a failed serial entrepreneur. Born in Montreal, he was "a child of immigrants" – his father and grandparents, who were Holocaust survivors, immigrated to Canada from Hungary in 1966. Finkelstein has unreserved admiration for his grandfather who "spent his entire life selling eggs at a farmers' market… and he never even liked eggs. But he put food on the table and a roof over their heads. And that allowed me to live this life."
Subscribe to MoneyWeek
Subscribe to MoneyWeek today and get your first six magazine issues absolutely FREE
Get 6 issues free
Sign up to Money Morning
Don't miss the latest investment and personal finances news, market analysis, plus money-saving tips with our free twice-daily newsletter
Don't miss the latest investment and personal finances news, market analysis, plus money-saving tips with our free twice-daily newsletter
Finkelstein's own father was also a positive influence on his youthful ambitions, says The Times. Although he couldn't provide much in the way of business advice or financial leg-ups, "he would regularly print stacks of business cards for Finkelstein's early business ventures", which included a T-shirt company founded when he was a 17-year-old student at McGill University.
His proudest moment
Finkelstein initially seemed headed for the legal profession: his first job was at a Toronto law firm. But his life changed abruptly in 2009 when he met Tobias Lütke, a German-Canadian entrepreneur who had co-founded Shopify in Ottawa in 2004 as an online snowboard shop. The company's founders had baulked at allowing marketplaces like eBay and Amazon to "own" their customers, so had written their own software. Finkelstein was hired as the company's "chief platform officer", with the brief of expanding the tech side of the business. He had no idea then quite how exponential that expansion would be, but cites his proudest moment as taking Shopify public in New York in 2015.
After a year of unbridled growth, Shopify now looks to be at a crossroads, says MarketWatch. Some are sceptical about its prospects "as the pandemic fades" and the froth around tech stocks subsides – Shopify's shares have tumbled 28% since February. Finkelstein is certain that his pitch about liberating the inner entrepreneur in all of us has legs. But, given the possibly stomach-churning ride ahead, he will need all the resilience he can muster.
Jane writes profiles for MoneyWeek and is city editor of The Week. A former British Society of Magazine Editors editor of the year, she cut her teeth in journalism editing The Daily Telegraph's Letters page and writing gossip for the London Evening Standard – while contributing to a kaleidoscopic range of business magazines including Personnel Today, Edge, Microscope, Computing, PC Business World, and Business & Finance.
She has edited corporate publications for accountants BDO, business psychologists YSC Consulting, and the law firm Stephenson Harwood – also enjoying a stint as a researcher for the due diligence department of a global risk advisory firm.
Her sole book to date, Stay or Go? (2016), rehearsed the arguments on both sides of the EU referendum.
She lives in north London, has a degree in modern history from Trinity College, Oxford, and is currently learning to play the drums.