Hong Kong's crown slips as Singapore takes over
As international sentiment sours on Hong Kong, other Asian financial hubs – primarily Singapore – are snapping up business.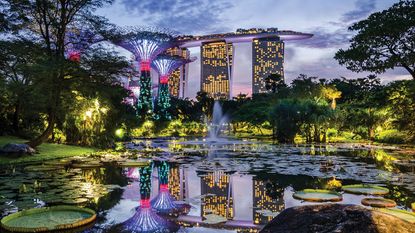 (Image credit: © Alamy)
"Since Hong Kong's return to the motherland in 1997, its financial market has evolved… with remarkable progress made in the banking system, capital market, as well as the foreign exchange market," says Xinhua, China's state news agency. Since July 1997 the value of the local stockmarket has grown from HK$4.6trn (£490bn) to HK$38trn (£4.04trn) today. The city was ranked third in the latest edition of the Global Financial Centres Index, behind only New York and London.
Yet international business is souring on Hong Kong, says the Financial Times. The territory still has strengths: "a convertible currency, a bustling port and mechanisms that allow international investors to gain exposure to the Chinese market". But byzantine Covid-19 rules and the erosion of the rule of law mean that "since the start of the year, more than 130,000 people have left". In the future "Hong Kong will be less international and closer to China, both economically and culturally".
Travelling to Hong Kong "is now only for the determined" because of strict entry requirements and quarantine, says Elaine Yu in The Wall Street Journal. In 2019, 70 million passengers passed through its airport, but this figure had fallen 98% by last year. Bankers are looking elsewhere in Asia to network.
Subscribe to MoneyWeek
Subscribe to MoneyWeek today and get your first six magazine issues absolutely FREE
Get 6 issues free
Sign up to Money Morning
Don't miss the latest investment and personal finances news, market analysis, plus money-saving tips with our free twice-daily newsletter
Don't miss the latest investment and personal finances news, market analysis, plus money-saving tips with our free twice-daily newsletter
Singapore: Asia's new number one
Other Asian financial hubs want to snap up business that's leaving Hong Kong. But many have their own problems. South Korea's reputation for poor regulation and high taxes has deterred financiers. Tokyo offers "political stability and good public security", as well as "excellent education resources" for expatriates' children, says Takeshi Kawasaki in Nikkei Asia. But Japan's "complex and heavy tax system" is deterring many of the hedge funds relocating from Hong Kong. Unlike Hong Kong or Singapore, Japan also taxes capital gains, providing another "huge disincentive" to the finance industry.
"As China grows more authoritarian, the chances of Shanghai resuming its pre-1949 role as a global hub have receded," says The Economist. Instead, Singapore looks best placed to capitalise on Hong Kong's woes. The city-state boasts "an effective and predictable government" and its geopolitical neutrality "allows it to act as a hub for both Western and Chinese capital and businesses". It also has "a reliable legal system and a business-friendly regulatory environment" – things that Hong Kong is losing.
"Simple laws for establishing trusts" saw Singapore surpass Hong Kong as a hub for regional wealth management in 2017, with $3.4trn of assets under management in 2020. Yet "when it comes to capital markets and investment banking", Hong Kong remains top, with nearly $5trn of listed stocks compared with just $700bn in Singapore.
Hong Kong's diminishing importance to Beijing
China's crackdown in Hong Kong is a sign of the territory's diminishing importance to Beijing. After the 1997 handover, Communist party cadres looked to Hong Kong as an important source of capital through which to fund China's economic development. At the time of the handover Hong Kong's economy was worth more than 18% of mainland China's GDP.
Hong Kong's GDP as a % of China's
However, faster growth in China has since seen that percentage fall to just 2.1%, says Prableen Bajpai on Investopedia. Today China's $17.33trn economy dwarfs Hong Kong's $368.13bn (Hong Kong's GDP per capita, at $49,660, remains far higher than the mainland's $12,556, however). In 2021 mainland companies accounted for almost 79% of the Hong Kong market's value.