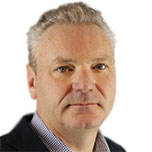 Charlie Morris is the chief investment officer at ByteTree Asset Management (BTAM) and founder of ByteTree.com. He has 23 years' experience in fund management, where he has built a reputation for managing actively managed, multi-asset portfolios, with an emphasis on efficient diversification and risk management. Although well versed in traditional asset classes, Charlie is best known for his expertise in alternative assets, notably gold and Bitcoin.
In previous roles, Charlie was the head of Multi Asset at Atlantic House Fund Management until June 2020, where he managed Total Return Fund. At the time of his departure, his fund ranked 1st out of 47 funds in the Trustnet multi-asset, absolute return sector. Before that, he was the Chief Investment Officer at Newscape (2016 to 2018) and the Head of Absolute Return at HSBC Global Asset Management until (1998 to 2015) where managed $3bn of assets.
Prior to fund management, Charlie was an officer in the Grenadier Guards, British Army. Charlie is also the editor of the leading UK investment newsletter, The Fleet Street Letter (est 1938) since 2015. While not working, he can often be found somewhere on the North Sea.