State pension changes set to take effect this week - what it means for your money
A new tax year brings new state pension payment amounts - we look at the key 5 state pension changes you need to know about.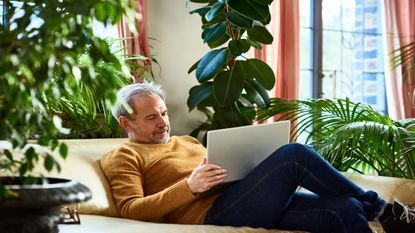 (Image credit: © Getty Images)
A series of changes to pensions are set to take effect this month and could alter how much money you receive in your state pension.
As well as reinstating the triple lock, there will be changes to a range of pensioner payments, including the largest-ever increase to the state pension.
The changes, implemented at the start of the new tax year, come after the government announced it would delay the increase to the state pension age to 68.
Subscribe to MoneyWeek
Subscribe to MoneyWeek today and get your first six magazine issues absolutely FREE
Get 6 issues free
Sign up to Money Morning
Don't miss the latest investment and personal finances news, market analysis, plus money-saving tips with our free twice-daily newsletter
Don't miss the latest investment and personal finances news, market analysis, plus money-saving tips with our free twice-daily newsletter
You also have until 31 July to buy National Insurance credits to boost your state pension - extended from the previous deadline on 6 April 2023.
With the changes set to kick in at the start of the new tax year, it is vital to understand what the changes mean for you and your pension. Here's our rundown of everything you need to know about the changes coming this month.
1. New state pension - Biggest ever state pension rise
A 10.1% rise in payments is on its way this month for those receiving the new state pension.
It is currently worth £185.15 a week, but this will rise to £203.85 on 10 April. This is the biggest-ever increase to the state pension.
For the first time, the amount received by a pensioner on the full new state pension will exceed £10,000.
This comes as a result of the return of the triple lock, which was temporarily halted last year.
The triple lock ensures the state pension rises each by whichever is highest: 2.5%, inflation or average earnings.
This year, the payout is going up with inflation, which has been running at a 40-year high.
People are eligible for this type of state pension if they are a woman born on or after 6 April 1953, or a man born on or after 6 April 1951. If you haven't reached state pension age yet, you'll be entitled to the new state pension when you retire.
2. Basic state pension increase
If you retired before April 2016, you may be receiving the basic state pension. This is an older-style pension that the government pays to men born before 6 April 1951 and women born before 6 April 1953.
Under the upcoming changes, a basic state pension recipient will get £8,122 a year - £156.20 a week. That's an increase of just less than £15 per week from the previous rate of £156.20.
Pension Credit rates will also rise to £201.05 for a single person and £306.85 for a couple.
Both of these rises also come as a result of the triple lock, with high inflation leading to increases for both.
3. Married woman's pension
The next change relates to the married woman's pension, a type of basic state pension. Under the old system, women could derive payments from their spouse or civil partner's National Insurance contributions. The sum is worth 60% of the basic state pension rate.
It goes up every April in parallel with the basic state pension. This means it will rise from £85 a week to £93.60 next month.
4. Over 80 pension
As the name suggests, this is a state payment for people aged 80 or over. To qualify, they must either get a basic state pension of less than £85 a week, or no state pension at all.
It's currently worth £85 a week. For the 2023/24 tax year, the amount will rise to £93.60 a week.
5. Additional state pension
The additional state pension (also known as the second state pension or SERPs) is also protected by the triple lock, and will soar by 10.1% on 6 April. It is a top-up that you could get in addition to the basic state pension.
How much a person gets from the additional state pension usually depends on how long they paid National Insurance for, their earnings and whether or not they were contracted out. It's also possible to inherit additional state pension from your partner.
The maximum sum people can receive will increase from £185.90 a week to £204.68 a week.
Becky O'Connor, director at PensionBee, said the upcoming increases will be welcomed by millions of people who have been "experiencing daily life becoming rapidly unaffordable over the last year."
She said: "Last year, pensioners were denied a rise in line with higher living costs as the government suspended the triple lock, before reinstating it for this year. So this rise is overdue and will come as a huge relief to those struggling to pay the bills on their current pension.
To find out how other government benefits will change on 6 April, check out this handy list on the government website.
More rises possible
Current forecasts suggest that inflation could come down, but is still expected to be relatively high in September - the month which any changes to the state pension are benchmarked against. Inflation and wage data for the month are used by the government to shape their decisions for the following April.
As such, PensionBee's O'Connor said more rises to the state pension can be expected next year, but the government may decide to hold off on any further bump-ups due to the expected slump in inflation figures.
She said: "We could see a rise in the State Pension next year of around 4 or 5%, based on OBR inflation forecasts, still higher than the long-run average of between 2.5% and 3% a year.
Additional contributions Tom Higgins
Ruth is passionate about helping people feel more confident about their finances. She was previously editor of Times Money Mentor, and prior to that was deputy Money editor at The Sunday Times.
A multi-award winning journalist, Ruth started her career on a pensions magazine at the FT Group, and has also worked at Money Observer and Money Advice Service.
Outside of work, she is a mum to two young children, a magistrate and an NHS volunteer.