The drugs don't work: stopping the spread of the superbugs
Antibiotic resistance could turn medical inconveniences into death sentences and become a bigger killer than cancer. Governments and pharmaceutical companies are fighting back. Sarah Moore reports.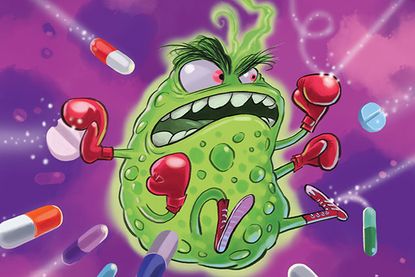 Imagine dying of an infected cut on your finger. Or being told that a hip procedure or liver transplant could end up killing you. This may sound like a medical disaster film, but it could well happen fairly soon. Bacteria are becoming increasingly resistant to the antibiotics used to cure common ailments and illnesses, or to prevent infection during surgery.
If these resistant "superbugs" prevail, antibiotics will be ineffective and "modern medicine will be lost", says Dame Sally Davies, the chief medical officer for England. As antibiotics stop working, a growing list of infections – notably pneumonia, tuberculosis, blood poisoning, gonorrhoea, and food-borne diseases – are becoming harder, and sometimes impossible, to treat, says the World Health Organisation (WHO). What would once have been easily treated afflictions could once again prove fatal, while surgery could be vastly more dangerous. "Without urgent action, we are heading for a post-antibiotic era, in which common infections and minor injuries can once again kill."
Back to the pre-antibiotic era
At least two million Americans come down with drug-resistant infections every year. Unless more is done to tackle the rise of antibiotic-resistant superbugs, as many as 90,000 people in the UK could die over the next three decades, according to the Organisation for Economic Co-operation and Development (OECD). It predicts 2.4 million deaths across Europe, North America and Australia by 2050. If you think those numbers sound terrifying, then you should avoid the UK government's 2015 Review on Antimicrobial Resistance, chaired by former Goldman Sachs chairman and UK Treasury minister, Jim O'Neill. This warned that, by 2050, antibiotic-resistant infections could kill ten million people a year – more than the 8.2 million killed by cancer. And "if that weren't ghastly enough, the cumulative impact on the world's GDP is also likely to reach $100trn (£70trn) by the middle of the century, equivalent to the loss of an economy the size of the UK from global output every year", notes Investors Chronicle.
Subscribe to MoneyWeek
Subscribe to MoneyWeek today and get your first six magazine issues absolutely FREE
Get 6 issues free
Sign up to Money Morning
Don't miss the latest investment and personal finances news, market analysis, plus money-saving tips with our free twice-daily newsletter
Don't miss the latest investment and personal finances news, market analysis, plus money-saving tips with our free twice-daily newsletter
How Alexander Fleming discovered penicillin
Alexander Fleming famously discovered the first antibiotic in 1929 at St Mary's Hospital in London. While studying influenza, Fleming noticed that mould had grown on a set of accidentally contaminated culture dishes that he was using to grow the germ staphylococcus. This mould had created a circle around itself that was free of bacteria. Fleming eventually named this substance penicillin. Yet it was actually two other scientists, the Australian Howard Florey and Ernst Chain, a refugee from Nazi Germany, who developed the substance so that it could be used as a drug able to treat infection. Fleming was under no illusions about the potential of the drug they had developed. "When we are able to use penicillin commercially, on humans, it will change the whole of medicine," he said in 1936. According to a colleague of his, allergy expert Dr William Frankland, Fleming predicted a "revolution" but also today's counter-revolution. "Because bacteria have to survive they are very, very clever – they will become resistant," warned Fleming.
The counter-revolution
Fleming knew that evolution had programmed bacteria to mutate and adapt, and that we would accelerate this process by overusing antibiotics, thus giving bugs too many chances to get used to and overcome our drugs. That's exactly what's happened. We take antibiotics when they're not strictly necessary, or when they don't stand a chance of making a difference, such as with a virus. Sometimes we don't complete a full course, preventing them from working effectively and leaving more bacteria alive with a chance of developing resistance. This is both the fault of doctors for overprescribing the drugs and of patients for pushing for antibiotics unnecessarily. Nearly a third of antibiotic prescriptions in the US aren't needed, says Maryn McKenna in The Atlantic. The NHS produces an estimated ten million unnecessary prescriptions a year.
Feeding pills to livestock
Yet in some parts of the world, antimicrobial use is actually far greater in animals than in humans; they're used to keep animals healthy and reduce bacteria entering the food supply. For example, in the US more than 70% of "medically important antibiotics" are used in animals, according to the Review on Antimicrobial Resistance. Moreover, the use in agriculture is likely to increase further as wealth and food consumption rise in emerging markets. The consumption of antimicrobials by animals to produce meat products in the Brics countries (Brazil, Russia, India, China and South Africa) alone is set to double between 2010 and 2030. The precise quantity of antimicrobials used in food production globally is difficult to estimate, but the evidence suggests it is "at least as great as the amount used by humans", says O'Neill.
According to the report, a key risk associated with the high use of antimicrobials in food production is that drug-resistant strains are passed on through direct contact between humans (notably farmers) and animals. These drug-resistant strains have the potential to be passed onto humans more generally through the food chain, when people are preparing or eating meat, for instance. It is now widely understood that overuse and misuse of antibiotics in animals and humans is contributing to the rising threat of antibiotic resistance. What's more, there are very few promising options in the research pipeline.
The hunt for new treatments
There was a time when all of our antibiotics came from natural sources, says McKenna. After Fleming's penicillin, there was chloramphenicol, made by a bacterium found in compost in Venezuela, and then chlortetracycline, excreted by a bacterium found in a field at the University of Missouri, a test plot for growing hay. And because these early antibiotics were so successful, manufacturers went looking for new ones.
Bristol-Myers (now Bristol-Myers Squibb) is said to have sent out pre-addressed envelopes alongside its 1951 annual report, asking shareholders to scoop up "a teaspoon of soil, slightly moist but not wet, and free from large stones" and to pop it in the post back to headquarters. Eli Lilly asked ministers from the Christian and Missionary Alliance to send back samples from the developing world. Pfizer relied on pilots, foreign correspondents and explorers to send back soil samples.
As quaint as this all sounds, it is not actually that easy for pharmaceutical companies to pluck new antibiotics out of the earth. For instance,Pfizer went through more than 130,000 samples before finding terramycin, which is an early tetracycline, an antibiotic used to treat a rangeof infections including cholera, malaria, syphilisand acne.
But towards the end of the 1960s, drug firms stopped looking for new antibiotics in soil samples, and focused on creating synthetic compounds in laboratories. As a result, the rate of new drugs discovered fell. A new class of antibiotics has not been discovered for several decades. All the antibiotics brought to the market in the past 30 years have been variations on existing drugs discovered by 1984, according to the BBC. The last new class of antibiotics to treat those infected by the most resistant superbugs was discovered in 1962.
A multi-decade process
"The hard thing isn't finding things that kill bacteria; steam, fire, bleach can do that," John Rex, who leads clinical antibiotic development at AstraZeneca, told McKenna. "The challenge is to find things that kill bacteria but don't harm the person taking them. You're talking about a chemical that goes into your mouth, into your gut, into your blood, unchanged, and winds up where the infection is and kills the bacteria, and yet is not toxic to you. "Bringing a medicine from discovery to public usage is a long process. Finding an organism that produces antibiotic substances takes years, says the BBC: "thousands of possibilities will be screened". Once a potential application has been found, it's tested on known infectious bacteria, assessed for its possible toxicity to humans and after that must be produced at scale. "Only then can the years of clinical trials begin." So the process from discovery to medicine can take between ten and 20 years. As of December 2018, approximately 42 new antibiotics with the potential to treat serious bacterial infections were in clinical development, according to the Pew Charitable Trusts. Yet the success rate for clinical drug development is low; historical data shows that only one in five infectious disease products that enter human testing (phase-I of clinical trials the first of three stages) will be approved for patients.
The root of the problem, however, is the historic neglect of research and development. In 1980, there were 25 large drug companies devoting serious time and money to coming up with new antibiotics. Now there are just three: Pfizer, GlaxoSmithKline and Merck. "Examined through the lens of shareholder value, companies had to back away given poor economics. To avoid bugs gaining resistance to new drugs requires holding them in reserve to treat the sickest patients for the shortest possible time. That will not recoup drug development costs of $1bn or more," says Lex in the Financial Times. Companies now prefer to make more profitable investments in drugs that patients take over a long period of time.
Galvanised governments
But it's not all doom and gloom. Governments are responding to the impending threat. Earlier this year, the UK health secretary announced a five-year plan to attack the problem. Its goal is to "control and contain" antimicrobial resistance by 2040; to cut the use of antibiotics in humans by 15% over the next five years; and to reduce their use in animals by 25% from 2016 levels by next year. Finally, it wants to change the way that drug companies are funded. The National Institute for Health and Clinical Excellence (the drugs advisory body) and NHS England will try out a new model that will pay pharmaceutical companies for drugs based on their value to the NHS, rather than by the quantity of drugs sold. It wants to end the situation whereby drug companies have an incentive to sell off their antibiotics instead of working on developing much-needed new treatments.
Promising new ideas
Last month, for instance, researchers at Oregon State University posited that new antibiotics could be found in the layer of mucus found on the surface of young fish. The mucus protects fish from infection. This is all fairly early stage research, so you should leave the goldfish in the tank next time you're feeling a bit under the weather, but the promise is there. Another unorthodox, but promising, method for discovering new antibiotics involves insects, say Jessica Dawid and Ruqayyah Moynihan in Business Insider Deutschland. A study in Nature Communications says that "all insects host a multitude of microbes that are constantly competing with and battling one another. The toxic components produced as a result not only help insects to survive, but, conveniently, they also act as natural antibiotics for humans". They also appear to be far more effective against antibiotic-resistant pathogens than treatments sourced from the soil, and could therefore be the source of future antibiotics.
Finally, some scientists are turning away from trying to find new antibiotics and focusing instead on the process whereby bacteria actually become resistant. Researchers at Baylor College of Medicine, in Houston, Texas, are trying to discover and then stop the molecular mechanisms that bring about the mutations conferring antibiotic resistance. While these projects are all in their early stages, they are a promising sign of the commitment in the scientific world to tackling the problem of antimicrobial resistance. Below we look at ways that you can invest in the fight.
The stocks taking on the superbugs
Three of the big pharmaceutical names are working on their antibiotic pipeline. They are by no means a pure play on antibiotic resistance, and nor are they cheap, but they do yield between 3% and 5%, so investors will be paid to wait for signs of progress, while the generally auspicious backdrop for the sector, thanks to the ageing population, bodes well for dividend rises.
GlaxoSmithKline (LSE: GSK) ranked first among large pharmaceutical companies in the "Access to Medicine Foundation's Antimicrobial Resistance Benchmark" in 2018. It has vaccines against diseases such as diphtheria, meningitis and pneumonia designed to prevent bacterial infections that would require antibiotics. Its pipeline also contains gepotidacin, the first in a new class of antibiotics. GSK is trading on a price/earnings (p/e) ratio of 22.
Roche's (Switzerland: ROG) efforts in the antibacterial field focus on the bacteria Acinetobacter baumannii, which causes pneumonia, meningitis, and urinary tract and wound infections; it also leads to Pseudomonas aeruginosa, which is a real problem in hospital-acquired infections, particularly in critically ill patients and those with compromised immune systems. According to the group's latest results, it has "a number of compounds in pre-clinical development". It is also on 22 times earnings.
In February this year,Merck (NYSE: MRK) announced that the US Food and Drug Administration(FDA) has accepted two new antibacterial drug applications. One is designed to tackle urinary tract and abdominal infections; the other is for adult pneumonia patients. Both of these applications received "priority review", which is a six-month process rather than the standard ten-month wait. Merck has a p/e of 18.
At the risky end of the spectrum are smaller companies looking to make breakthroughs in the field of antibiotics. The £44.9m Summit Therapeutics (Aim: SUMM) is developing new antibiotics for C. difficile infection (which can inflame the bowel and cause diarrhoea) and gonorrhoea. It also recently announced plans to expand its drug portfolio with a new series of antibiotics to fight Enterobacteriaceae, the bacteria responsible for infections of the bloodstream, lungs and urinary tract. Summit's shares fell sharply last year, but it declared a profit for its most recent financial year, off the back of revenue from an agreement with drug developer Sarepta Therapeutics.
The £24.8m Motif Bio (Aim: MTFB) recently raised £2.7m through a share placing, marking a vote of confidence in its prospects. The FDA is considering whether to approve the group's antibiotic Iclaprim, which is designed to treat skin infections.
Meanwhile, last month Frankfurt-listed drug discovery and development company Evotec (Xetra: EVT) announced a partnership with the Global Antibiotic Research and Development Partnership (GARDP) that will focus on accelerating the development of "first-in-class" antibiotic treatments for hard-to-treat bacterial infections.The company's outlook for 2019 "should reflect continued topline and earnings gains" following 2018 results that should exceed guidance, according to Bloomberg. That is "despite rising research and development costs" driven by its efforts to discover drugs.
Sarah is MoneyWeek's investment editor. She graduated from the University of Southampton with a BA in English and History, before going on to complete a graduate diploma in law at the College of Law in Guildford. She joined MoneyWeek in 2014 and writes on funds, personal finance, pensions and property.