How to cut your business phone costs
If you run a business, you need to make sure you're not being ripped off by your mobile-phone company.
Nine in ten small and medium-sized enterprises (SMEs) are getting a poor deal from their mobile providers, according to new research from the price-comparison site BillMonitor. It accuses the big three providers, EE, Vodafone and O2, of operating a "Wild West" market, in which the average small business could cut its costs by as much as 49% by shopping around for a better deal. That's worth more than £24,000 a year to the bigger businesses included in the research.
BillMonitor's study focused primarily on the different prices charged by the three big providers for similar services. It suggests that the same SME customer would typically pay an average of 16.3% more for mobile-phone contracts with the most expensive of the three providers than with the cheapest.
EE comes out worst
The study has seen the price-comparison site dragged into a spat with Ofcom, the telecoms regulator, which argues it is already taking action to improve competition. Ofcom's own data, released earlier this year, also found a 15% to 20% differential between the cheapest and most expensive provider in the market. But the regulator has subsequently withdrawn these figures as out of date; it refused to tell BillMonitor which company its data revealed charged the most. However, according to the comparison site's study, EE was the most expensive provider of mobile-phone contracts to business customers.
Subscribe to MoneyWeek
Subscribe to MoneyWeek today and get your first six magazine issues absolutely FREE
Get 6 issues free
Sign up to Money Morning
Don't miss the latest investment and personal finances news, market analysis, plus money-saving tips with our free twice-daily newsletter
Don't miss the latest investment and personal finances news, market analysis, plus money-saving tips with our free twice-daily newsletter
All three providers have rejected BillMonitor's analysis, which was based on a sample of around 350 SMEs. However, Ofcom's research also identified several problems with how the mobile-phone market works for small businesses. One particular issue is that contracts are often treated as a group of individual contracts, taken out by individual employees at different times, rather than as a single deal with the business itself. This can make it hard to switch provider in order to access a better deal.
The picture is also muddied by the extent to which the purchasing power and negotiating skills of businesses varies. The smallest businesses tend to pay the provider's standard tariffs, but larger firms are more likely to negotiate deals individually. While this may lead to some businesses securing a better deal, it also makes the market much less transparent, preventing firms from quickly working out whether they could save money by switching.
BillMonitor has concluded that Ofcom has failed to do enough to protect SMEs, and has called for the Competition and Markets Authority (CMA) to intervene in order to improve transparency and encourage greater competition.
How to pay less for mobile phone contracts
While mobile-phone costs can take a big chunk out of the profitability of small businesses, there are several ways to reduce your bills.
Use price-comparison sites to shop around the leading platforms have increased their coverage of small-business services in recent years, making it easier to use them to identify good deals.
Be prepared to look beyond the biggest providers. In research carried out earlier this year by Startups.co.uk, Virgin Media and Plusnet came out as significantly cheaper than the big three for small- business customers.
Don't pay for what you don't need. Small businesses routinely sign up for premium contracts they may not require; for example, if your staff are connected to Wi-Fi in the office most of the time, then they don't need generous monthly data allowances.
Be prepared to negotiate: bigger firms can cut their own deals rather than paying standard tariffs, so talk to other similar businesses about what they have been able to secure.
Don't forget service if you and your staff depend on good-quality mobile-phone service, cheap may not always be cheerful;
Ofcom publishes regular updates on current customer satisfaction ratings with mobile providers.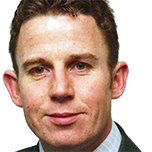 David Prosser is a regular MoneyWeek columnist, writing on small business and entrepreneurship, as well as pensions and other forms of tax-efficient savings and investments. David has been a financial journalist for almost 30 years, specialising initially in personal finance, and then in broader business coverage. He has worked for national newspaper groups including The Financial Times, The Guardian and Observer, Express Newspapers and, most recently, The Independent, where he served for more than three years as business editor.